Reduce, reuse, upcycle
Fast fashion is polluting the earth at a rapid rate, so thrifting is a rising trend working to help the fashion industry become more sustainable.
2,700 liters of water. Enough for you to drink for two and a half years. But instead of quenching your thirst, that water goes straight to your new pair of Forever 21 jeans, already embellished with a hole. Fast fashion, clothing produced at rapid speeds to keep up with the latest trends, is continuing to dominate the fashion industry, claiming the place of the second largest polluter in the world.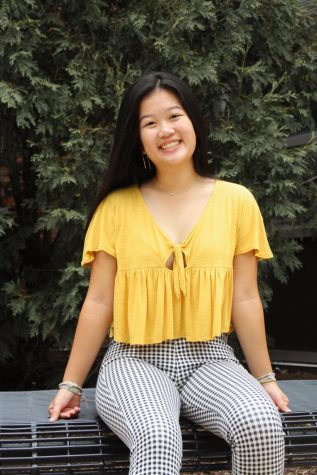 Fast fashion lives up to its name, with companies like Zara releasing 500 new designs weekly. This comes with a hefty price: cheaply made clothing produced in sweatshops. According to World Resources Institute, the average consumer today is purchasing 60% more items of clothing compared to 2000 but is keeping each item for only half as long.
Rachel Podhajsky '21 purchased from fast fashion stores frequently until she became aware of the impact it had on the environment.
"In junior high, I got a lot of clothes at Forever 21. I don't do that anymore because, first of all, their clothes falls apart," Podhajsky said. "Then I realized that they're making all these clothes, we're getting rid of all these clothes, we're going through it so fast, and that's not good."
"
Then I realized that they're making all these clothes, we're getting rid of all these clothes, we're going through it so fast, and that's not good."
— Rachel Podhajsky '21
According to UN Environment, this rapid cycle leads to an average of one garbage truck load of clothing being emptied into landfills every second. Since most clothing made by the fast fashion industry is made from polyester and other synthetic materials, it does not biodegrade and continues to build up over time.
Additionally, microplastics from washing these garments permanently plague the ocean. Laundry machines stress out the fibers in the clothing, which cause them to shed and enter the water supply. A recent study by Frontiers in Marine Science found that animals from the Mariana Trench, the deepest part of the ocean, had microplastic in their stomachs.
However, a new trend challenging unsustainable fashion is also on the rise: thrifting. Shopping at thrift stores, stores that sell secondhand items, prevents a lot of clothing from reaching landfills as quickly.
Cortnie Widen opened White Rabbit in 2006, a boutique that carries locally made goods and vintage items, in hopes of encouraging people to buy used or homemade pieces. Widen believes that thrifting can help reduce clothing waste.
"[I think others should thrift] because if you can reuse something that's already made that will end up in the dump, that's great. There are limited resources," Widen said.
Not only does thrifting protect the environment, but it can also be a unique endeavor for many. Since she was young, Claudia Chia '20 has enjoyed thrifting.
"I just thought it was really fun to find cool, unique things at Goodwill or [other thrift stores.] You wouldn't find those things at Target or anything, so [thrifting] would be a fun experience," Chia said.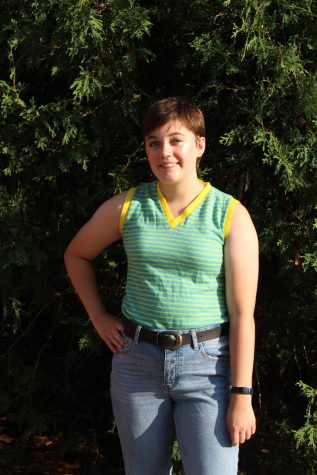 Widen agrees, enjoying the originality thrifting can help bring to your look.
"[Thrift stores and resale shops] to me are much more interesting to shop since they have more unique pieces," she said. "Plus, when you buy something thrifted, you know no one will be wearing the same thing."
Though thrifting is becoming more popular, the clothing industry is still producing most of their apparel in ways that harm the planet. This will continue as long as people still buy their products. However, fast fashion can not last, as it continues to take away from the limited amount of resources and pollutes to a point of no return.
"I hope that the bigger companies like your H&M, your Forever 21, they start to realize that their business is not ethical, their business is not sustainable. They might be making money, but at the end of the day, so much of that money is going into clothes that people don't wear very often," Podhjasky said. "We should focus on getting stuff that will last a while so we don't have to throw it away."
About the Contributors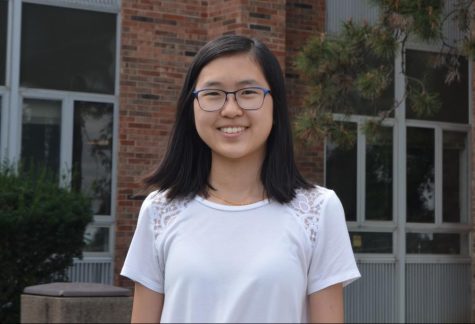 Alice Meng, Print Copy Editor
(she/her) Alice Meng is a senior at West High and this is her second year on staff. She is a copy editor and in her free time enjoys spending time with...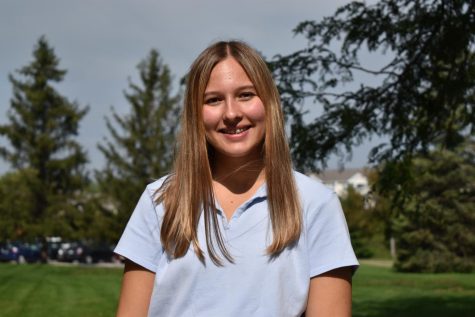 Sara Baroncini, Yearbook People Co-Editor
Sara Baroncini is a senior at West High. She is co-people editor for the yearbook as well as a photographer for her second year on staff. When she is not...