Alternatives to movie theaters
WSS examines several alternatives to movie theaters as the shutdown of cinemas continues in the wake of COVID-19.
As the endless days roll by since theaters closed down in March, arts buffs like myself have come to the ultimate realization: watching movies at home doesn't live up to going to see a film at a theater. This is due to far more than merely having the opportunity to see a movie on the big screen rather than your laptop or TV, or a greater sound quality that comes from the speakers located throughout the walls around the screen. As Greg Marcus (the Marcus Theaters CEO) wisely notes before every picture starts, we go to cinemas for a distraction; we go to them to relieve ourselves of our work lives and distractions. Moreover, we go to theaters for the mere experience of being surrounded by people, to hear other people laugh at a funny joke, or cheer when the heroes assemble in the final act of a superhero caper.
Obviously being stuck at home as per quarantine standards will not allow for that theatrical experience to authentically be recreated without putting yourself or others in danger of contracting the coronavirus. Still, here are some alternatives to the now-defunct ability to catch new movies at the theater.
New direct-to-streaming releases
Lots of studios are taking advantage of theaters being closed and releasing the films they intended for the coming months straight to streaming. This means that some movies, like "Trolls World Tour," ended up completely skirting theaters and went up for buying at the time of its release. Other movies, like "Onward" and in the summer "Artemis Fowl" went in a similar direction with the added incentive of also going on Disney+ in addition to being able to be bought on Amazon. Take a seat, get the family together for the night, assemble some drinks, and pop a new release on. Sure, it isn't the same as going to a theater, it would be wise to take advantage of the onslaught of online releases.
Online quarantine "watch parties"
Entertainment websites have started up the trend of watch-along parties, where you start a movie at a specific time of the day and follow the real-time responses of other viewers on social media, usually Twitter. In lots of these so-called parties, the creators of the movie and stars may tweet along or livestream their commentary, answer fan questions, share never before seen behind-the-scenes images, and occasionally chime in with their own takes. In a similar way, Lionsgate has started up their "A Night at the Movies," where they stream movies like "The Hunger Games" and "John Wick" for free on YouTube with encouraged discussion.
Start your own viewing party
If you want, you can even start up your own viewing party. Send out a message to all your friends and schedule a time to start up an online meeting or facetime, then decide on a movie to watch. Inviting friends over to see a movie has never been simpler. Bonus points for cooking your own popcorn to munch on while watching.
Drive-in theaters
Take a step back through time to the golden days when cinemas weren't a thing and movies could only be seen on the big screen from the seat of your car at a drive-in theater. There are several drive-in theaters located in the Midwest that offer the social-distancing guarantee that comes with seeing a movie in this old fashioned way. Be sure to check which drive-ins are open or closed for the season.
Create a home theater
This option will no doubt be harder to pull off, requiring time and possibly money, but the end result will be worth it. Set a place in your house, such as a room in the basement or an unoccupied attic, and busy it up to be as much of a personalized home movie theater as possible. Arrange a couple of couches or chairs, fix up some appropriately placed lights, place some posters on the walls if you have any, and customize the room to your own liking. If you already have a projector or an advanced home sound system, pool those resources to your advantage. While it may be a far cry from the confines of a real cinema, making your own specialized home theater is as close to the real thing as you can get—and offers quite a nice way to occupy your quarantine time.
While it's not really an alternative to theaters so much as an alternative to streaming sites that require fees, Kanopy is an optimal option to catch up on all the movies that you missed in their theatrical runs without having to pay any money or leave the comfort of your home. This site, offered by the local libraries, lets you pick and stream any number of movies from a collection of thousands with only your library card number.
About the Writer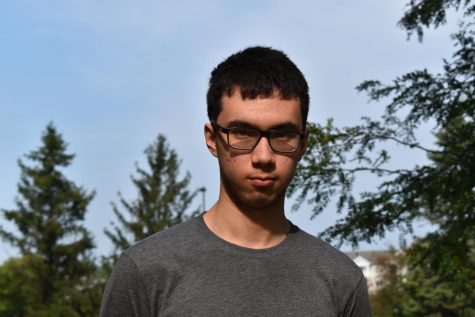 Edward Keen, Arts Editor
Edward Keen is a senior and this is his second year on staff, where he is Arts Editor. In his free time, he enjoys reading.