Cross country teams compete at Spartan Invitational
The girls and boys cross country team placed sixth and third respectively, each led by Vicki Carrica '23 and Alex McKane '22.
The girls and boys cross country teams traveled to Crow Creek Park in Bettendorf on Sept. 5. The girls cross country team placed sixth with 117 points and the boys cross country team placed third with 85 points.
Girls top 7 teams:
1. Johnston 33
2. Dubuque Senior 57
3. Bettendorf 98
4. CR Prairie 104
5. PV 112
6. IC West 117
7. North Scott 173 #iahsxc

— Matt Coss (@mattcoss78) September 5, 2020
In the course with longer hills compared to the Ashton Cross Country Course, sophomore Vicki Carrica led the Women of Troy pack and placed 18th with a time of 21:29 while senior Maddy Negley was just behind and placed 19th in 21:30. Sophomore Annie Schwartz placed 23rd in 21:57.
The top 15 Varsity Boys at the Spartan Challenge – Champion Alexandar McKane from Iowa City West in 16:25 – Outstanding race Alexander!@ICWestAthletics pic.twitter.com/DyGGaxWcPv

— PVHS (@PVSpartanPride) September 5, 2020
Alex McKane '22, who had a runner-up finish at the Cedar Rapids Prairie Invite on Aug. 29, took home an individual title with a time of 16:25. Seth Cheney '23 finished in 17:17 placing 14th overall while Caden Noeller '22 placed 21st with a time of 17:42.
Boys team scores (top 7):
1. CR Prairie 56
2. Johnston 62
3. IC West 85
4. City High 93
5. PV 94
6. North Scott 171
7. Muscatine 185 #iahsxc

— Matt Coss (@mattcoss78) September 5, 2020
With the potential two-week suspension of ICCSD high school sports starting Sept. 8, most of the runners had a certain mindset during their race.
"When I was running I was just telling myself that if it's the last meet of the season I better run fast and give it everything I got," said Mattie Harms '22 who placed 28th with a time of 22:14. "I think that was the mindset most everyone on the team had going into the race."
About the Writer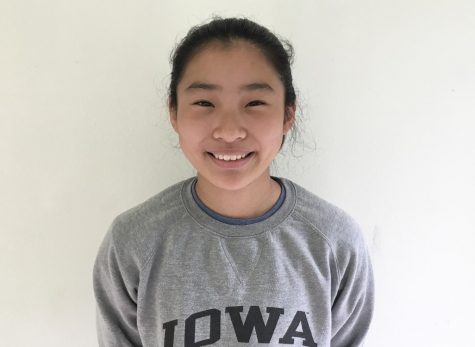 Hanah Kitamoto, Print Co-Editor-In-Chief
(she/her/hers) Hanah Kitamoto is a senior at West. This is her third year on staff and she is the print co-editor-in-chief. She enjoys meeting new people,...