Straight to the point
The introduction of COVID-19 vaccines has been a light at the end of the tunnel, but there are still some misconceptions. Read on to learn more about how they work.
It's been over a year since the novel coronavirus made its first appearance. Although the pandemic has felt never-ending, with the introduction of two COVID-19 vaccines released by companies Pfizer and Moderna (and others on the way), it seems as though an end is finally in sight. Still, some people remain skeptical. 
According to a Gallup poll collected from Dec. 15 through Jan. 3, 65% of Americans agree that they'd be willing to take a COVID-19 vaccine. However, this is likely not enough to develop herd immunity, a method to slow the spread of disease by vaccinating a large enough portion of the population. Because transmission is then less likely from person-to-person, it's more difficult for diseases to spread. As a health educator and public information officer for Johnson County Public Health, Susan Vileta stresses the importance of herd immunity.
"[The vaccine] will help us get to herd immunity of a bigger portion of the population so that we can hang out with our friends and family a little bit more freely in the future," Vileta said. "If a good portion of our community decides not to be vaccinated, we'll never get there."
Although researchers have yet to determine the exact percentage of the population that would need to receive the vaccine to achieve herd immunity, past vaccines have required a much larger majority than 65%. For example, the polio vaccine requires 80% of the population to be vaccinated, while measles requires 95%. 
"
The belief that [the vaccine] can cause the illness is a myth. It's not true, because these are not live viruses being given to people."
— Dr. Alison Phillips, Iowa State University
Dr. Alison Phillips is an associate professor at Iowa State University specializing in health psychology, which involves analyzing people's behavioral reactions to illness and medicine. She attributes these lingering feelings of skepticism around the vaccine to many factors, one being misinformation.
"This vaccine is looking similar to other vaccines in that there are some side effects for some people. The very severe ones are rare, and they're because of an allergic reaction to an ingredient in the vaccine rather than the dead virus," Phillips said. "The belief that it can cause the illness is a myth. It's not true, because these are not live viruses being given to people." 
The COVID-19 treatment is unlike former vaccines, such as the flu shot, because mRNA is injected instead of a weakened version of the virus. The mRNA acts as instructions for cells to learn to fight COVID-19 themselves without actually exposing them to the virus. Because the COVID-19 vaccine is the first to use the mRNA method, Vileta sympathizes with those who are wary of taking it.
"I understand people being worried about something that seems new. While they seem new, the mRNA part of [the vaccine] has been researched and looked at for very many years. Very bright scientists from all around the globe have been working on this because of the worldwide pandemic," Vileta said.
Since most other vaccines have taken longer to create, some people are concerned that the COVID-19 vaccine is unsafe due to its swift development. However, as Vileta said, vaccine production has been sped up because many scientists have been working on it. Johnson County Public Health also ensures that the vaccines have gone through all the proper procedures and testing and that no safety standards or steps have been disregarded.
Another cause for worry has been the new variants of COVID-19 discovered in the United Kingdom, South Africa and Brazil, especially because the UK variant has been found in Johnson County. Research on these mutations is ongoing, but promising.
"It's not unusual that we're discovering variants. Viruses constantly change through mutation. Early evidence suggests the current mRNA vaccines are effective against variants, but more study is needed," Vileta said.
Still, Vileta understands that information surrounding the vaccine can often be confusing and encourages anyone with questions to contact Johnson County Public Health officials. 
"We're understanding at public health," Vileta said. "People want to know why, they want to know how, they want to know what it's going to do. And so that's been our stance here, to acknowledge that this whole thing has been frightening and confusing, and we expect you to have questions about the vaccine, and we want you to get some answers."
"
People want to know why, they want to know how, they want to know what [the vaccine] is going to do. And so that's been our stance here, to acknowledge that this whole thing has been frightening and confusing, and we expect you to have questions about the vaccine, and we want you to get some answers."
— Susan Vileta, Johnson County Public Health
Another common question is, "When will I get the vaccine?" For most teenagers, it will be a while. At-risk populations such as healthcare workers, immunocompromised people and the elderly will receive vaccines first. Currently, Iowa City is Tier 1 of Phase 1B in terms of distribution, meaning teachers and first responders are currently receiving the vaccine. Vileta estimates that the general teenage population will receive the vaccine sometime next fall, though that timeline could fluctuate. She assures people that they currently do not need to worry about missing their chance to be vaccinated.
"You're not missing anything right now — you're not unaccounted for so to speak. We're going to give out instructions, we're going to say this is the pharmacy you can go to or this is the clinic you can go to. It's going to be everywhere," Vileta said. "If we had that information to tell you right now, because it was your turn and you were ready, you would have it."
When Anna Verry '22 got her doses of the COVID-19 Pfizer vaccine, she had no doubts in her mind. Verry works as a dietary aid at Briarwood Healthcare Center, an assisted living facility in Iowa City. Because she works with elderly patients, Verry was high on the list for vaccine distribution. 
"I knew by getting the vaccine I was helping [the residents]. Some people may not know, but the residents I work with haven't been able to hug their families since March 2020," Verry said. "By choosing to get the vaccine, I'm making it so that one day, they'll be able to hug their families again."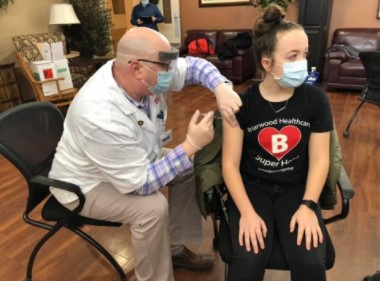 Verry only experienced the mild tenderness that typically comes with vaccines and a short headache, but other temporary side effects can include fever, chills and fatigue. Before making a decision, Verry wants students to think about the positive impact getting vaccinated can have on others.
"When deciding to get the vaccine, I highly encourage you to think of those around you and in your community which this vaccine is helping," Verry said. "It can be easy to get lost in the concerns of the vaccine, but if you dive a little deeper into what this vaccine means, you'll realize that it's not only giving you protection, but it's also saving lives and allowing those in vulnerable populations to be able to see their families and friends again." 
Still have questions? Check out Johnson County Public Health's social media, such as their Twitter and Facebook, for "Vaccine Watch Wednesdays", or email them at [email protected]
Leave a Comment
Donate to West Side Story
Your donation will support the student journalists of West High School. Your contribution will allow us to purchase Scholarship Yearbooks, newsroom equipment and cover our annual website hosting costs.
About the Contributors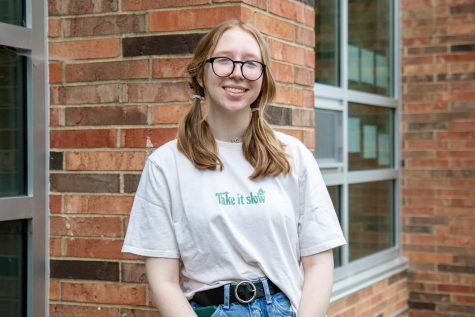 Kailey Gee, Print Co-Editor-In-Chief
(she/they) Kailey Gee is a senior at West High, and this is their third year on staff. She's working as the Co-Print-Editor-in-Chief with Hanah Kitamoto....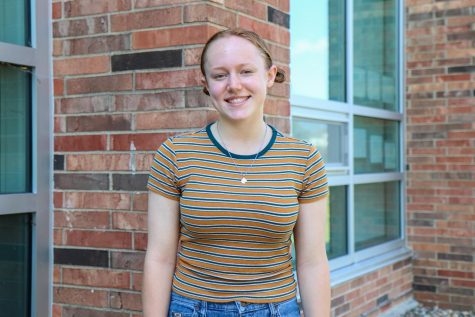 Eva Jordan, Reporter and Designer
Eva Jordan is a junior at West and this is her second year on the Print staff as a designer. She also enjoys sitting on the ground for long periods of...