Korean culture club launches fundraiser against anti-Asian hate
West's Korean culture club, Dongari, has launched a T-shirt fundraiser where all proceeds will be donated to Asian Americans Advancing Justice.
Soomin Koh, Print Co-Profiles Editor
April 21, 2021
Dongari, the Korean culture club at West, is selling hand-designed T-shirts in response to the recent rise in anti-Asian hate crimes and sentiment. Alongside weekly Korean lessons, the club has also devoted time to raising awareness for this cause during meetings, and recently put together a presentation on the history of anti-Asian violence which aired on West's Green and Gold TV.
According to Jimin Seo '22, a founding member of Dongari, personal experiences as an Asian American and a global uptick in anti-Asian violence motivated the club to start this fundraiser.
"As Korean Americans, we always felt anti-Asian sentiment, and with the recent rise of hate crimes against Asian Americans, we thought that it was appropriate to speak up about it," Seo said. "We decided to do this in the form of a T-shirt fundraiser, as we can spread awareness while also raising money to support our cause."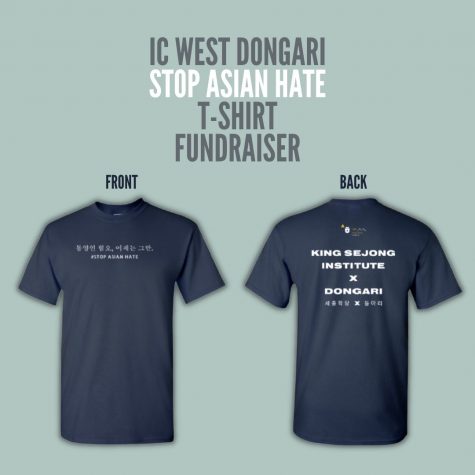 All proceeds from this fundraiser will go to Asian Americans Advancing Justice, a non-profit organization dedicated to empowering the Asian American community through legislation and advocacy. The fundraiser is also in collaboration with the King Sejong Institute, a Korean educational institution sponsored by the South Korean government. 
Iahn Shim '22, another founding member, hopes to positively impact the local community and bring light to Asian hate through this fundraiser.
"I hope the Korean culture club T-shirts will show West our devotion towards stopping Asian hate while also supporting non-profits and expanding our influence nationally," Shim said.
The online shop for the fundraiser will be open until April 25. For more information and to purchase a T-shirt, click here.