Pump It Up officially reopens
Start getting pumped up about West High's favorite coffee stand finally reopening.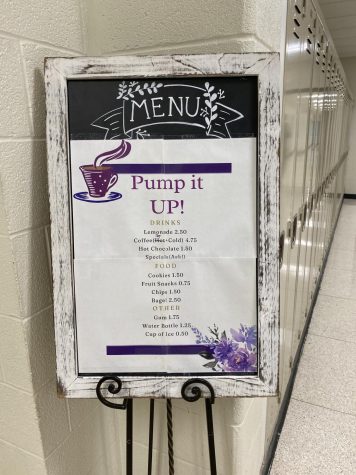 West High students finally have access to their usual morning pick-me-up. West High's own coffee shop, Pump it Up, has officially opened their doors as of Tuesday, September 6th. You can find the stand on the ground floor of the school near rooms 120 and 121.

Starting off in a tiny closet in the computer lab over a decade ago, Pump it Up has become one of the Business Professionals of America (BPA) greatest feats and most valuable assets to the school community. Started by Diane Fickel, one of West High's business teachers and BPA's advisor, the student-run business acts as an opportunity for students to get some hands-on experience in the world of customer service. Students are incredibly hands-on, taking inventory, restocking, making products selling product, etc.

"

They're learning some real-world customer service, what we like to call Customer Experience skills. So it's things that are just helping them grow as individuals with that added benefit of being able to pay for some of their BPA expenses.

— Emily Hudacheck, co-CEO

Profit earned from the store is used to keep stock, pay workers, and pay off club events.

Pump it Up has gone through a lot, from moving location to location, surviving temporary hiatus due to Covid-19, and even this year, lack of new staff threatened to close until the students managed to pull in new recruits in the nick of time. In order to join Pump it Up, you must be a part of BPA; at this time, all spots are currently filled. Being part of Pump it Up includes commitments such as spending one period at the stand in exchange for class credit, weekly meetings, and so on. Any further questions can be taken up with Mrs. Fickel or Ms. Hudacheck in rooms 120 and 121.