Bringing the beat, making a community complete
Hip-hop is more than music. It's a community. CJ Carter rekindled a lifelong passion for it through West High's Hip-Hop Club, and is beginning to take his talents to the stage.
Everyone has at least one hobby, talent or passion, but how many people actually get to share it with the public on the big stage? If you're lucky, you can hone in on this one passion and bring it to new heights. Music is no exception, and CJ Carter '24 is focusing in and pathing his way to the top.
Half a decade later, a broken phone and a beat was all it took to discover a hint of a flame.
"It was around 2018 when I first started. There was an app called Beat Maker Pro that I used to play on my phone a lot," said Carter. "My phone had broke and my cousin had it on his phone, but he wouldn't let me use it. So I got mad, and went in my room and downloaded FL Studio onto my computer, and then it just went from there." 
While creating his own songs and uploading them onto platforms such as A service for independent musicians that uploads artist's music into multiple online stores & streaming services.DistroKid or directly to Spotify, Carter discovered West High's Hip-Hop Club. The founding of this club had successfully struck the very students it looked to inspire.
"When I started Hip-Hop Club, it started off with a purpose: to educate high school students about hip-hop because a lot of people think it's just a bunch of noise. It's got a very bad stereotype on it," explained Don Doyle, supervisory paraeducator. "My thing is to bring the idea of hip-hop back. And the idea of hip-hop is that it's a testimony of what one has been through. That's how hip-hop started, and it started in urban communities."
The club proved not only to be founded on community, but to build and inspire its own.
"It made me want to do it more because before Hip-Hop Club, I wasn't really taking music as serious," shared Carter. "I was taking it seriously to an extent, but Hip-Hop Club made me realize, 'Dang? I can do all this?' It just made me want to do more."
"
Hip-Hop Club made me realize, 'Dang? I can do all this?' It just made me want to do more.
— CJ Carter '24
Thus, Carter crafted his own material, and he had the perfect opportunity for sharing it: Doyle is the CEO and founder of GiAri Entertainment LLC. This local production company provided Carter with tools to spread his music.
"Oh, I'm proud of the kid. Very proud of him. When I met CJ, he had a few songs already created. And I'm starting to see him get more into himself. Also, CJ wasn't really big on performing. And he did two performances for me," said Doyle.
The second of Carter's two live performances was roughly a year after the first on Jan. 14. Carter took to the stage in another showcase featuring more than 30 independent artists.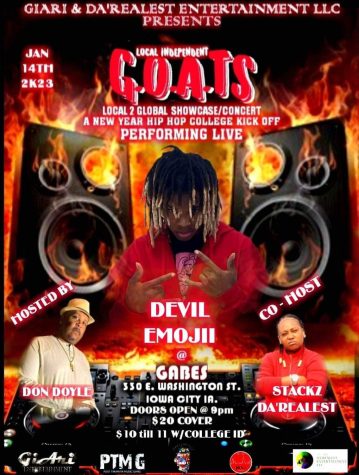 "We had artists from Chicago, Indiana, Minnesota, Milwaukee, Pittsburg and more come out and perform. Then you have, of course, our Iowa student here, did his thing as well on stage," said Doyle. "It was a memorable moment, man. It was epic for me. And man, CJ is an awesome kid."
Not only was Doyle's showcase a milestone for him, but it was also for Carter, too, despite any technical difficulties.
"The performance went well, you know, I had the audience going crazy. My good friend came, my aunt and uncle came, and it was just all around a nice experience. I performed a song that I had made, but the song didn't load up. I had to do it like acapella, no beat, no nothing, just off the top," shared Carter. "It was really crazy. I've never had to do that before, especially in front of a live audience, so that was pretty wild."
Additionally, the showcase served as a platform for the artists to meet each other, and specifically bond through their music.
"Two artists out of Chicago who got a nice little buzz on the internet, both really enjoyed his performance. They actually tried to encourage him to continue what he was doing, which I thought was positive. There were a lot of positive vibes there," remarked Doyle. 
With these two performances under his belt, Carter has set high expectations for Doyle in his early exploration of the genre.
"I would say [he should shoot for] the sky because the sky is not the limit, it's just the beginning. I could say I want to see him be nominated for a Grammy. I could say I want him to be nominated for a The BET Awards is an annual award show that was established by the Black Entertainment Television network to celebrate black entertainers and other minorities.BET award. But most of all, I want to see him happy," encouraged Doyle. "His personal happiness is more important than anything, and his personal happiness hopefully will come from his success."
As Doyle continues to promote Carter through involving him in hip-hop opportunities and helping him with paperwork to earn revenue off his music, Doyle aims to develop Carter mentally as well.
"Everybody thinks the five Ps of life is proper preparation that prevents poor performance. In the music industry, it's proper paperwork to prevent plagiaristic practices. So, with that being said, I'm trying to make sure that he does not have nothing to deter him from his job or what he wants to do, but more so, give him the confidence that he can do it," shares Doyle. 
"
My thing is, we all need each other at some point, and I want to be the best person I can be to assist those around me to bring the best version of them out. Period.
— Don Doyle
While Carter further explores his talents and abilities and navigates the monetary aspect of music production, he has learned the keys to building from the ground up.
"For anybody that wants to become an artist or anything, my advice, which I'm still coming up. would be to be consistent. Consistency is key all the time. And patience. Everything won't happen overnight," noted Carter. "Really though, just have fun."
As hip-hop reaches more of today's youth and the resulting community continues to grow, Doyle believes that this is the first step to uniting is being able to rely on each other.
"My thing is, we all need each other at some point, and I want to be the best person I can be to assist those around me to bring the best version of them out. Period. That's what I'm here for, to bring the best version of you out. And I'm going to count on you to bring out the best of me."
Leave a Comment
Donate to West Side Story
Your donation will support the student journalists of West High School. Your contribution will allow us to purchase Scholarship Yearbooks, newsroom equipment and cover our annual website hosting costs.
About the Contributor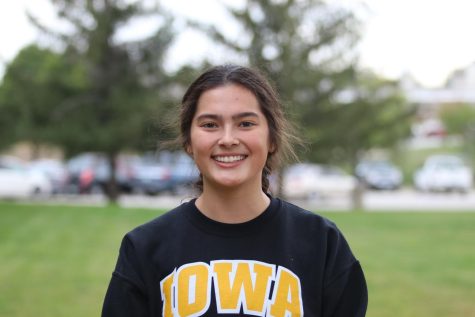 Alaina Greenlee, Video Editor
(she/her) Alaina Greenlee is a senior at West and is in her second year as the WSS Video Editor. Between creating half-decent videos and being below average...