The excitement in the air is electric as the light dims for the season's starting line-up. With a majority of the varsity team graduating last season, senior players Emma Stammeyer '24 and Melae Lacy '24 prepare to run the home court, with a new lineup, to a five-set tug-of-war victory. 
The first set started off strong with Western Dubuque chasing right behind the Trojan's tail. Towards the end, the Bobcats managed to catch up in the last three points of the game by dodging West's block and going on a serving run. The Trojans lost 24-26. 
The Trojans won the second set with ease, with starting freshman Sophia Austin '27 going on a long serve run, breaking the Bobcat's back-row and the team scrambling behind 11-25.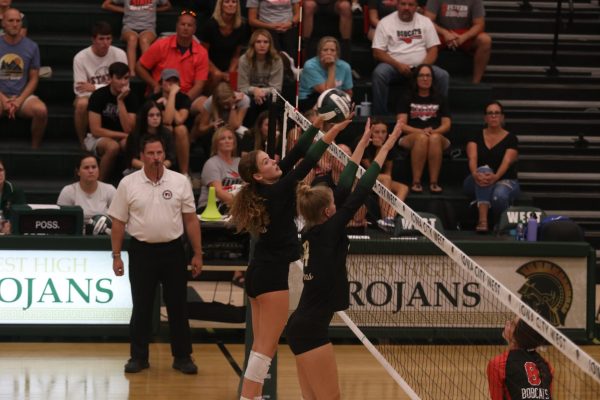 For the third set, Western Dubque's offense began to pick up. They ditched their original plan of setting out far to left pin and switched to quick sets to middle hitter Ally Reuter '23, who managed to swing past the Trojan's blocks. The Trojans lost 23-25 in set 3. 
With a quick pep talk and a new plan, Coach Keeley Arnold sent the Trojans back on the court with more energy than ever before. The crowd fed on this energy as Austen and Lacy made back-to-back points swinging from the outside. After many attempts, middle blockers, Jocelyn Jacobsen '24 and Sophia Bodin '25 managed to shut down Western Dubuque's middle and play their offensive game. The Trojans won the set 25-15.
West takes the last set easily 15-8 as Austin led the game with eighteen kills and thirteen digs. Lacy took seventeen kills while Stammeyer credits to thirty-three assists. West had a great defensive line, with libero Lucy Schmidt '24 and Lacy digging eleven balls respectively. 
The Trojans will be back on the court on Sept. 5 against Linn-mar High School.