The pickle brothers
Assistant Principal Luke DeVries is passionate about pickling cucumbers; he pickles with his brother Levi for family and friends.
It's Saturday afternoon, and assistant principal Luke DeVries is cutting up the hottest pepper in the world—the Carolina Reaper. He's creating a brine to pickle local cucumbers, adding in peppers to create the hottest version of D's Dills: "HOLY %#&@!"
Luke* began pickling cucumbers around 10 years ago as a hobby with his brother, Levi DeVries. At a relative's house, the brothers noticed how everyone enjoyed eating habanero pickles and decided to take their shot at creating their own.
"The pickle scene isn't big anywhere," Luke said. "There's an opportunity to break into the pickle market."
It was difficult for the brothers to make their pickles regularly when Luke lived in San Antonio, where he worked for nine years. They were only able to pickle when Luke came to Iowa to visit. When an assistant principal job opened up in the city Luke went to college in, Luke and his wife Mayra moved to Iowa City. They lived in Levi's basement for six months before finding a permanent residence; with both pickle brothers living a few feet away from each other, their pickling took off.
"It was like a relaunch," Mayra said. "They had this new passion for [pickling] again."
Pickling is a time for the DeVries brothers to catch up and remain engaged in an activity they are both passionate about.
"Even though we live in the same town, we both have busy lives and don't get to spend a ton of time together," Levi said. "Pickle-making is time we can set aside to turn on some tunes, have a few beverages and just hang out together."
Pickling cucumbers begins with sterilizing the jars, which are heated in the oven to kill bacteria. The brine is prepared using vinegar, water, spices (these are kept secret) and the peppers. The brothers cut the cucumbers into spears and "stuff the jars" with them before pouring in the boiling brine.
"We try and use all local products as much as we can," Luke said. "We started with cucumbers out of my parents' garden, and sometimes people give us cucumbers they grow now."
"
If you're going to eat a spicy pickle, you might as well eat the spiciest pickle."
— Luke DeVries
D's Dills, the brand name of the pickles, produces five spice levels. The order of least to most spicy is as follows: More Tingly Than Hot, Disco Inferno, BLAZE of GLORY, FIRE in your HOLE and HOLY %#&@!. The spice level is determined by what types of peppers are used; in the hottest level you can expect to taste Ghost, Carolina Reaper and Scorpion Peppers.
According to Luke, the BLAZE of GLORY pickles are the crowd favorite. While Mayra agrees, Luke holds a slightly different set of beliefs when it comes to eating the pickles.
"If you're going to eat a spicy pickle, you might as well eat the spiciest pickle," Luke said.
Levi says this is easier said than done.
"It also always cracks me up seeing Luke eat a really spicy pickle," Levi said. "The sweat beads on his forehead, he makes some high-pitched squeals I didn't know were possible from a grown man, and before long he has his whole face under the kitchen faucet."
To the dismay of many readers, multiple regulations about where the pickles should be made mean the pickles are not currently for sale.
"If someday we win the lottery or a large investor would like to partner with us, maybe we could take it to the next level. No pun intended," Levi said.
Although Luke and Levi don't see themselves ever quitting their day jobs to be full-time picklers, they do it for much more than the recognition and money.
"I do it for the camaraderie, the joy of eating pickles and putting a smile and somewhat a bit of misery on everyone's face who tries one," Luke said.
*since there are three DeVries' in this article, we are calling each by their first name. However, the WSS does not condone the use of "Luke" when a student refers to the assistant principal.
Ian Prescott
About the Contributor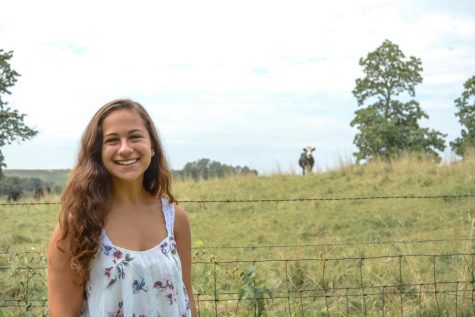 Nina Elkadi, Print Editor-in-Chief
Nina Elkadi is a senior at West and a third-year staffer. She is the Print Editor-in-Chief this year and would like to thank Kanye West for helping her...