How to help essential workers
While a lot of students are stuck at home watching Netflix and catching up on homework, other students are working as essential workers, risking their lives to provide food, care and resources to those who need them. Here are some ways you can give back and help your classmates as well as other essential workers.
The definition of an essential worker depends on the location and the business, but the Department of Homeland Security created an unofficial advisory that classifies essential workers as "workers who conduct a range of operations and services that are typically essential to continued critical infrastructure viability." The list includes jobs in healthcare, telecommunications, IT systems, defense, agriculture, food production, transportation, energy, water and wastewater, law enforcement and public works. Here are six examples of ways you can help reduce the pressure on the lives of our community's frontline workers.
Social Distance
One of the easiest ways to help essential workers is simply by following quarantine and social distancing guidelines. Essential workers are at a higher risk of getting COVID-19 because they have to work with the public, so keeping interaction with them to a minimum can help reduce their risk. This also helps flatten the curve so that medical workers aren't overwhelmed with new cases. As always, maintain a six-foot distance from anyone while in public, and avoid large groups of people. When you are out in public, wear a mask to ensure the safety of other people, especially if you have upper-respiratory symptoms.
Stay Home
Another way to lower essential workers' risk of getting the virus is by staying home. This is especially important if you have any symptoms related to COVID-19 such as a cough or a fever. Even if your symptoms are unrelated to COVID-19, it can still cause essential workers to feel anxious about their wellbeing. There are many resources available such as grocery deliveries and West's lunch service that make it so that you don't have to leave your house.
Offer to Help
Essential workers are some of the most isolated people during the quarantine. They spend time with the general public but are oftentimes separated from their families to protect them from infection. They also might have a harder time getting access to supplies they need such as groceries or cleaners. If you know any essential workers, check in with them and see if they need anything. You can offer to drop off groceries or send them a care package through the mail. Even writing them a letter or sending them a text can help remind them that they're appreciated.
Make Masks
Since masks are in such high demand, and quite difficult to get a hold of, one way you can help is by making cloth masks for yourself or for hospitals. If you have the necessary supplies around and know how to sew, you can donate masks to organizations such as sewgoodgoods.org. They will then distribute the masks out to different hospitals.
Donate
In addition to donating masks, you can also send monetary donations directly to hospitals or other businesses that are accepting donations. The University of Iowa Hospital is not currently accepting donations other than gift cards for their staff, but they have a list of necessary items for when their conditions change. Many students, such as the members of Cadenza and UNICEF club, are creating fundraisers to help out.
Support Local Stores
Supporting stores and businesses helps keep workers from losing their jobs. There are many ways to help them, including ordering takeout or buying gift cards. Downtowniowacity.com partnered with Think Iowa City, Iowa City Area Development Group and Iowa City Area Business Partnership to help local businesses in the Iowa City area. Their website has a list of downtown businesses and how you can help them out.
Leave a Comment
About the Writer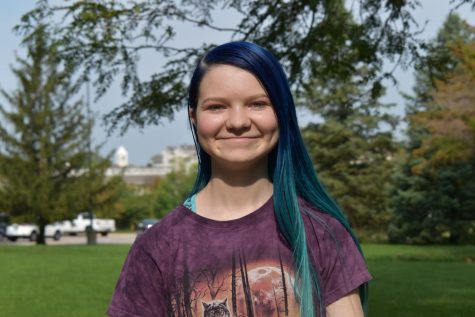 Bess Frerichs, Online Managing and Feature Editor
(she/her) Bess Frerichs is the online managing and feature editor. As a senior, this is her third and final year on staff. She enjoys reading, writing...