Jazzing up exercise
Social studies teacher Jessica Mehegan recounts her time as an attendee and instructor at the Jazzercise Iowa City Fitness Center.
While some may drive right by the "Feeling sweaxy?" sign outside of the jazzercise fitness center on Gilbert Street, other curious individuals might just be intrigued enough to stumble upon their new favorite workout routine. When walking into the center, they'll notice a group of lively and enthusiastic jazzercisers already in motion. Even as sweat runs down these jazzercisers' backs as they try to mirror the moves of their instructor, nothing can take away from the upbeat music, positivity and laughter that fills the exercise room. Contrary to what most people might think, jazzercise does not necessarily have to include jazz. Rather, it is a unique combination of dance paired with any genre of music. If an individual walks into a class Sunday morning or Wednesday afternoon, they'll most likely see social studies teacher Jessica Mehegan leading a group of ardent jazzercizers.
Despite her reluctance at first, Mehegan attended her first jazzercise class in high school after her mother suggested that she accompany her.
"I'm like, 'Uh, my mom is telling me to do this. No I don't want to' and then I'm like, 'Wait, this is actually really fun'," Mehegan said.
Although Mehegan only took up jazzercising her senior year of high school, this was not her first time dancing. Starting around the age of four, Mehegan decided to try ballet, tap and jazz. In addition to dance, she also played the oboe, clarinet and piano. Mehegan believes her musical background helped her find her musicality and rhythm. Since there were no jazzercising opportunities when Mehegan went off to Miami University in Ohio, she took a break from it in college. After returning to Iowa to earn her master's degree, Mehegan got back into the beat of attending weekly classes. Soon, her current jazzercise boss and previous coach, Kristee Bontrager, suggested that she become an instructor as well.
Bontrager knew Mehegan's mother and had seen Mehegan attend her classes during high school but grew to know her well after she came back home from Ohio.
"We were having class at the Iowa City Recreation Center and she came back from college … and I'm watching her, and she moves really well. It's clear that she's had dance technique before. She's got a lot of energy and a lot of personality, and that's what you need to be a good jazzercise instructor," Bontrager said.
"
She's got a lot of energy and a lot of personality, and that's what you need to be a good jazzercise instructor."
— Kristee Bontrager
Mehegan decided to seize this opportunity, but in order to become an instructor she had to work through a training process. With the help of a training specialist and Bontrager, Mehegan prepared for her audition to become an instructor. Along with the audition, there was a written component to the certification process, which tested Mehegan's knowledge of anatomy and other health information. Nevertheless, Mehegan felt the process went smoothly and soon was up on the small stage at the front of the room, leading classes to her favorite songs.
"Everyone was so nice [my first day as an instructor]. The community is so nice and so supportive and friendly that even if I had fallen over on the stage or something people would've just been really supportive and helpful," Mehegan said. "Everyone understands what it's like to do something for the first time, and so people were just enthusiastic and cheering me on."
Each class is an hour long, with the objective of the attendees reaching a certain heart rate before gradually working back down. The songs get progressively harder as the lesson goes. Afterwards, attendees work on strength building with weights, which does not involve dancing.
As Mehegan continues to teach, she now feels more comfortable coaching jazzercise and enjoys coming up with her own sets and routines. Even while dancing, Mehegan calls out to her attendees and asks what they have been up to. Individuals who have had Mehegan as an instructor emphasize how much they love her personality.
"Nobody else does the moves with as much enthusiasm and exaggeration as her. I really feel like when I take one of her classes I leave really pumped up and feel like I got a great workout," Stacey Mckim, one attendee said.
Another attendee, Leah Burke, agreed.
"She brings so much energy. I smile through the whole thing," Burke said. "Don't tell, but she's one of my favorites."
"
Don't tell, but she's one of my favorites. "
— Leah Burke
As for her double life, being both a teacher for social studies and jazzercise, the dynamic between the two is evident in the exercise room.
"If I say something extra aggressive or whatever like 'Okay, do this' then I'm like 'Oops, that's my [high school] teacher voice.' I joke about it a lot," she said.
For Mehegan, jazzercise made for a great stress-reliever from her busy life as a high school teacher. She tried multiple other activities beforehand, like running and yoga, but none compared to the enjoyment she found in jazzercise.
"I think that the biggest thing that's different regarding jazzercise to other workouts is that you get a different variety based on what instructor you go see," Mehegan said. "And there's really fun moves and everything is choreographed, so you don't feel like you're just left to your own devices to just figure out 'What should I do next?' Someone always tells you."
Because of Mehegan's motivation and enthusiasm for jazzercise, Bontrager could not be happier with hiring her as an instructor. She admires Mehegan's ability and dedication.
"What I love about [Mehegan] as an instructor is that … she locks that choreography down and she just knows it," Bontrager said. "She's [also] extremely reliable. If there's an open class and she can help, she jumps in and she does it."
Acknowledging how exercise is important, not only for physical health but for mental health as well, Mehegan is grateful for being able to work out with such an energetic community.
"People in general put off health to take care of others or other things, and so I think it's important to do something for you," Mehegan said. "It's definitely my 'Me Time.'"
About the Writer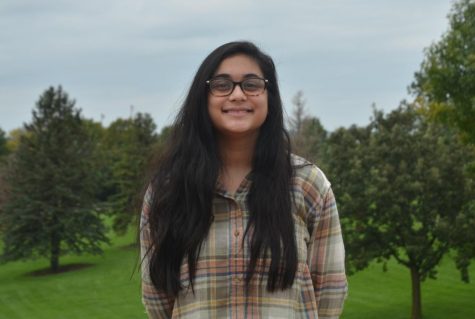 Fareeha Ahmad, Profiles Editor and Yearbook Copy Editor
Fareeha Ahmad is a senior at West High, and this is her second year on staff. She is the profiles editor for print and the copy editor for yearbook. When...