2018 at West: a year in review
Read about some of the events that shaped 2018 at West High.
2018 brought change to West High in many ways, including new traditions and student activism. WSS compiled a list of major events and changes that helped define the past year at West.
The Arts
ICCSD show choirs kicked off 2018 with their annual fundraising event, Dollars for Scholars, on Jan. 10 at Liberty High School. The event raises money for the Great Iowa City Area Dollars for Scholars Endowment, an organization that provides scholarships for the district's students to continue their education at a post-secondary institution.
On March 5, West High students organized the annual MOST benefit concert. Proceeds from the event went to the Miles of Smiles Team, a group of medical professionals who travel to Guatemala each year to perform ENT, cataract and cleft lip and palate surgeries.
The second-annual Walk It Out multicultural fashion show took place on March 31 in the West High cafeteria. The event showcased a diverse array of fashion, dance and musical performances. Proceeds from the show went to the University of Iowa HIV clinic.
In April, Theatre West put on a production of "West Side Story." In contrast to 2017's spring musical "Les Miserables" which revolved around vocal ability, "West Side Story" was much more dance-centric.
Student activism
Following the school shooting at Marjory Stoneman Douglas High School in Parkland, Florida, a group of ICCSD students formed Students Against School Shootings (SASS) and held a walkout to protest the country's lack of gun control on Feb. 19. On Feb. 22, many West High students gathered after school to pen letters to congressmen/women encouraging them to pass stricter gun control legislation. A month later, on March 24, SASS held its own March for Our Lives protest downtown, attracting high school and college students, along with many members of the Iowa City community.
On April 20, the 19th anniversary of the Columbine School Shooting, members of SASS held a "Die-in" in Iowa City as a part of National Walkout Day. Protesters laid down for six minutes and 20 seconds to symbolize the amount of time the Marjory Stoneman-Douglas gunman opened fire.
Guest speakers
On April 6, West High students gathered in the Arganbright Auditorium to hear civil rights activist and a member of the Little Rock Nine, Doctor Terrence Roberts, speak. He shared his story of integration into Central High School in 1957 and his continued education and experiences.
On Sept. 18, the West High library welcomed author of "Dear Martin," Nic Stone. Six student discussions were held throughout the day to allow students to gain a better understanding of the author's background and the experiences that shaped her book.
Awards
In March, Jostens chose the 2017 West High yearbook, Trojan Epic, to be featured in its 2018 lookbook. Six Epic spreads were featured in the lookbook. In previous years, West only had one to two spreads featured.
In September, the National Scholastic Press Association (NSPA) named the 2017-18 West Side Story Newspaper a Pacemaker finalist, and in November named WSS a winner. The newspaper hadn't received a Pacemaker honor since 2012.
The 2019 National Merit Scholarship Semifinalists were announced on Sept. 12. West led the state with 21 seniors qualifying as semifinalists.
Sports
Students involved in Best Buddies kicked off the 2018 sports season during their halftime show performance at the tie-dye out girls basketball game against Cedar Falls on Jan. 26.
On Feb. 10, West hosted the Boys state swim meet for the first time in 13 years at the Campus Recreation and Wellness Center in Iowa City, finishing 13th overall.
Nine wrestlers qualified for the state wrestling meet held on Feb. 17 and capped off their season with two champions.
On March 2, many West High students traveled to the Wells Fargo Arena in Des Moines to cheer on the Women of Troy against the Little Hawks in the Girls state basketball tournament. West won 56-45 despite losing to City twice during the regular season. The Trojans returned a week later to compete in the boys basketball state championship. The team was defeated by Cedar Falls 45-65.
The hometown premiere of "The Miracle Season" took place on March 18 at the Englert Theatre. The movie tells the story of how the Women of Troy managed to secure the volleyball State Championship title for a second time despite the loss of star player Caroline Found.
On March 19, Mark Reiland announced he was stepping down as head coach of the West High wrestling team, a position he had held since 1999.
West's cross country team welcomed new head coach Josh Kidman at the start of the fall sports season.
The volleyball team's season ended with a defeat by Kennedy in the qualifying rounds of the state tournament.
The football team held on to the boot for another year with a win over City High on Oct. 19.
On Nov. 3, the Girls swim team (combined with Liberty High School) competed at the state swim meet finals, finishing sixth overall.
New at West
In 2018, many new clubs developed at West, including Spoken Word Club, Pep Club, Film Club, Students for Open Discussion and Kazoo Club.
On Jan. 12, the school honored Doctor Martin Luther King Jr.'s legacy with diverse breakout sessions focused on inclusion, community service and cultural exploration.
West High School Dance Marathon (WHSDM) held a pep assembly in the courtyard on Sept. 21 to get the student body pumped for the evening's gold out football game. WHSDM members were accompanied by the marching band and cheer team.
On Feb. 1, West High paraeducators opened West Side Boutique to allow West High students to cutdown on the cost of prom dresses. Many dresses were donated by community members.
West High students competed at the Robotics World Championship as part of the Iowa City Robotics FRC team in April.
Homecoming took place in the new gym at West High on Oct. 13. Student Senate changed the homecoming court to a group of 24 nominated seniors known as Heroes of Troy. Seniors voted for six Heroes of Troy that were all announced at the dance.
Starting in November, the administration cut down the number of lunch shifts from three to two, getting rid of the "B" block. This lunch period only allowed students 45 minutes of class time and doubled the risk of tardies since it took place in the middle of class.
Leave a Comment
Donate to West Side Story
Your donation will support the student journalists of West High School. Your contribution will allow us to purchase Scholarship Yearbooks, newsroom equipment and cover our annual website hosting costs.
About the Contributor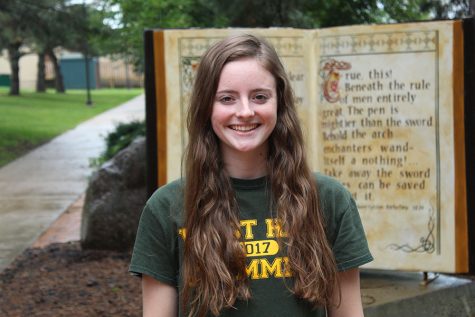 Jessica Doyle, Podcast Editor
Jessica is a senior at West High and is enjoying her third year on staff. Though not a baller, she truly excels when it comes to taking the mic at karaoke...