A haven for aspiring student filmmakers
West High's new Film Club seeks to bring together aspiring student filmmakers and attain a greater appreciation for what goes on behind the camera.
It started as a simple passion. Peyton Freeney '19, a lifelong film enthusiast, began producing short films during his sophomore year with a goal not to aim for a spot in the limelight, but rather to explore the process of filmmaking for himself.
"I'd been interested in filmmaking for a long time, and in sophomore year I decided to start actually making videos on my own," Freeney said. "I was intrigued to enter the area of creating films and test my capabilities."
Fast forward a year: this casual passion expanded to become larger than just an occasional hobby. Freeney sought to do more than simply create videos on his own; he wanted this fascination to become broader, involving the assortment of pursuing filmmakers at West in addition to himself.
"While I loved making films, it was hard to do it alone," Freeney said. "So I went to a mentor of mine, [Dean of students] Ms. Martin, who gave me the idea to get more people out there that are interested in films but are too afraid to reach into filmmaking themselves."
Martin had begun to take notice of Freeney's passion when they were putting together videos for MLK day in early 2017, which led to her suggesting that he create the club.
"The more Peyton and I worked together, Peyton made evident that he was interested in making a variety of films, not just films for our MLK Celebration Days," Martin said. "So, I reminded him of Dr. Shoultz's words that 'if there isn't a club that meets your interests, you should create one.'"
"
If there isn't a club that meets your interests, you should create one.
— Gregg Shoultz
From there, Freeney put this idea to work. A major component of forming the club was finding an appropriate sponsor who shared his enthusiasm and could help out in guiding others. After a prolonged search, he found his fit in new Science teacher Marshal Moellers.
"Peyton was asking a few different teachers if they'd be willing to sponsor the club," Moellers said. "Finally, [Art teacher] Christian Aanestad recommended me because when I was here at West I was a student of his, and he recommended that Peyton come down here and see what I was up to."
Moellers noted, "I love making films and still love making them today, and I wanted to share what I know and help students that are interested."
The club commenced at the beginning of this school year. However, there were a number of issues as it got started.
"Our very first meeting dwindled a little bit in members," Freeney said, "I was anticipating a larger turnout for the introduction."
The technical offerings the school had in store also proposed a setback for the club.
"When I was a student, you could just go to the computer lab and could use the computers because they already had the software on there, and you could edit your films and do it all after school," Moellers said. "Now what we have to work with is a virtual server, and though the software is really good it makes it challenging to import your footage onto the server and edit your film and export."
Issues aside, the club has been relatively successful. In their meetings occurring every Friday and every other Tuesday, they have gathered students with passions in all areas of the film spectrum into groups to start working on and formulating their own filmographic projects.
"Each meeting, our goal is to get together and collaborate with different people that have different abilities," Moellers said. "Say for instance that you have somebody who is really interested in a certain story. They could be considered the writer and they would get together with somebody that's interested in editing and somebody else who's interested in developing the music for it. Each student has their own group that has their own unique abilities that they can use together to plan out the film."
What Freeney has enjoyed most so far is the inspiring atmosphere that the club has fostered.
"[The mood of each meeting] is inspirational and hopeful," Freeney said. "Like if you really like this thing, you should be passionate and not be afraid to chase after it."
Moellers felt similarly, praising the collaborative and inclusive aspects in particular.
"
If you have an idea, nobody will be like 'I don't want to do that idea,' and would rather say 'okay, let's take that and run with it and see what we can further develop.
— Marshal Moellers
"There is a lot of discussion, and it is a very opening and welcoming type of club," Moellers said. "So if you have an idea, nobody will be like 'I don't want to do that idea,' and would rather say 'okay, let's take that and run with it and see what we can further develop.' It's cool and very unique."
Moellers and Freeney's ambition is that students will leave the club at the end of the year with a greater admiration of film and the processes that go on behind the camera.
"When you see something in a film and you try to analyze that and mimic it in your own films, I think you can get a whole different perspective on what filmmakers are doing," Moellers said. "I think they'll have more appreciation for what filmmakers in Hollywood do but also indie filmmakers who are on a tight budget."
Freeney hopes students can take this better understanding of film and put it to use in their futures beyond West High.
"I hope for students to come out with more knowledge about film, but also a renewed passion for it so that they can strive for their dreams even out of high school," Freeney said.
While the future has not been set in stone yet, Moellers wishes to keep the club going in years to come.
"I think this is fun and we're just getting started," Moellers said. "Film Club used to be here at West and it kind of faded out, and I'm hoping to use this year as a rebuilding year. We will just keep adding people to our roster as time goes on."
One way the club plans on garnering more attention to themselves is by hosting their very own film festival this spring, something they called a mix of West's Music Playathon and the Academy Awards.
"We are planning to do an 'Academy Awards' type of thing for students, not only those in Film Club, but anyone [who] has made films within the last year," Moellers said. "They'll submit them, and in the spring everybody will get dressed up and we will hand out physical little mini Oscars. Hopefully it'll be a fun little gig."
"I'm planning on recruiting the orchestra [for the event] and the marching band to perform movie songs," Freeney said. "There will be a ton of food, sort of like the Music Playathon, and it will just be a fun night with lots of activities to do. I think a lot of people will be more interested in Film Club and will want to keep it going afterwards."
"
[The club] is inspirational and hopeful … if you really like this thing, you should be passionate and not be afraid to chase after it.
— Peyton Freeney
Though the club has already been at it for almost two months, it is not too late to join in on the action.
"We would look forward to everybody and anybody that [is] willing to join," Moellers said. "If you're a photographer and you just want to take up a little something here and there, that's fine. If you were into editing, filmmaking, story writing or animating, the same applies. There's a lot of possibilities to pursue."
"It doesn't matter what level of skill you have," Freeney said. "Anybody is welcome to join us and participate, and we'll walk you through the best we can."
Leave a Comment
Donate to West Side Story
Your donation will support the student journalists of West High School. Your contribution will allow us to purchase Scholarship Yearbooks, newsroom equipment and cover our annual website hosting costs.
About the Writer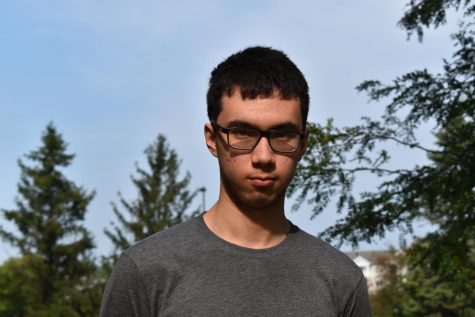 Edward Keen, Arts Editor
Edward Keen is a senior and this is his second year on staff, where he is Arts Editor. In his free time, he enjoys reading.