Civil rights activist visits West High
This past Friday over 800 West High students crowded the Arganbright Auditorium for a chance to hear Dr. Terrence Roberts speak.
In 1954, one court's decision would change lives of all ages, races and genders in America. In a court ruling that would send nine African American students to integrate Little Rock Central High School, these nine students would later go down in history and be known as the Little Rock Nine. One of the Little Rock Nine, Doctor Terrence Roberts, came and spoke to West High students on Friday, April 6 in the auditorium during first period.
"There is no such thing as race. There is no biological or scientific support for that notion. The truth is we're all unique and different in the universe and that difference is accounted for, for simply by ancestry," said Roberts. "The millions and millions of people who are your ancestors come together, and after decades of mass population, there you are."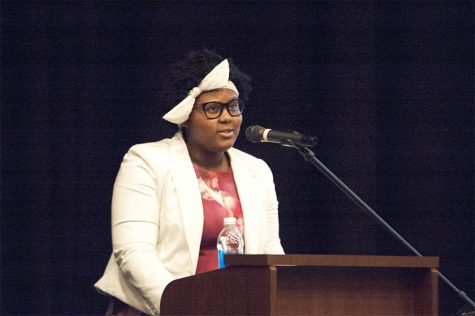 After the first year of integration, governor Orval Faubus closed down all high schools in the state of Arkansas. As a result, Roberts would complete his senior year in Los Angeles, California and then continue his education at California State University, graduating with a Bachelor of Arts degree in sociology in 1967. Roberts would then go on to receive his Master's degree in social welfare from UCLA and his Ph.D. in psychology from Southern Illinois University, Carbondale.
In 1999, Roberts and the rest of the Little Rock Nine were awarded the Congressional Gold Medal, one of the highest awards a civilian can get, by President Bill Clinton. Of the nine that integrated Little Rock Central High School, eight are still alive. Many have gone on to do all sorts of work all over the world, and some have written memoirs. The Little Rock Nine's bravery has gone down in history and will continue to be told for many years to come.