Top 10 sports moments of 2021
Online Editor-in-Chief Owen Aanestad '22 ranks the top 10 sports moments from the year 2021.
The year 2021 brought state championships, record-breaking performances, winning streaks and a whole lot more to the West High athletic department. 2020 was easy to beat but 2021 truly filled itself with some unforgettable moments for athletes, coaches, parents, fans and even journalists like myself that were able to document it all. As a new year approaches, Online Editor-in-Chief Owen Aanestad '22 ranks the top 10 sports moments from January to December of the year 2021.
10. Boys bowling team wins "King Pin" for the first time since 2016
As one of the only bowling alleys in the area, Colonial Lanes is home to both the City and West High bowling teams. The teams might cross paths during practice but they face off only once every season in an environment like no other in the Battle for the Pins. Senior Stirlen Roberson led the Trojans in total pins with 371 on Dec. 10. The boys bowling team took down the Little Hawks 2599-2451 to take back the golden pin trophy known as the "King Pin" back to the west side.
9. Jordan Caperon '23 makes track debut
Caperon competed in his first-ever wheelchair race on April 12 at the second annual Eastern Iowa Track and Field Festival. He finished the 100 meter race with a time of 55.66 and 200 meter race in 1:20.29. Caperon went on to make his debut at the state track and field meet in Des Moines over a month later on May 22 making him the first wheelchair racer from West to compete at state since 1995. Caperon cut his first time in half when he finished the 100 meter race with a time of 27.58 and improved his 200 meter time to 54.78 in his first-ever race at the historic blue oval at Drake University.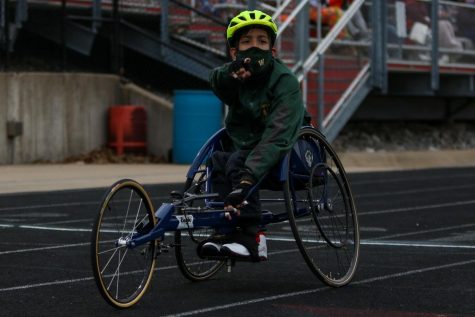 8. Meena Tate '23 sends Trojans to state semifinals
In BJ Mayer and the girls basketball team's seventh state tournament appearance, the sixth-seeded Trojans faced off with Mississippi Valley Conference foe Waterloo West in search of some revenge after falling to the Wahawks on Jan. 8 and a spot in the state semifinals. Tate knocked down nine out of her 11 field goals and went two for two from beyond the arc to make up her team-leading 21 points on the afternoon. The sophomore guard found herself on the other end of an impressive Emma Ingersoll-Weng '22 assist late in the fourth quarter to help lead the girls basketball team to a hard-fought 65-63 win.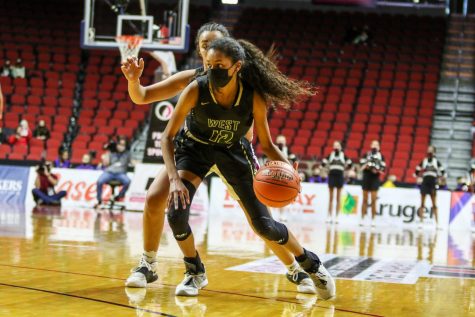 7. Alex McKane '22 places second at state cross country meet 
After placing 32nd his sophomore year and 11th as a junior, McKane had his mindset on a big finish to close out his high school cross country career. The four-year varsity runner and school record holder battled for the top spot throughout the whole race at the Fort Dodge course he had memorized by his senior year. The future Iowa State Cyclone picked up a handful of first-place finishes throughout the regular season including a Mississippi Valley Conference championship. McKane took home second place in the 4A race with a time of 15:30.65 on Oct. 29.
6. Marcus Morgan '21 throws a two-hitter to take down City High
After growing up around the infamous City vs. West cross-town rivalry and experiencing it himself throughout his four years as a Trojan, Morgan had the chance to have the final say between him and the Little Hawks. The now-current University of Iowa pitcher stepped onto the mound as the starting pitcher on July 2. The four-sport athlete threw a complete game with 11 strikeouts and gave up only two hits at a jam-packed Mercer Park. With the help of a phenomenal performance on the mound from Morgan, Charlie Stumpff's baseball team pulled off a 2-1 over highly ranked City High.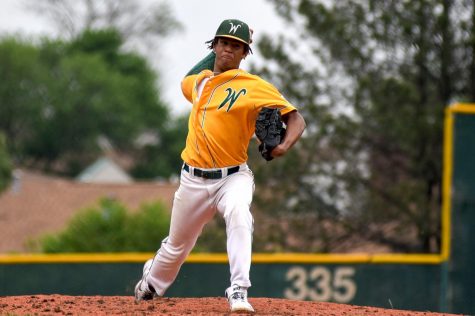 5. Trojan Bolts win 50th consecutive regular-season dual meet
Head Coach Byron Butler and the girls swim team have cruised through their regular season so easily in the past couple of years that it's easy to forget how impressive their team really is sometimes. The Trojan Bolts reached a monumental mark in their win streak on Oct. 19 against cross-town rival City High when they won their 50th consecutive regular-season dual by a team score of 142-44. While celebrating senior night and their final dual meet of the season, the 200 yard medley relay team of Olivia Taeger '22, Makala Hajek '23, Ella Hochstetler '22 and Jade Roghair '23 helped lead the team to the historic mark with a first-place finish by a time of 1:53.30.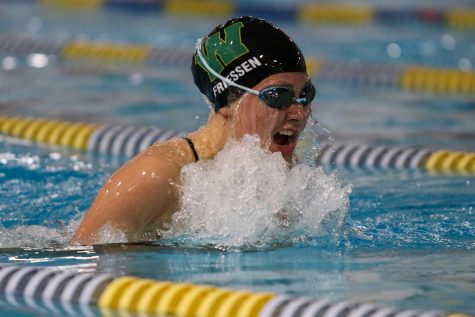 4. Mitch Gross picks up 300th career win in final season coaching
In his 20th year as West High head varsity tennis coach, Gross has made a name for himself in the world of high school tennis. With eight team state championships, five singles state championships, four doubles state championships and two co-ed state championships to his name, Gross added another accolade in his final season coaching: 300 career wins. Surrounded by friends, family, colleagues and his team Gross led the Trojans to a 9-0 win over Cedar Rapids Washington on April 14. Current West High Principal finished his 20th year coaching in 2021 in the state championship where the Trojan tennis team fell to Waukee in a marathon of a day.
3. Mason Applegate '22 sets single-game rushing record against Davenport Central
Despite a tough season for Garrett Hartwig's football team, it was clear in their season opener against Cedar Rapids Kennedy the run game was going to be a big part of the Trojans identity throughout the season with Applegate in the backfield. Coming into the night with a 1-4 record and in search of a homecoming win, the Trojans faced off with the Davenport Central Blue Devils on Oct. 1. Applegate broke the 18-year-old record and etched his name into the West High history books when he rushed for 381 yards and four touchdowns on just 16 carries to help lead the Trojans to a 36-21 win. The running back and defensive lineman went on to earn first-team all-state honors and find himself as one of the top running backs in the state averaging just over 10 yards a carry on the year.
2. Volleyball program retires Caroline Found's No. 9
Aug. 11, 2021 marked the 10th anniversary of when tragedy struck the West High volleyball team after their beloved setter Caroline "Line" Found passed away in a moped crash. Behind former Head Coach Kathy Bresnahan, the team went on to win the 2011 state championship in honor of Caroline. As warmups for the Trojans final regular-season match against Dubuque Senior concluded and the lights dimmed to black, a spotlight appeared in the northeast corner of the gym highlighting the framed #9 West High volleyball jersey. Caroline's father Ernie Found alongside Bresnahan emotionally addressed the team and crowd after the ceremony inspiring people to "Live Like Line". Friends, family and former teammates of Caroline showed their support from the stands wearing the famous bright blue T-shirts with Caroline's name and number on the back.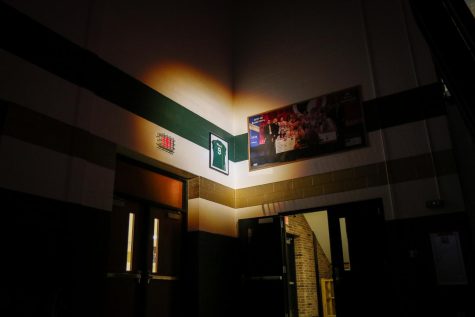 1. Andy Lu '21 and Nick McDonnell '22 save the Trojans chances at a state championship
As time expired in the first half of the Trojans state semifinal match against West Des Moines Valley on June 3, the Tigers set up for a free-kick in hopes of adding to their 2-1 lead on the afternoon. The high sailing kick floated over the front line of defenders and within inches of the goal before Lu bicycle kicked the ball back into play and goalie McDonnell swooped in to finish the miraculous play with a save to prevent a 3-1 Valley lead. The boys soccer team scored two unanswered goals in the second half to send them to the state championship. Click the link below to see a full video of the play.
Leave a Comment
Donate to West Side Story
Your donation will support the student journalists of West High School. Your contribution will allow us to purchase Scholarship Yearbooks, newsroom equipment and cover our annual website hosting costs.
About the Contributors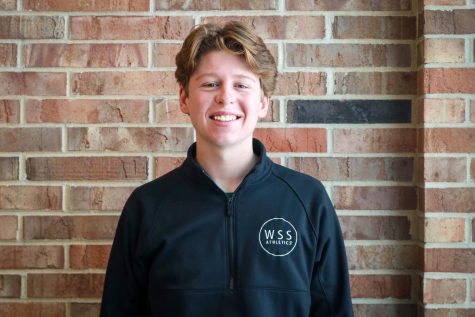 Owen Aanestad, Online Editor-In-Chief
Owen Aanestad is a senior at West. This is his third year on staff working for the online publication as the online editor-in-chief In addition to playing...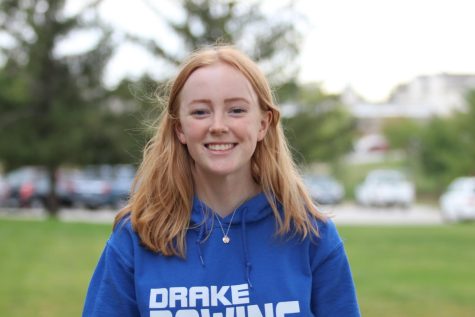 Camille Gretter, Online Editor-In-Chief
(she/her) Camille Gretter is a senior at West High and this is her third year on staff. She is the Online Editor-in-Chief, and outside of West Side Story...