Oscars 2016
If you're still wondering who Brie Larson is and what Mad Max: Fury Road is about as the first few awards roll in, we've got you covered.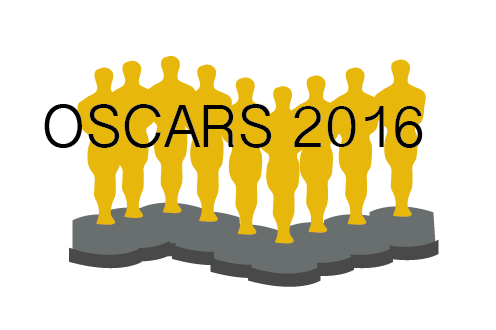 Tonight, the 88th Academy Awards will take place. We looked at this year's nominee's for "Best Picture" and asked you what you think the results will be. Here's how it all lined up.
The Martian
Reviewed by: Charlie Code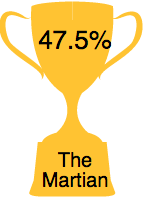 Stars in the movie: Matt Damon, Kristen Wiig, Kate Mara, Jeff Daniels, Donald Glover
With the perfect mixture of science fiction, light drama and comic relief mainly from Matt Damon's performance as the stranded Dr. Mark Watney, The Martian provides moviegoers with one of the best science fiction films of the year. Despite the occasional unrealistic feats of science, the movie maintains the excellent precedent expected from a Ridley Scott movie. The stacked cast consisting of cameos of actors like Jeff Daniels, Donald Glover and Kristen Wiig provide a solid support of characters that further emphasize Damon's performance. Scott seamlessly transports viewers into the life Watney, and is able to portray the helplessness and joy of his small accomplishments throughout the film. This allows the audience to connect to Dr. Mark Watney on a much deeper level than the average science fiction protagonist. (4/5 stars) 
The Revenant

Reviewed by: Ebony McKeever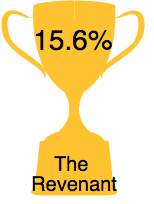 Stars in the movie: Leonardo DiCaprio, Tom Hardy
Inspired by true occurrences, this western semi-biographical film directed by Alejandro G. Iñárritu follows the hardships of fur-trapper Hugh Glass (Leonardo DiCaprio) on the great frontier. After being brutally maimed by a grizzly and left to die by his own team members, namely his partner John Fitzgerald (Tom Hardy), Glass faces the merciless winter coupled with untold anguish in his quest for revenge. Pushed only by his strong will and resolve, Glass faces the unimaginable in a perfect portrayal of the strength of human spirit– even when driven by black intentions. The cinematography in this film is strikingly beautiful, an excellent snow white backdrop to contrast the withering darkness found in the characters on screen. DiCaprio delivers an astounding performance that is only enhanced by the other actors. While the message of strength in human spirit may be unoriginal and a tad overdone , the execution of it in this film is magnificent. (4/5 stars)
The Big Short
Reviewed by: Madeline Silva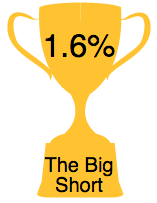 Stars in the movie: Christian Bale, Ryan Gosling, Steve Carell, Brad Pitt
In 2008, the housing market crashed, bringing the rest of the world economy down with it. In the wake of the event, many people were shocked that no one predicted the disaster. The Big Short tells the story of the small group of men who saw the system beginning to fail, and how they pulled a "big short" by betting against the doomed housing market. It's a solid movie, but feels unpolished at points. The editing can be disjointed, and it vacillates between a cheeky, fourth wall breaking comedy and a serious film. If you're interested in learning more about the financial crisis of 2008, or if you're just a fan of white guys in suits yelling at each other, this movie is for you.
Mad Max: Fury Road
Reviewed by: Kelsey Keranan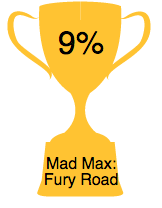 Stars in the movie: Charlize Theron, Tom Hardy
Mad Max: Fury Road, a continuation of George Miller's cult classic film series, isn't a film for anyone with questionable blood pressure.  The film is literally a wild ride from start to finish, following Max Rockatanksy (Tom Hardy) and Imperator Furiosa (Charlize Theron) as they race across a post-apocalyptic desert on a mission to provide asylum for a small collection of refugees that they have rescued from a tyrannical warlord whose army is in immediate pursuit. The film does well to avoid becoming a meaningless monster truck brawl, effectively combining compelling storylines, multidimensional (and decidedly feminist) characters and exceptional acting to make a nuanced, albeit aggressive, piece.  A summer blockbuster that feels like anything but, Mad Max is a must for any film buff. (4/5 stars)
Bridge of Spies
Reviewed by: Charlie Code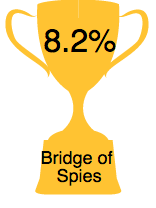 Stars in the movie: Tom Hanks, Mark Rylance
Set in a post WWII America, Bridge of Spies depicts the story of American lawyer James Donovan (Tom Hanks) as he struggles to navigate the murky waters between the Unites States and the Soviet Union during a critical movement in the Cold War. Director Stephen Spielberg truly provides the audience with the mindset of a man who is split between his country and his moral code. Hanks' performance only drives the movie home. While the first few minutes of the film are lackluster, the increasing scale of the situation and the determination of Donovan will draw viewers in and have them fully committed by the end of the film. With a dreary atmosphere that places the audience in an area of nuclear threat, a phenomenal performance by Tom Hanks and a plot-line that will have viewers full heartedly invested, Bridge of Spies is a movie worthy of the "Best Picture" nomination. (4.5/5)
Brooklyn
Reviewed by: Kelsey Keranen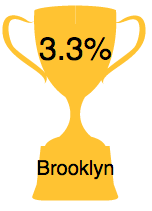 Stars in the movie: Saoirse Ronan, Domhnall Gleeson, Emory Cohen
A tale of conflicting romance and coming of age, Brooklyn serves well as this year's token period piece. Starring Saoirse Ronan as Eilis Lacey, a young Irish woman from a humble background seeking a grander existence, the film concentrates on Eilis' tumult of emotions as she is forced to decide whether to accept the only life she has ever known or create a new life with no attachments. The combined screenplay and cinematography create a nostalgic, well-worn photograph of a film that feels comfortable, memorable and utterly real. Although it does little to stand out from the slew of other period romances that have been produced within the last ten years, Brooklyn remains worth a watch for hopeless romantics with a passion for happy endings.  (4/5)
Room
Reviewed by: Ebony McKeever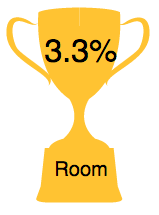 Stars in the movie: Jacob Tremblay, Brie Larson
Directed by Lenny Abrahamson and based on the award winning novel, Room tells the story of a young boy, Jack (Jacob Tremblay) and his beloved Ma (Brie Larson) as they cope with life in the outside world after years of imprisonment. Room is comprised solely of a bed, sink, small kitchen, bathtub and skylight, all enclosed in four pitifully small walls. There are no windows and scarcely a hope for escape until Jack's fifth birthday when Ma conjures up a plan to leave Room and their captor, Old Nick, forever. The muted tones and colors of this movie perfectly illustrate the bleak mood that permeates the majority of this film. Larson fulfills her role to perfection, and in the end one is left stunned in a thought provoking silence. (3.5/5)
Spotlight
Reviewed by: Nina Elkadi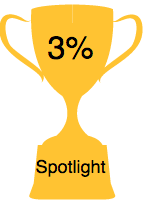 Stars in the movie: Mark Ruffalo, Michael Keaton, Stanley Tucci, Rachel McAdams, Liev Schreiber
It can't possibly be easy to create a popular movie in a predominantly Catholic nation that has a plot surrounding criticism of the Catholic church. Although the story the Boston Globe was working on focused on the Catholic priest molestation allegations, Spotlight was centered on how the Boston Globe went about covering the intricate story through investigative journalism. Director Tom McCarthy put together a rock-star cast, challenging Mark Ruffalo with a character that developed from a hesitant reporter to a breakthrough journalist. Liev Schreiber played the Jewish editor-in-chief, and gave an amazing performance of the real struggle to push for a story. His humble but stubborn character you were rooting for throughout the movie. Plus, Spotlight got people talking about a controversial and important issue. (5/5)

Art and Graphics by Isabelle Robles.
Note: The West Side Story used a smaller sample size than usual for this survey.