Mormon myths: debunked
Sitting directly east of West High is a red brick building with a tall white steeple. Inside, you can find members of the Church of Latter-Day Saints, commonly referred to as Mormons or LDS. Since its founding in 1830, the LDS community has grown to over 13 million members. Throughout history, the religion has been subject to ridicule in pop culture. The WSS sat down with Laura Fletcher '17, Emily Mergenthaler '17, Lincoln Fletcher '18 and Kaylee Guymon '17 to debunk common Mormon misconceptions and to talk about what it is like to grow up in the Mormon faith.
ON POLYGAMY
Although the Church of Latter Day Saints has banned polygamy since the early 20th century, many people still associate LDS with plural marriage. "There was a short period of time where the prophet received revelation from God that polygamy was necessary because there were a lot of widows with children. [Polygamy] at this time was more of a way for a man to help out a [financially burdened] woman. It was actually one of the hardest things men had to do," Mergenthaler said.
ON THE LGBT COMMUNITY
The LDS faith has always believed that marriage is between a man and a woman; however, Guymon says that the church is not homophobic. "We don't hate gays and lesbians. We believe in loving all of the children of God, which is everyone on earth. It isn't that we don't want gays to be happy. The rule that children of [LGBT] couples can't be baptised is actually to protect kids. Church leaders don't want children to be baptised in a faith that [does not recognize their parent's relationship], and don't want to confuse them. Kids of [LGBT] couples can choose to be baptised at age 18," Laura said. Mergenthaler notes that this issue has hit close to home. "My uncle is gay and is married and he chose to leave the church, but we love him a lot and we see him every Thanksgiving. It's not like my family has decided to reject him," she said.
ON ABORTION
The abortion policy in the LDS church is not a simple black and white issue. Although the church is against abortions for married couples and for children out of wedlock, Laura states that abortions are a viable option in some situations. "If a mother is raped or is in danger of dying, an abortion [is acceptable]," Laura said.
ON CAFFEINE
The Word of Wisdom is an LDS law that was enacted to outline the church's stance on physical health. "We don't drink alcohol, coffee or tea. We can still drink soda and other things with caffeine. It is really just another test of our faith," Lincoln said.
ON THE 2012 ELECTION AND THE POLITICAL SPECTRUM
The LDS community was thrust into the spotlight when LDS member and former Massachusetts governor Mitt Romney ran against President Barack Obama in the 2012 presidential election. However, the LDS church did not endorse Romney as a candidate. "A lot of Mormons did support Romney … but the church does not endorse candidates. You can never tell if politicians are good people and being Mormon does not change that. Although most Mormons are Republicans, there are several that are [Democrats]. Liberals' main focus is being loving and open to everyone, and that is what we believe," Laura said. Mergenthaler agrees that Mormons do not fall into one particular political category. "We respect everyone's beliefs, and we want them to respect ours as well. We are not really [involved] on the political spectrum," she said.
ON BRIGHAM YOUNG UNIVERSITY
According to The Washington Times, Brigham Young University has a student body that is 98.5 percent Mormon. This is not a sheer coincidence, Laura says. "LDS members pay tithing, which is 10 percent of our [household income]. This money goes to funding churches, temples, mission trips and BYU … Since BYU has an honor code that follows a lot of [LDS] standards, a lot of LDS [youth] choose to go there."
ON GENDER ROLES
Men and women have different duties in the church. "Men have the keys to perform ordinances like marriage, baptism and confirmation. Women are primarily in charge of nurturing [children]. Men and women have [equal] duties, and without each other we cannot reach the highest level of glory," Laura said.
ON MODEST DRESS
Modest dress is a more than just a principle in the LDS faith, it is an attitude. "It isn't just clothing. When people wear revealing clothes it is kind of selfish; you bring attention to yourself. Being modest shows that you are not focused on yourself," Laura said. However, there are exceptions. "You can wear non-modest clothes for usage, like in sports," Mergenthaler said. Guymon noted that the rule of modest dress does have its downsides. "Sometimes it is hard because you want to keep up with the trends, but I know that [modest dress] is something that is important in the church … With soccer sometimes I order boys' sizes because they are [longer]," she said.
ON THE BOOK OF MORMON
The satire musical, The Book of Mormon, became a broadway smash hit ever since its debut in 2011. However, the LDS community has not responded as positively. "My parents have advised me not to watch it because it makes fun of the religion. I don't want to watch something that makes fun of our faith," Guymon said.
ON COMMUNITY
Everyone interviewed agreed that the sense of community in the LDS faith is what makes the church special. "The sense of community is amazing. [Everyone] takes care of each other. We give financial assistance to those who aren't meeting all the ends. We make sure everyone's rent is paid. If the government was patterned after [this structure] it would work much better," Laura said. Guymon agrees. "It is really great because [LDS] youth get together from all over that state, so you get to know a lot of people," she said.
About the Contributor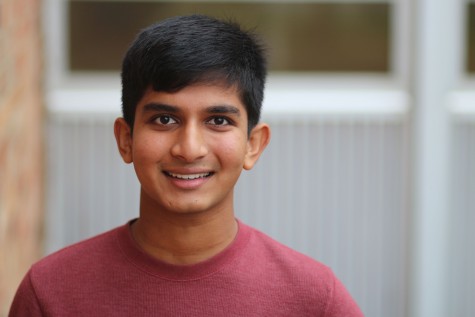 Michael Moonjely, Print Managing Editor
Michael Moonjely (pronounced MAE-kel MUn-JaLLY) is the print managing editor for the West Side Story. Some of his most valuable skills include (but are...