Budding actors shine in "21 Ways to Guarantee Detention"
Just before the school year makes its grand debut, fresh faces of this one act comedy play shine in the spotlight.
While "21 Guaranteed Ways to Get Detention" follows the mischief of the wild and troublesome students of the fictional McKinley Grove High, the play provided the real life aspiring thespians of West High to get stage experience along Theatre West veterans.
"About three weeks after school got out, I was like, 'I want to direct something', so I said, 'Let's do it,'" said Jared Kiebel '16, one of the directors of the play. After recruiting Theatre West teammate Callie Dains '18 to be a co-director, the two searched for a show to rehearse over the summer.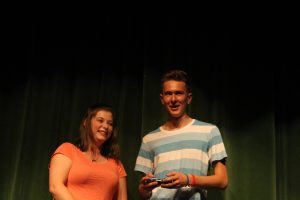 They came across "21 Guaranteed Ways to Get Detention" by Ian McWethy, a quirky one act comedy about the principal and assistant principals of McKinley Grove High who struggle to stay under their twenty detention limit as their students grow increasingly mischievous, wild and even disgusting. When casting began, Dains noticed that in addition to the familiar faces of Theatre West, acting novices were landing roles left and right.
"The majority of the cast has been backstage [in Theatre West] or hasn't been a part of Theatre West yet. That's why I like doing the little things like this, because people who you wouldn't even suspect would have an interest in theater really shine," Dains said.
"
I've started to realize how fun being onstage seemed so I made a promise to myself to audition for everything I could."
— Elaina Irving '18
She added that the difficulty of the script was more fit for a beginner, saying, "A lot of people in the show are new at acting, so I think this is a good show to get them pushed along and started. There aren't giant monologues that you need to memorize, they're easy, little."
While Kiebel, a two-time assistant stage manager for Theatre West, and Dains, a stage head for Theatre West, brought their leadership experience to the play, they also moved away from the possibly more intimidating atmosphere of Theatre West towards a more relaxed one to accommodate for the new actors.
"It's a lot more laid back. Our time requirements weren't as bad as Theatre West . . . It's perfect [for] starting actors, new leads, beginners or anything like that," Kiebel said.
Indeed, the low-pressure environment made acting more comfortable to the novices such as Elaina Irving '18 and Aaditya Deshpande '17. For Irving, who played the role of McKinley High's principal, the show gave her confidence to follow a newfound passion for acting.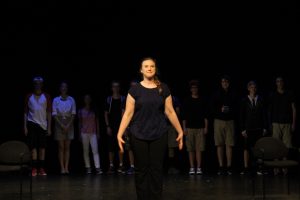 "I have worked with Theatre West before but only as a props member backstage. I've started to realize how fun being onstage seemed so I made a promise to myself to audition for everything I could," Irving said. "[Kiebel and Dains] succeeded in making the environment laid back and that definitely helped a lot of my confidence too . . . Going into the school year, I'm excited for auditions and I'm going to keep the promise to myself and audition for the play, SPIT and the musical."
Similarly, Deshpande played the role of Roz, a kid who – spoiler alert – gets detention for giving away too many spoilers. As part of the behind-the-scenes crew at Theatre West and without much experience in front of the curtain, he found the play a laid back way of improving for college drama programs.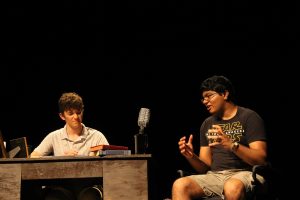 "I just got into acting my junior year and I guess I just want as much experience as I can get want before I leave West," Deshpande said. "Since we're all friends and all the same age, we can talk a lot more freely, and we respect each other a bit more,  and we're not intimidated by the director." Deshpande said.
Seeing the growth of the actors throughout rehearsals, Dains hopes that "21 Guaranteed Ways to Get Detention" will draw aspiring actors in the audience to come forward and make their debut, even encouraging her brother to participate on or off stage in Theatre West.
"Everyone's one big family," Dains said. "I just love it."
Photos by Allie Schmitt-Morris and Mason Wang.
Donate to West Side Story
Your donation will support the student journalists of West High School. Your contribution will allow us to purchase Scholarship Yearbooks, newsroom equipment and cover our annual website hosting costs.