Words will guide you
A small group of writers come together to spend time working on whatever their heart desires in comfortable workshop sessions.
In a room tucked behind a shelf on the top floor in a building of books, you'll find people gathered together, going full speed ahead on their projects of choice. Most have headphones shoved over their ears and are hunched over their laptops, fingers typing away at their keyboards, but others are doing things a little bit differently. One has ditched the cushioned buds of plastic and a laptop and is instead working with a mint green typewriter. However, all of them consider themselves part of a community, and that's the most important piece to this puzzle.
This is First Words, a write-in open to all, started by local authors Michelle Edwards and Sarah Prineas that runs every Saturday from 10:30 a.m. to 2 p.m. in Iowa City Public Library's Meeting Room E. According to Prineas, writing by yourself can be very intimidating and isolating.
"
Write-ins are a chance to do our writerly thing, but to not be alone."
— Sarah Prineas
"It's just you and the blank page," Prineas said. "Community is hugely important to me as a writer–my writer friends are my BFFs, and the support we give each other is essential for our careers. Write-ins are a chance to do our writerly thing, but to not be alone."
Edwards agreed with Prineas, believing that community is key.
"There's an energy that happens when writers gather together to work," Edwards said. "Writing requires solitude, not isolation. Write-ins can connect writers and create community."
Most of the writers this month are joining the fray of National Novel Writing Month, or NaNoWriMo for short. It's 30 days' worth of creating a 50,000 word rough draft of the book they've wanted desperately to put to paper. Adam Burton, a business analyst at Pearson who's part of the fun this year, admitted it was his first time but also said the goal gives him something to pursue.
"When I'm in a class, deadlines get me to write because I'm accountable to the teacher for producing something in time for that, and now in NaNoWriMo there's a word count goal and an end-of-the-month deadline, and I'm accountable to the community and to myself for giving it a go," Burton said.
Some may consider the idea of hitting 50K words impossible to reach, but for others, it comes with the craft.
"Mainly I'm inspired to write by my love of writing," Prineas said.  "People say 'Oh, writing is so hard, woe, alas, gnashing of teeth,' but I actually have a ton of fun."
"
There's an energy that happens when writers gather together to work. Writing requires solitude, not isolation. "
— Michelle Edwards
Although each person works independently, everyone agrees that writing is their passion. Whether it's showing up with a story to tell or just putting two characters into a scene and watching the sparks fly, it can be powerful and have a lasting effect.
"When you figure out an interesting way to get characters out of a tight spot–something no one would see coming–that's a lot more rewarding than your first or second idea for that bit," Burton said.
Prineas also offered her own two cents.
"On the sentence level, I love tweaking the words until they mean exactly what I want them to," Prineas said. "I also love moving sentences and paragraphs around, almost like a jigsaw puzzle, so they fit together perfectly. I love figuring out how characters relate to each other, and writing their dialogue. Weirdly, I also love revision [and] re-seeing my work with my genius editor's guidance to make it stronger."
First Words will continue throughout the month of December amid all the other writing programs offered for NaNoWriMo at the ICPL. If you've ever wanted a place to just sit down with a warm cup of tea and let the words guide you to success, here's your chance.
Leave a Comment
Donate to West Side Story
Your donation will support the student journalists of West High School. Your contribution will allow us to purchase Scholarship Yearbooks, newsroom equipment and cover our annual website hosting costs.
About the Contributor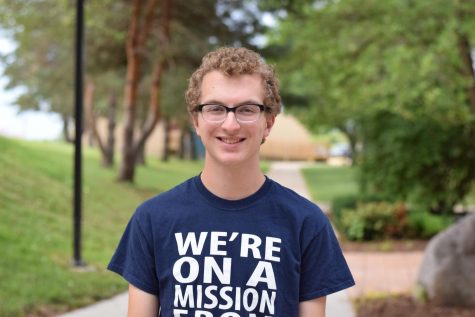 Luke Reynolds, Copy Editor, Anchor, Reporter
This is Luke's first and only year as a member of West Side Story. He'll be kept busy with anchoring, editing and reporting, but he's gonna have fun while...