Movie review: Moana
The newest Disney movie Moana gets a 5-star report from WSS reporter Maggie Terry.
There is something special about watching movies. Something about sitting there and letting yourself get lost in a story for a few hours, not worrying about anything else, really appeals to me. So despite the massive pile of Chem homework and pending college applications, I decided to go to Moana, the new Disney movie that was released this past weekend. My grades may not agree, but I think it was an excellent choice.
I had high expectations going into this movie:  a female protagonist, music from Hamilton's Lin Manuel Miranda and people of color voiced by people of color. I hoped these would mash together to create a movie I'd been waiting for, and I wasn't wrong. Following Polynesian myths and culture, Moana is a story explaining why the settlers of the islands stopped exploring over 2000 years ago, and how they started again. Told in the spectacular animation we have come to expect from Disney, with an amazing soundtrack and voice actors Dwayne "The Rock" Johnson and newcomer Auli'i Cravalho, Moana is a delightful story anyone can enjoy.
Moana, a plucky teenage hero, is destined to become the chief of her small island village, however, the expansive ocean calls to her. She is torn between duty and a longing for adventure and what lies out there in the great beyond.
The movie follows the mold of a hero's journey. Moana sets out on her own, in a quest to find disgraced demigod Maui (Johnson) and return a sacred object he stole, in order to restore peace to the oceans. Maui, a shapeshifting demigod with an ego larger than the sky, must put aside his pride and work with a mortal to right his wrongs. Together, they travel across the ocean, along with a defective chicken, battling monsters, coconuts and eventually a lava demon.
Moana could easily have turned into a love story, or a silly adventure story, yet it manages to be a profound tale of loyalty, friendship and strength. The ocean, a central character, manages to be effective without seeming silly. And Moana's yearning for the beyond is relatable to anyone who has stared at the horizon and wondered what is out there.
The movie has moments of humor and, like most animated movies, long ballads to move the story along. The animation is bright and colorful, without being overwhelming. The character design is a refreshing change from Frozen, where female characters seemed only distinguishable by hair and eye color. There is no romance, showing girls that romantic relationships aren't necessary for success.
Basically, this movie is a gift after this intense year. Offer to take your younger siblings or just go on your own because Moana is well worth your time and you will be humming the music for days to come.
Watch the trailer to the movie here.
Leave a Comment
About the Contributor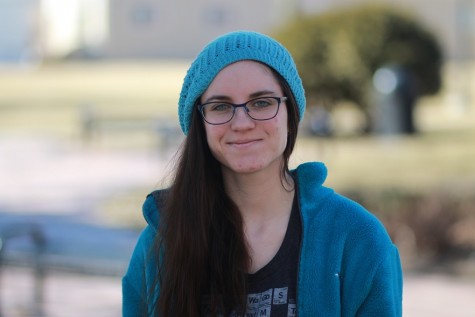 Maggie Terry, Reporter

Maggie Terry is a reporter. This is her 3rd year on staff and she loves news and writing. She is excited to be part of the first ever digital section...