Fashion Friday: Elizabeth Burns
Junior Elizabeth Burns shares her trendy and local style with WSS.
WSS: How would you describe your style?
EB: I wear such random things. I don't stick to one style. It's a bunch of stuff. Some days I like to dress very girly and sometimes I like to dress more like a boy. More girly I would wear florals and pastels and then sometimes I just like to wear striped boy t-shirts. Some days I workout after school so I will wear an athletic outfit, but other days I like to dress nicer with a cute top or something.
WSS: Have you always been into fashion or did you just recently become interested?
EB: I've always been somewhat interested in fashion, but recently, I'm more interested in finding quirky, [fun] outfits like vintage shirt of my mom's, shorts that I cut myself and a choker.
WSS: What's your favorite clothing item that you've purchased recently?
EB: I like to buy patches to iron onto things like jeans and t-shirts. If you buy clothing with patchwork on it, it's more expensive so it makes more sense to pick them out yourself and make it yourself. I like flower and cat patches. I buy a plain shirt and a patch and then iron it on. I like to buy things how they are and cut them or add a patch to make it personalized.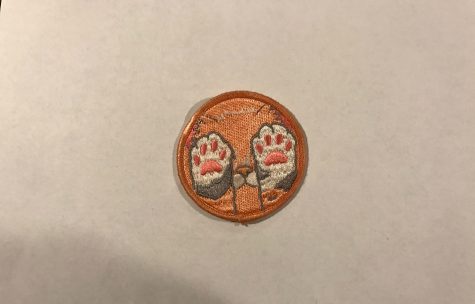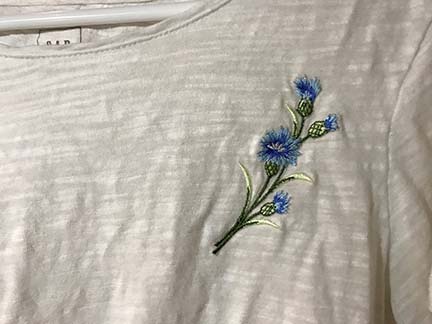 WSS: What's your favorite clothing item of all time? Something you wear year-round?
EB: This kitten t-shirt, because my sister got it for me. My older sister knows me well and can pick out pieces that I like.
WSS: Do you prefer to shop at the mall in Coralville or at the local shops in downtown Iowa City?
EB: Definitely the local shops downtown, because you find more unique things downtown. I like White Rabbit, Revival and Catherine's if there's a sale. I found this vintage dress in White Rabbit that was sort of ugly but I cut it so it's more like my style. The dress was long so I just shortened it a little. 
WSS: Do you do a lot of shopping online or anywhere else? If so, where and how often?
EB: I never really shop online because I like to be able to wear whatever I buy right away.
WSS: When you go shopping what pieces do you typically look for? Any color schemes that you tend to stick to?
EB: Sometimes I look for really girly things, like floral. I like pastels. Pinks and greens and yellows, happy colors, Spring colors.
WSS: Do you prefer to shop for warmer or colder weather? Why? What would you wear for your preferred weather?
EB: Warmer because summer clothes are more fun. I like to wear sundresses and Adidas.
WSS: If you could only wear one outfit for the rest of this year, what would it be and why?
EB: My overalls because in the Winter you can pair it with tights and boots. In the Summer you can wear it with sandals and t-shirts. You can dress it to any season.
WSS: Where do you get fashion inspiration from?
EB: My friends. We tend to share clothes, and I think my friends are really outgoing. We like to shop at the same places. They have bold styles too.
WSS: Are you more of a pants or skirts and tights type and why?
EB: Skirts and tights because I like to feel girly.
WSS: You've talked a lot about feeling 'girly.' What does dressing 'girly' mean to you and why do you like feeling that way?
EB: The typical girly look with soft colors and floral, like skirts and dresses. I feel more put together.
WSS: Describe a typical outfit you would wear on a lazy day and a fancier occasion.
EB: Leggings and a flannel, [or] colorful pants and a cute shirt.
WSS: As for accessories and shoes, are you a fanatic or do you throw on what you have and looks good with your outfits?
EB:I don't really care about shoes but [for accessories]. I like chokers.
Outfit 1: Top (unknown), bottoms (Forever 21), shoes (Adidas).
Outfit 2: Top (Revival), bottoms (Lululemon), shoes (Adidas), choker necklace (Forever 21).
Outfit 3: Top (White Rabbit), jean shirt (her mom's), bottoms (American Apparel), shoes (Adidas).