Iowa City Jazz Festival sparks community involvement
The annual Iowa City Jazz Festival took place last weekend from June 30-July 2, bringing the community together for the 27th time.
For three days every summer, downtown Iowa City hosts an annual jazz festival. This past weekend was the 27th jazz fest. The free music festival is popular among jazz enthusiasts, as well as Iowa City inhabitants looking to enjoy a night downtown.
The festival kicked off with a performance from United Jazz Ensemble, a jazz group made up of high school students from West and City High School. They started playing as the sun was falling alongside the Old Capital Building. Their set was put together in only four rehearsals throughout one week.
"Being a less experienced member was quite stressful, but performing at an event like this was exhilarating," said Andrew Burgess '20, a pianist for United Jazz Ensemble. The high school group drew in many high school listeners, but attendants varied in age and their experience with jazz music.
"It gives an opportunity for … people to hear a music that they might not know they like," said Iowa Women's Basketball Coach Lisa Bluder. "[The festival] brings everybody from different places into the downtown so I think it's wonderful."
For Megan Ries's '20, jazz fest was an entirely new experience. She doesn't listen to jazz on her own time but was happy to be there Friday night.
"It's fun, loud, lots of food, and nice people everywhere. It's cool," Ries said.
Music, food, art and socialization draw thousands of people to the jazz fest each year. "The jazz festival brings in some amazing national and international jazz musicians and ensembles, and in addition to that they do a spectacular job of spotlighting and show casing more local acts as well," said Diane Thayer, a choir teacher at North Central Junior High School. "It's great music, it's great food, and it's just a great opportunity to be downtown and have a good time."
Emma Miller '19, a jazz musician at West, has been attending jazz fest for the last few years to scope out new bands.
"Throughout the year I try to seek out jazz musicians visiting Iowa or listen to recordings. Jazz fest is my favorite time to listen to live jazz because various age groups of local musicians play with the same amount of joy for jazz and love the music," Miller said.
Miller enjoys the inclusive and lively atmosphere of the jazz fest and believes in the importance of festivals like these.
"Not only do these events bring the community together, but they also give people in the community, young and old, [a chance] to showcase their talents," Miller said.
"
When we feel connected as a community, we care about our community and when we care about our community we take care of it and we take care of each other."
— Carolyn Johnson
The 2017 jazz fest hosted nearly 30 jazz groups over the weekend. One of these was Smith Studio Jazz. Band member Carolyn Johnson has been playing at the jazz fest for three years.
"It's an amazing event. It's jazz at its best and it's free, community spirited and inclusive, and the weather's great this year … it's just the place to be for the next few days," Johnson said.
Whatever attendants are there for, many Iowa City citizens believe events like jazz fest strengthen the community.
"When we feel connected as a community, we care about our community," Johnson said. She believes that caring about our community means taking care of each other. "When people are friends then it's a safe place to be," Johnson said. 
View Comments (1)
About the Writer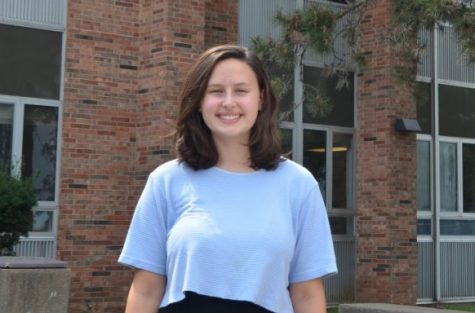 Natalie Dunlap, Online Editor-in-Chief
Natalie Dunlap is a senior and the Online Editor-in-Chief for the West Side Story. She is also involved in theatre and West High Democrats. When she's...