Running the state
Both the boys and girls cross country team host the fastest individuals in the state. Bailey Nock '18 rules the girls 4A division and Kolby Greiner '19 dominates the boys field. Nock was also ranked 76th in the nation by Dyestat's preseason ranking. Read about how they have rose to dominance and their plans to maintain their highly sought after rankings.
WSS: Why did you decide to start running?
BN: Because my dad was a runner and he encouraged me to try it because I've always been very energetic. I was a wild child, I would just be running everywhere and have so much energy I would be bouncing off the walls. So he decided that I should try and channel that into something productive. So, I decided to try running.
KG: Steve Prefontaine inspired me, because I have a lot of family in Oregon and if you know Steve Prefontaine, you run. I take the race out really hard and kind of just go with that pace. A lot of people don't like that style but I do.
WSS: Why did you decide to commit to running?
BN: I didn't actually decide to commit to cross country until my junior year. My sophomore and freshman year I was just doing it because people said I was going to do well in it. I was just doing it because I thought it was a thing that was going to take me places. But, then I decided to actually commit to it. I had a very underwhelming sophomore year season in both cross country and track. I also got injured so I realized that if I'm going to do this I need to be 100% in it, or not in it at all.
WSS: How have your team members helped you to succeed this year?
BN: This year we have had a ton of people step up. We have so many people who haven't really done this before and they've stepped up. We have had a lot of people we did not know that we're going to be so vital to our team, step up.
WSS: What have you done over the years to improve?
BN: Making sure that I get everything in. Getting the run in, the pre-practice and the post-practice are all so important. Freshman year running was just a hobby and now everything revolves around running. Just because when you get more and more serious about it, everything has to. I have to focus on all of it, eating and sleeping, especially, so that I can practice well. Because practice makes you better.
KG: I've had to triple my efforts every year, so freshman year I'd be doing two workouts a day. Putting in 60 miles a week and this summer (junior year) I was putting in about 80 miles a week.
I hardly ever take a day off, but if I do its usually a Sunday just for rest. I've done a lot of different stuff, I've done three workouts a day, if you wanna be good you've got to commit to it full time like the [professionals] do. Running is one of those sports where you are either all in or you're not.
WSS: How have you been able to dedicate yourself in the offseason?
BN: I know that when nobody is paying attention and when nobody cares about your training and what you're doing; that's when you become better than everybody else. The offseason is the most important time because that's when you build your base. Your season is not going to go well if you don't have a strong offseason.
KG: In the offseason I stay dedicated by visualizing myself winning, or whatever it is I'm trying to do. For me I've run at the state championship twice already, and hopefully two more times. So now I visualize myself winning the state championship and beating Matt Carmody.
WSS: Has it been difficult maintaining your #1 spot?
BN: It's difficult every week. Every week I start over, in my mind. I say, "Nobody is going to hand it to me, it's not just mine." We all start over every week, when the rankings come out. Every week I have to fight for that spot.
WSS: What did you do when you were younger and not in a position to win state?
KG: When I was younger I just had to stay humble and know that I'm the best for my age. I may not be the best overall but I just had to trust the process.
WSS: What are your goals for this year and transitioning into track?
BN: The goal every year is a team state title. So, we'll try to keep working towards that. Everyone just has to stay focused. I would also like to repeat the individual state title. I won conference my freshman year, but besides that I haven't won any of the championship phase races besides state last year. A goal is always to win. As many meets as I can, or every meet. KG: Break 15:15 in the 5k for cross country and then in track I want to break 9:00 minutes in the [3200m] and break 4:15 in the [1600m].
Leave a Comment
About the Writers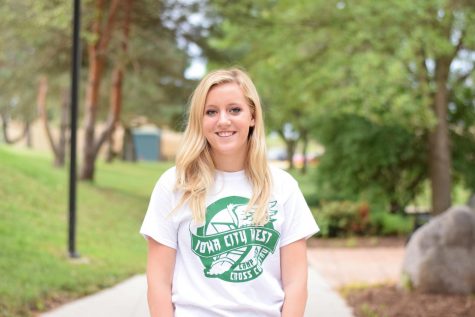 Ellie Gretter, Sports Editor
Ellie Gretter is a senior at West High. It is her third year on staff and she is Online and Print Sports Editor. When Ellie isn't covering a sporting event,...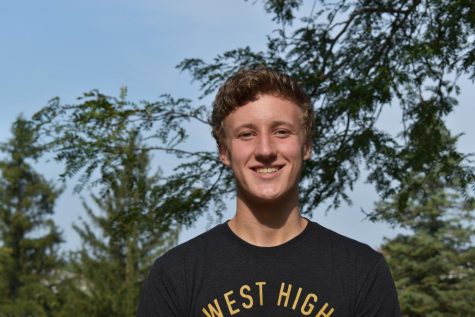 Ken Wilbur, Podcast Editor
Ken Wilbur is a senior at West and a third-year staffer on West Side Story. While not recording podcasts or writing articles, Ken can be found running...