Zach Wahls kicks off senate campaign to packed house
'09 West grad announces intentions to run for Iowa Senate
 Activist, author and 2009 West High graduate Zach Wahls, returned to his home state to formally announce his intentions to run for Iowa senate on Dec. 21. He is hoping to take over the seat currently occupied by Bob Dvorsky, and plans to run while completing his Master's Degree at Princeton. Janice Weiner, who made a statement earlier this week, is the only other candidate currently running for the seat.  The event took place at the Old Town Hall in Coralville. The turnout was impressive. With a packed house, people were standing shoulder to shoulder and the headcount teetered just over the building's recommended occupancy. When inquired about his priorities, Wahls said, "I gotta win first, but my three main issues are going to be healthcare, education and workers' rights."
After the initial announcement at the Old Town Hall, a reception was held at the Unitarian Universalist Society in Coralville. Wahls once again spoke about his vision for the Iowa senate, particularly highlighting his plans to rectify the "damage" caused by the Republican majority to efforts such as healthcare. "This is an all hands on deck moment that will determine the future of the state for generations to come, and I feel responsible for doing my part," Wahls said.
A West High alum, Wahls still to this day treasures what he learned in his time at West. He held a position on the WSS staff as Columns Editor his senior year. "I still have my binder from AP Economics, when Tyson Smith was teaching the class at West," Wahls said. "It's on my shelf at Princeton and I still consult it."
For more information, visit his website. The link to his full announcement speech, as well as Social Studies Teacher Mitch Gross' introductory words can be viewed on his Facebook page.

Hang on for a minute...we're trying to find some more stories you might like.
About the Writer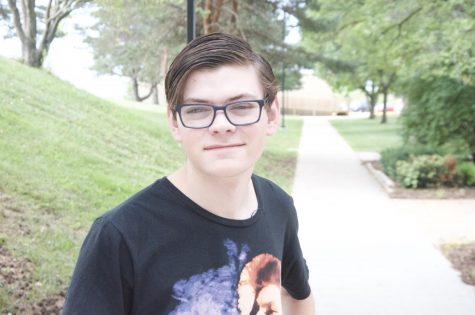 Harry Westergaard, Arts Editor, Reporter, Film Critic
Harry Westergaard is a junior at West High. This is his second year on staff, where he works as a reporter and film critic. When not pouring his heart out for the paper, he enjoys reading books, listening to music and watching films.