After
West Side Story: Who is your biggest supporter?
Rachael Saunders: I would say my parents because they have supported [me] all through my basketball career and will continue to [support me]. They've driven me across the country to tournaments and practices and drug my sister along with them. [They] helped me deal with all the stress of recruiting and also having fun with teams I play on.
WSS: What is your favorite memory from playing at West?
RS: My favorite memory is probably the state championship game this year. We beat City in the finals after we lost to them twice in the regular season. It was really great that we beat them, but also we met our ultimate goal which was winning state.
WSS: What are you going to miss most about playing at West?
RS: I'm [going to] miss the team a lot. I've been friends with them for the longest time and I can't imagine playing on a team without them, so I'm definitely gonna miss them and also the coaches, just because they've helped me grow in such a way that I've become a better basketball player.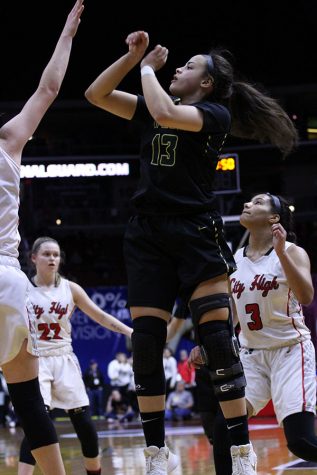 WSS: What are you going to miss about high school basketball?
RS: I'm probably [going to] miss playing [with my] friends, for the student sections [and] having those rivalries with the kids [I]'ve grown up with. Also, just [the] atmosphere of girls basketball in Iowa is really incredible, especially once you get to the state level. So, the atmosphere and also playing for families and friends.
WSS: Have you changed throughout your high school career in basketball?
RS: A lot. I went through some unfortunate injuries, which definitely helped shape how I play and what I play for. I definitely say that my confidence has gotten better. I've been able to develop under my coaches because they've [given] me the greatest advice and [become] a better teammate definitely is the biggest one.
WSS: How did your injury affect you as an athlete?
RS: It was really difficult not being able to play for nine months, so that definitely made me stay patient and kind of brought down my immaturity a lot and made me think big picture. So, it was really incredible to get back and play.I definitely saw the difference … [in] just the way I played [and] the mindset that I had.
WSS: What happened?
RS: I tore my ACL at the state quarterfinal game last year. So, getting back to [play at] state this year was really incredible.
WSS: What was it like to get back to where you were before your injury?
RS: It was a great big process. You start off not even being able to walk, so that's really hard, especially for an athlete, and then it's about nine months or more [of] just constant recovery, every day getting in the gym, every day just working back to where you want to be. So, being with my team and staying the course with my family was really important to my recovery and I think that it went the best that I could have asked for.
WSS: Did you ever think about giving up?
RS: Oh yeah, multiple times. I'd like to say I didn't, but it got to a point where it was so painful to do everything that it was just so hard to keep going. I definitely think that just my love to want to play basketball kept me going.
WSS: What motivates you when you have a bad game or practice?
RS: Probably my parents. They keep me level with how I'm thinking and what I'm thinking. Getting back in the gym with my teammates also helps a lot.
WSS: What's the best piece of advice you have been given by a coach or a teammate?
RS: The best advice probably [was] given to me by a coach and it was just give 110 percent effort all the time. Just because you don't know how many minutes you'll be playing in a game or how many games you'll be playing in at all. So, giving your ultimate effort at every point is really important to having to play the best that you can.
WSS: What advice would you give to future Women of Troy basketball players?
RS: I would tell them to stay the course. It's always hard coming in as freshmen because you don't really know your spot yet, but if you continue to work hard and practice and let the coaches coach you, you'll end up in a great position.