West Side Story staff receives Pacemaker award
Four WSS staffers also snag individual awards, including 1st place Illustration in the nation for last year's '50 years of West'
West Side Story journalists traveled to Chicago this week to attend the JEA/NSPA national high school journalism convention and returned with the organization's highest award—The Pacemaker. Last year's WSS staff was one of 28 high school journalism programs in the world to receive the award.
Nina Elkadi '18 was the 2017-2018 Newspaper Editor-in-Chief. "The Pacemaker is the Pulitzer of high school and college journalism," Elkadi said. "Aside from the internal rewards of creating a publication that as a staff we are proud of, winning a Pacemaker is the highest external honor a paper can receive with regards to their work."
In addition to demonstrating excellence in key areas including coverage, writing, editing, design and photography, the winning newspapers took risks and served as a strong voice for its student audience.
"The WSS team last year was simply incredible," Elkadi said. "They were inquisitive and brave, which is the perfect recipe for journalistic success. Whether it be with regards to writing, design, photography, editing or brainstorming, the team put their heart into it all. As editor, I was ecstatic to receive the news. Hard work and dedication doesn't always go recognized—that's just part of the game. This is just icing on the cake for our team, and I couldn't be more excited to see the WSS 'set the pace' for many more years to come."
This is the third Pacemaker award for the WSS staff. The last Newspaper Pacemaker was in 2011, when Lilli Oetting was Editor-in-Chief. The WSS also received one Online Pacemaker in 2012 when Adam Canady was Website Editor. The WSS staff was also a Newspaper Pacemaker finalist in 2005, 2007 and 2012 and an Online Pacemaker finalist in 2017.
"The best newspapers and newsmagazines delivered relevant coverage that resonated with student readers and the school community with appropriate sourcing, abundant student quotes and consistent journalistic style," said Gary Lundgren, associate director and coordinator of the competition. "The Pacemakers represent the best in verbal and visual storytelling."
Four WSS staffers also snagged individual awards at the JEA/NSPA national high school journalism convention in Chicago on Nov. 3.
Angela Zirbes '18 received first place Illustration of the Year for the "50 years of West" September 2017 cover.
Samalya Thenuwara '18 received third place Broadcast Journalist of the Year and third place Multimedia Feature Story of the Year for "An artist's journey."
Lydia Guo '19 received honorable mention in the Designer of the Year contest.
Lauren Katz '18 received honorable mention Sports Story of the Year for "The race to success."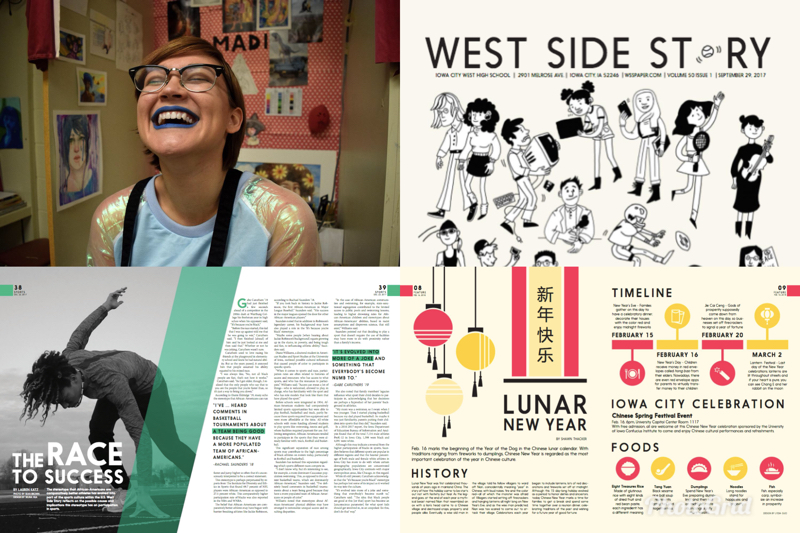 Leave a Comment
Donate to West Side Story
Your donation will support the student journalists of West High School. Your contribution will allow us to purchase Scholarship Yearbooks, newsroom equipment and cover our annual website hosting costs.