Finding his forte
Choir teacher Luigi Enriquez shares his life story from the cradle to the classroom.
When the average person thinks of a choir director, the image that often comes to mind is a stuffy elderly man with a baton. However, choir director Luigi Enriquez is far from that stereotype.
Born in Quezon City, Philippines in 1994, Enriquez's life story is a bit different than that of the typical Iowa resident. At two months old, Enriquez boarded a plane ride to where he would later consider to be his home: Cabanatuan, a city in the Philippines. Once there, he spent his earliest years growing up on a family farm.
"I remember going with my grandpa, specifically on the weekends, on walks and just watching things. We'd build lots of things and do farm things: like plant rice and harvest food, and we'd also always eat raw sugarcane," Enriquez said.
At age nine, Enriquez found his life changing drastically. His mother had been working as a doctor in Oman for the past four years, but in 2001, she moved to the United States for a new job. A year later, she petitioned for the rest of Enriquez's core family to come as well. This process involved filling out the immigration file form I-130 and submitting personal documents to allow family members of someone working in the United States to join them.
"I think I was too young to really understand what was really happening. I had not seen my mom for like four years prior to that; that's just like the nature of things with immigrant families," Enriquez said. "It was really weird to not see my mom for a very long time and it was also really weird to see how much more industrial the United States is than the Philippines."
"
"I think I was too young to really understand what was happening. I had not seen my mom for like four years prior to that; that's just like the nature of things with immigrant families, "
— Luigi Enriquez
Once in the United States, Enriquez became heavily involved in music around his new city of Racine, WI. Since his grandmother was a music teacher in the Philippines, there had always been music in their house. He began viola lessons through his elementary school at age nine and piano lessons at age ten. He also sang in his church choir, but aside from middle school choir, vocal music wasn't a priority until his young adult years.
In high school, Enriquez took on the role of piano accompanist for his school's choirs. Through that exposure, he had the opportunity to play piano for the school musical, "Into the Woods", during his freshman year.
"Me and this senior girl were vying for this piano spot and I was like, 'Oh I'll never get it,' but I did. The theatre director, who became my mentor since then, was like 'I really saw something in you and I really trusted you with this spot,'" Enriquez said. "My sophomore year, I helped lead sectionals and things like that and by my junior and senior years I was asked if I wanted to be the vocal director. Of course I said yes."
After spending so much time around choirs during his accompanist days, Enriquez decided to try singing in the choir for his senior year. One day, his choir director mentioned auditions for Luther College's winter choral festival. Enriquez decided to audition and was chosen to attend the festival. Between that experience and helping with musicals, Enriquez came to the conclusion that he wanted to pursue music in college.

"I had family friends who were graduates of Luther who would bring me things like Luther [concert] CDs; they would always [tell me] that it's a great music school … I was originally going to go home to the Philippines [after high school] to study medicine. I remember talking to my mom [after I graduated] and having that conversation like, 'This is not what I want; it's what you want,'" Enriquez said.
Enriquez decided to make the quick decision to apply to Luther College just a few weeks shy of the start of the school year. After a number of phone calls and some snap decisions, Enriquez found himself part of Luther's class of 2017. Once there, Enriquez had to make the hard decision of whether to choose to pursue a career in vocal music education or performance.
"I think I was just really nervous about not doing well and how scary it is to lead a life of performing," Enriquez said. "[But] I'm not saying that I won't ever have a performance career. I think it was just the safer route [to teach], and I wanted to show my parents the results [of me studying music] sooner than had I chosen a performance career."
Close to his graduation in the spring of 2017, a teacher Enriquez had been studying with during his student teaching linked Enriquez to a Facebook post by head West High choir director David Haas, announcing an open colleague position. Enriquez decided to pursue this opportunity and apply for the job.
"Several of Mr. E's references were people that I hold in very high regard. When all of them mentioned that he was one of the best student teachers and musicians they had ever observed, it carried a lot of weight [in who I was hoping Dr. Shoultz would hire]," Haas said.
Enriquez has brought a very clear teaching philosophy with him to West High: peace and love first.
"
"At the end of the day, kids need to know that somebody cares for them and is watching out for them above the music, "
— Luigi Enriquez
"At the end of the day, kids need to know that somebody cares for them and is watching out for them above the music. I used to feel differently, that music must come first, but at the end of the day the music is the easy part," Enriquez said. "Building trust and building community with other people is difficult, but you need that in order to function well with the music."

The students that Enriquez directs greatly value everything he brings to the classroom, from his friendly demeanor to his vast knowledge. One of these students is Maria Gamon '19, who has been in Concert Choir and Showtime show choir with Enriquez for two years.

"He has a set of standards for everyone and is really professional about making sure all of his expectations are met, but he's still going to have fun," said Gamon. "He was an opera singer [in college] so he's probably really strict [with] himself, but when he teaches others he makes sure that he breaks things down and that everyone is doing their best and is following along."
Enriquez is grateful to be living a life and pursuing a profession that he is proud of. When asked what he would tell to his younger self, all he had to say was: "'You're gonna be ok. Don't worry too much; just let it happen.'"

Leave a Comment
Donate to West Side Story
Your donation will support the student journalists of West High School. Your contribution will allow us to purchase Scholarship Yearbooks, newsroom equipment and cover our annual website hosting costs.
About the Writer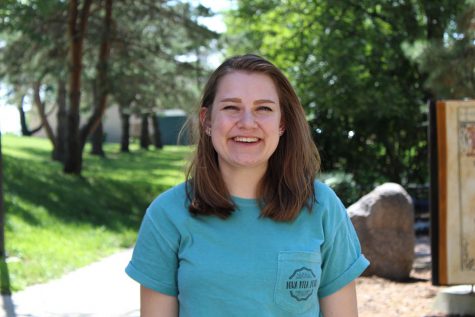 Lucy Polyak, Columns Editor
Lucy Polyak is a senior at West High and this is her second year on staff. She is a reporter and the columns editor for both web and print publications....