"The Old Man & The Gun" gives Robert Redford the perfect sendoff
After acting for nearly 60 years in a variety of roles, Robert Redford has decided to call it quits with "The Old Man & The Gun," and he couldn't have picked a better film to go out with.
Oftentimes, the great actors from the golden age of film will call it quits without putting much thought into what their last film is. This frequently leads to outstanding careers ending like bad jokes. See Gene Hackman's sendoff, "Welcome to Mooseport," or Sean Connery with "The League of Extraordinary Gentlemen," for evidence. This problem isn't particularly pressing. The fact that these actors provided us with the surplus of classics that they did in their prime is enough of an achievement. But it's always nice when an actor happens upon a film late in their career, with retirement on the horizon, that seems to perfectly sum up their cinematic legacy.
With "The Old Man & the Gun," 82-year-old actor Robert Redford has happened upon the perfect film to close his nearly 60-year acting career with.
The film follows Forrest Tucker, an elderly criminal who escaped from San Quentin in the past and followed with a string of flawlessly planned bank robberies. He receives assistance from his heist crew which consists of Teddy Green (Danny Glover) and Waller (singer-songwriter Tom Waits). They are nicknamed the Over The Hill Gang by the media in a subtle nod to the Hole in the Wall from "Butch Cassidy." Tucker refuses to slow down despite the fact that the authorities are finally starting to close in on him, in particular, the unrelenting detective John Hunt (played by Casey Affleck). He also finds a love interest in Jewel, played by Sissy Spacek.
There's a lot of good tucked in the movie. While the premise has definitely been done before (there are a lot of similarities to the movie "Heat," though they are completely different films) it's set apart by its light charm. Much of this charm is bolstered by the cast made up of veteran film superstars.
Robert Redford gives a flawless final performance. He's aged on the exterior, his face lined and highlighted by creases and wrinkles, but none of it shows in his acting. He sweeps you into the role so effectively that you almost forget how old he is. His performance is just as effortlessly charismatic as his classic roles in the 70's. That's partially because he's back in the type of role that made him famous–the con man with charm. The film mainly serves to remind us what made Redford special: he had a natural, rootsy sense of swagger about him. Many of his contemporaries (Steve McQueen, Clint Eastwood) were described at one point or another as "oozing with cool." Redford didn't ooze cool, because he didn't need to. Where others were purposefully moody, distant and emotionless, Redford was good-natured, suave and witty. All without effort, as if acting just came naturally to him, or as if he's damn good at mirroring himself or both. You always feel like he's fighting for the right side, which makes him easy to sympathize with, even if he's a criminal. It's as if he's breaking the American Dream just to make sure it's still working.
"
Robert Redford gives a flawless final performance. He's aged on the exterior, his face lined and highlighted by creases and wrinkles, but none of it shows in his acting."
— Harry Westergaard
This aspect of his persona is especially highlighted in "The Old Man & the Gun." The money is only a side thought for Forest. The real reason he frequently robs banks and escapes prisons is that it's just so damn fun. He can't help it. That's precisely why the film is a perfect send-off for Redford. In more ways than one, it's a nice tribute to his most classic roles.
The focus of the film is clearly on the Redford character, but that isn't to undermine the efforts of the supporting cast. Though he is only in a handful of scenes, Tom Waits is a welcome addition to the film as Waller. Acting-wise, Waits doesn't have to do much more than channel the mordant stage persona he's used for the duration of his career. He acts sparingly enough in films, so it always comes as a delightful surprise to see him turn up in something like this.
Forest's love interest is played by Sissy Spacek. In keeping with the films of the 70's New Hollywood that the film is trying to mirror, she isn't given a whole lot to do. This is disappointing because even in a fairly conventional role such as this, Spacek shines. Her chemistry with Robert Redford is delightful to behold as the viewer. Despite their ages, there is a youthfulness about them when they are together.
The only weak link in the cast is Casey Affleck. He plays John Hunt, the relentless detective who's on the trail of the Over the Hill Gang.  I kept trying to justify his presence in an otherwise strong movie but I couldn't. Affleck is a bad actor who puts nothing into his roles. His acting style typically comes off as bland to me. Luckily, his role here is small enough and rudimentary enough so that he doesn't get in the way of the rest of the film.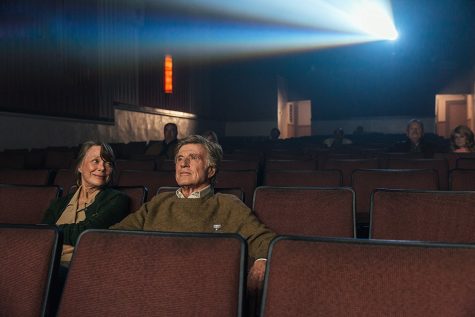 As a director, David Lowery gives the picture some needed flair so that it isn't the actors doing all the work. Most notably, he distorts the film quality so that the movie looks older, giving it the appearance of being released in the 70's/80's. In addition to this, he plays with the titles and the font, with the title cards using the exact same font as Redford's first big hit, "Butch Cassidy and the Sundance Kid." For aesthetic purposes, I would urge you to see the film on the big screen so that these stylistic flourishes can be fully appreciated.
"The Old Man and the Gun" is not a revolutionary film, but that's okay. It's a welcome change of pace from the intense blockbusters of today and a harken back to back to the days of simpler blockbusters that relied on the skill of actors and directors. With a strong performance by the leading man, a solid supporting cast and stellar work from director Lowery, "The Old Man and the Gun," not only reminds us what made its main star so radiant in his heyday but also how magical popular movies can be when they try.
About the Contributor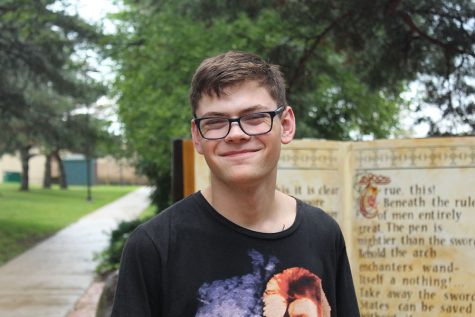 Harry Westergaard, Arts Editor, Co-Copy Editor
Harry Westergaard is a senior at West High and this is his third year on staff. He does a little bit of everything on staff, working primarily as the Arts...