A stroke of good fortune
Farren Kerr is known to most as one of West's talented paraeducators, but last month she stepped into a new role: a contestant on the Wheel of Fortune.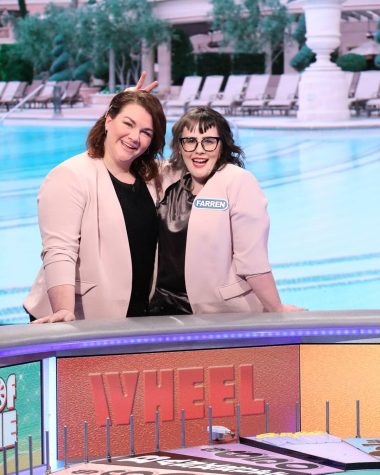 The enthusiastic ramblings of host Pat Sejak and tender smile of Vanna White are two comforts that many Americans tune in for on a weekly basis. The high-stakes competition and fun-loving spirit of the program makes Wheel of Fortune a must-see for millions of people daily. West paraeducator Farren Kerr is not among these avid fans. She is, however, one of a small pool of people who can say they've been a contestant on the longest-running game show in U.S. history.
Kerr's journey on Wheel of Fortune began not out of a personal desire to be on the show, but rather with her sister, Chandra Brawner. Brawner initially attended an audition alone through the show's scouting process called "Wheel Mobile." This first audition consisted of the judges getting a taste for the potential contestants' personalities through various exercises and mock interviews.
When Brawner was told that she advanced to the second round of auditions, she chose Kerr to be her partner. Kerr was initially apprehensive about auditioning, but came around after realizing how much the opportunity meant to her sister.
"I didn't think the chances were very high so when she really badly wanted to audition… that was like a dream, so I was like 'All right, I'll go with you,'" Kerr said. "Later I was like, 'What did I get myself into?'"
The second audition round, held in Des Moines, simulated the game show by having contestants take turns guessing words as they would during a round of Wheel of Fortune. Kerr also had to take a written test that consisted of word puzzles similar to those on the show.
"The written test was one of the hardest tests I've ever taken," Kerr said. "There were 45 puzzles and they gave you five minutes. I don't think I did very well but we must have done better than most people."
Following this final audition, Kerr and her family were pessimistic about her chances of getting on the show.
"Most people were like, 'Oh, you might as well try' but nobody thought I would make it," she said. "It's such a long time from when you audition to when you hear back that I think I totally forgot about it, to be honest."
The first piece of good news came via a letter from Wheel of Fortune informing the duo that they were in the contestant pool. Despite this, there was still a fair chance that they would not make it to the final taping of the show.
"First they send you a piece of mail saying that you're in the contestant pool – I didn't even think that part was gonna happen," Kerr said. "So I'm still like 'Oh that's exciting that we've sort of made it, but we're not really going to be on the show.'"
When Kerr received the final call that she would, in fact, compete with Brawner on Wheel of Fortune, she was ecstatic. She was placed on a themed-week episode set to air on Feb. 19 called "Girlfriend Getaways" due to the fact that she was competing with her sister.
After a few months of intense studying, Kerr flew to Los Angeles, where the show is filmed, a week in advance in order to enjoy her time in the city. After a few days of tourism, she arrived at the studio for the taping.
"[The studio] was so underwhelming," Kerr said. "I couldn't believe how small it was, even the wheel. It was like the size of [West High's] desks."
"
Everyone was like 'I'm so excited to watch you' and I wasn't allowed to be like 'Don't be excited.'"
— Farren Kerr, paraeducator
In addition to touring the set, the contestants also socialized with Vanna White, the woman tasked with placing letters on the puzzle board during the show.
"Vanna White came in early in the morning," Kerr said. "She gets there early to do her hair and her make-up and we got to talk to her—she's a really cool person."
After getting hair and makeup done themselves, the sisters were ready to take the stage and spin the wheel. After a valiant effort, the two walked away with $2250.
"We lost big time," Kerr said. "We got a ton of ["Bankrupt" spins], even more than they showed on TV. But we did end up solving the final puzzle."
While Kerr was allowed to tell her coworkers at West of her appearance on the show, she wasn't allowed to reveal the outcome.
"I told my friends in my classroom about the show and they were super excited," she said. "But by the time I told everyone I knew I had lost. Everyone was like 'I'm so excited to watch you' and I wasn't allowed to be like 'Don't be excited.'"
Despite not hitting the jackpot during the show, Kerr feels as though competing on the show was a worthwhile experience, and one she won't soon forget.
"It was just overall an amazing opportunity," she said.
Leave a Comment
About the Contributor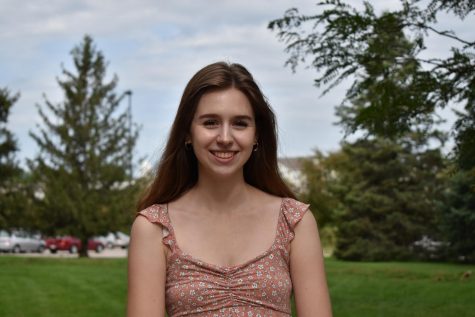 Alex Carlon, Online Editor-in-Chief
(she/her) Alex Carlon is a senior at West High and editor-in-chief of the web publication. When she's not helping out on the website she can be found playing...