PS5: Reboxed
Luke Krchak reviews the PS5 and explains why, only a few days after unboxing it, he reboxes and returns it.
The Playstation 5 is one of the most awaited systems of the year, with the hype beginning with its announcement. The console wars have made it really one of two possible state-of-the-art systems to buy, the other being the Xbox Series X. The PS5 has two editions, a digital only for $399, and a disc drive for $499.
Around the middle of October, stores released the PS5 for preorder a day ahead of Sony's planned release. Stores like Walmart, Target, and Best Buy were hit with a DDOS (Distributed Denial-of-Service) attack limiting the amount of people who remotely had a chance to buy the system.
In a few hours, people were posting their PS5 pre-orders for thousands of dollars on online places like eBay, and Craigslist. When Sony had their release the next day, they used a system that limited bots. You needed a PSN (Playstation Network) account, and then it was a lottery pick if you got the chance to buy one. I was one of the lucky ones and got my PSN picked to buy a console.
My family has had PlayStations since the first generation of console. I personally started playing when the PS3 and PSP came out. I remember playing games like Resistance 3 and Call of Duty: Modern Warfare 3.  Each time there has been a massive graphics upgrade and improved gameplay. One of the major selling points this year is the billions of pixels available that allow game developers to use animation software to best improve the graphics.
I remember the doorbell ringing and opening the door to see the box on Nov. 12. I unboxed it and unwrapped the plastic overlay protecting the system. I finally saw the beautiful design. I placed it on its stand next to my TV. It stood a beacon of hope for 2020.
It took the rest of the day to set up, from downloading games to updating system software. However, while I waited for some of the games to download, there was a preloaded game, "Astro's Playroom." It was a game that showed off everything new with the Playstation 5, adaptive triggers, ray tracing, and HD rumble to name a few. You played through the game collecting things from PlayStations past.
I bought most of the games I played on my old console to work on both the PS4 and the PS5, so I tried the new "Assassins Creed: Vallhalla" before the PS5 had released. The differences I noticed were huge. First off PS4 games look like games; they don't have as many graphically astonishing features. On the PS5 it felt like you were playing within an animated movie. Games like "Assassins Creed: Vallahalla" incapsulate more realistic looking games, almost feeling like you are in Norway.
The next day I got up early to play the new "Call of Duty" game, "Call of Duty: Cold War." The PS5 radically changes up the multiplayer with the adaptive triggers. You have to more strongly pull down the triggers to both aim down sights, and to fire, adding to the realism. With the HD rumble, you can feel where you are getting shot from.
After school on Nov. 13, I started playing "Spider-Man: Miles Morales". I have never played a "Spider-Man" game before, but let me tell you, if you are getting one game for the PS5, this is the game to get. It felt like I was actually swinging through New York City, and with the little to no low times, it is a true open-world experience. If you have ever seen a "Spider-Man" movie, you feel like you are in one.
To cap my Friday off, I played "Sackboy: A big adventure." Now this game is by no means a graphical achievement, but it is still a good co-op game to play.
Things were amazing until Saturday came. I started playing the "Call of Duty: Cold War" campaign. I got through the first few stages fine until this one alleyway froze the game. Before this, the multiplayer was doing the same thing, but I thought it was just problems with their servers. I reopened the game, the campaign resumed to a close checkpoint, I played to the same alley, and it froze again. So I tried "Assassins Creed." It played fine for a bit then it froze.
After looking it up on the internet, seeing many other people experiencing the same thing, I looked on the PS support website. It said to rebuild the database. In an hour or two, the system was ready to play games again, except more problems arose. I would go to play a game and it wouldn't even load.
With none of the games working, I went back to the PS support website, and it said to reinstall system software. Reinstall system software erases all of the data on the system and restores it to factory settings. It required a flash drive to externally install the system update.
Over the next days, I added one or two games to test out, and of course, that did not work. The games did load, but their graphics were all screwed up. Lines flew all over the screen, and at times it slowed/froze briefly. Surprisingly only one game worked through all of this: "Astro's Playroom." My guess is that the problems are mostly graphical and hardware-based, mostly the GPU( Graphical Processing Unit).
When none of that worked I tried calling the PS support line. Unsurprisingly their phones were busy, and it took all day to call. Once I was able to call they told me to send it back and they will fix it and send it back, so I reboxed my PS5. Currently, it's still being shipped back.
My final score for the PS5 is 9.5 out of 10. I would recommend you wait, and most likely you will have to. It's an amazing system if they can fix it to work (i.e. implement a usable GPU). If/when they make those fixes, it is a system that is worth your while.
Leave a Comment
Donate to West Side Story
Your donation will support the student journalists of West High School. Your contribution will allow us to purchase Scholarship Yearbooks, newsroom equipment and cover our annual website hosting costs.
About the Contributor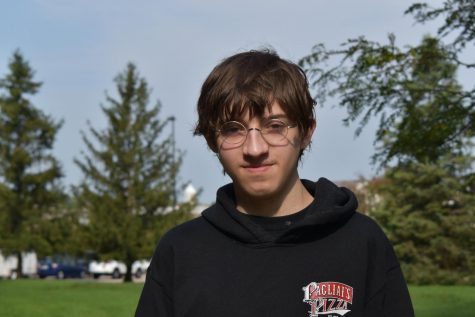 Luke Krchak, Reporter
Luke Krchak is an online reporter. This is his third year on staff. When he is outside of school he is either writing the next mystery/sci-fi novel, or...