April News Briefs
From the distribution of the COVID-19 vaccine in Iowa to the pandemic relief package, here is an overview of recent major news.
Pandemic Package Passed
President Biden signed the $1.9 trillion American Rescue Plan Act into law March 11, which provides funding for local governments, vaccine distribution and small businesses as well as $130 billion to safely reopen K-12 schools. It is also estimated to lift four million children out of poverty by distributing stimulus checks to Americans across the country. The first payments were sent out on March 13.
Super Sutures
Dasia Taylor '21 received a tenth-place spot in the Regeneron's Science Talent Search with her infection-identifying sutures, also known as stitches. The sutures change color when exposed to beet indicator, identifying if a wound is infected. She won a $25,000 scholarship and the prestigious Seaborg Award through the Talent Search. Taylor was highlighted in multiple publications, including the Washington Post and the Smithsonian Magazine.  A Q&A with Taylor was published by Ruba Ahmed, a reporter for the WSS, on wsspaper.com here.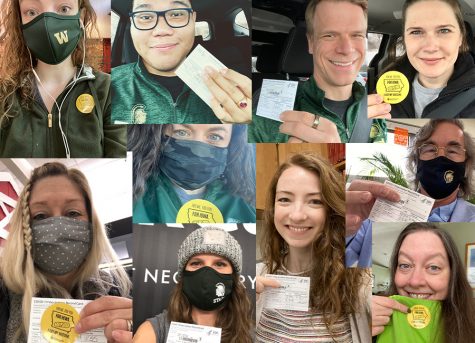 Teacher Vaccinations
All ICCSD staff who wished to be vaccinated received their second dose of the COVID-19 vaccine by March 26. As of March 29, 2,030 ICCSD employees have been vaccinated through the school district's clinics.
Coronaversary
On March 16, 2020, the ICCSD announced that school would be canceled until April 13, 2020. This statement was later revised, and schools closed for the rest of the 2019-2020 academic year. March 16, 2021 marked the one year anniversary of school closures due to COVID-19. Students were allowed to return to school under a hybrid model in September and full time in February.
Expanding Supply
On Feb. 27, the Janssen Pharmaceutical COVID-19 vaccine, owned by Johnson and Johnson, was approved by the FDA for people 18 years or older. Unlike other vaccines that have been approved for distribution, this vaccine requires only one shot instead of two. For those under 18, the Pfizer vaccine was recently proven 100% effective for kids 12 to 15 years old. Pfizer plans to submit the vaccine to the FDA as soon as possible.
New Gun Permit Rules
The Iowa legislature ratified an amendment to the state constitution Jan. 28, giving Iowans the right to own and bear firearms. The Senate approved this resolution, with all Republicans voting for and all Democrats voting against the new amendment. The same pattern was seen in the House vote. The amendment ensures this right cannot be infringed upon or restricted and will take away the need for a permit to acquire a gun. The amendment will appear on voters' ballots in 2022.
Voting Limitations
Gov. Kim Reynolds signed a law March 8 that will shorten Iowa's early voting period from 29 days to 20 and close the polls an hour earlier on Election Day. Additionally, absentee ballots need to arrive at their destinations before the voting period closes or they will not be counted in the election as they have in previous years. Some worry these new barriers will make it more difficult for people to vote and ensure their vote is counted in the election.
Iowa Journalist Found Innocent
Andrea Sahouri, a reporter for the Des Moines Register, was arrested while covering a Black Lives Matter protest in May 2020. Many journalists were arrested during the course of BLM protests, but this case was one of a few to go to court. At her trial March 10, she was found not guilty of all charges, which included failure to disperse and interference of official acts. Free press advocates hail her acquittal as a victory for First Amendment freedoms.
Vaccines Open Up
As of April 5, every Iowan age 16 and older is eligible to be vaccinated. Vaccines are available at pharmacies and many other locations. As of print time, 16 and 17-year-olds may only receive the Pfizer vaccine. If you would like to be notified of where vaccines are available, follow the Twitter account @IAVaccineAlerts. If you or a loved one needs assistance making an appointment to get a vaccine, help is available when you call 211. Translation is available to those who need it.
Hate Crime in Georgia
On March 16, eight people were killed in a trail of mass shootings at three spas in Atlanta, Georgia. Most of the victims were of Asian descent, contributing to the long list of anti-Asian hate crimes this past year. The person who committed these attacks has been charged with eight counts of murder. 
Mass Shooting in Colorado
Ten people were shot and killed at King Soopers grocery in Boulder, Colorado March 22. The suspect is facing 10 counts of first-degree murder, and their first court appearance was March 25. These charges carry the penalty of life in prison without parole. This attack adds to Colorado's long history of mass shootings.
District Quarantines
Since March 29, 313 Northwest Junior High students have been sent home to quarantine because of COVID-19 exposure. Shortly after, City High and West High quarantined 278 and 127 students, respectively.