Helen's Hot Takes: Exhausting extracurriculars
Columns Editor Helen Zhang '22 criticizes the academic culture that classifies extracurricular activities as necessary elements for college applications rather than opportunities for fun and passion.
I can't count the number of times I've heard some sort of lecture about the importance of having enough extracurricular activities to put on your college application — and not just a large enough number, but the right ones too. Whether it was parents, teachers or a YouTube video claiming to know "5 Extracurriculars that Will NOT help you get into college," it was clear to me since middle school that the most prestigious, well-respected educational institutes would expect me to have a perfectly curated resume that showed I stayed busy in high school yet didn't have a wildly extravagant list of activities that I was not passionate about. No, I was to find a niche, a common theme present throughout my high school career that showed my dedication and commitment.
Now, as a senior, I believe this mindset has misled many students and has stripped away the reason we should actually be doing extracurriculars — to find what you are and are not passionate about, to try new things and not feel obligated to continue them if they're not right for us and to spend time with our classmates and make new friends. Instead, one of the first things on many of our minds when we sign up for a new club is how good it will look on our college applications. 
Whether it's sports, music or any one of West's abundance of student-run clubs, students are supposed to not only dedicate their time to them, but have a leadership role if they really want to stand out. This places an additional pressure because not everyone will be able to be president or captain of an organization. 
Supposedly, colleges want to see our passion for something specific, but what if we don't find that in high school? Why can't it just be a time to explore and not feel pressured to stick to something even if we don't like it, just for the sake of not looking like a quitter to those college admission officers who barely spend an ounce of time looking at our applications, compared to the amount that we spend on making them?
"
Why can't [high school] just be a time to explore and not feel pressured to stick to something even if we don't like it?
— Helen Zhang '22
Furthermore, the idea of needing the perfect list of activities gives potential for the overjustification effect. This effect occurs when you only have the drive to do something when presented with an incentive, and thus when the incentive is taken away you no longer have motivation to continue doing it. 
I myself have experienced the overjustification effect as a musician. Since sophomore year, one of my goals for viola was to be accepted into the All-State Music Festival. I finally made it in this past year, and at the time it made all that practicing and stress worth it. Now, however, I no longer have that motivating force that kept me dedicated to viola for the beginning of the school year. It's hard to convince myself that I should take the time out of my day to practice viola because I no longer have that shiny title of being an All-Stater to work for. I struggle to view music as something to do for fun, and over the years it has become a chore. 
To top it all off, we are still expected to take challenging courses and demonstrate an interesting character through our essays and interviews. It's a lot to balance if you want to be a well-rounded applicant, and I know I've felt overwhelmed at times. Despite this mental toll, I sometimes prioritized my grades or activities over my well-being, a choice that turned out to be less rewarding than I expected. 
In the end, there is no perfect formula that will guarantee admission to an Ivy League. You can be a multi-club president, a straight-A AP student and a high SAT scorer but still not be accepted into the most selective universities.
"
There is no perfect formula that will guarantee admission to an Ivy League.
— Helen Zhang '22
Students should stop pushing the belief on themselves and others that they need to enlist in a multitude of extracurriculars that take up hours of each day. It's not worth the detriment to one's physical and mental health. Instead, they should focus on doing things that they genuinely enjoy, with challenge and educational value being benefits but not determining factors. It's best to not let expectations of achievements or awards ruin the chance of actually being passionate about something, because ultimately we cannot ensure a certain post-graduation future but can try to have the high school experience we deserve.
Leave a Comment
Donate to West Side Story
Your donation will support the student journalists of West High School. Your contribution will allow us to purchase Scholarship Yearbooks, newsroom equipment and cover our annual website hosting costs.
About the Contributor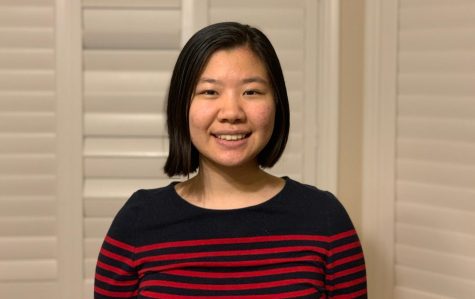 Helen Zhang, Print Columns Editor
Helen Zhang is a senior at West. She is the columns editor and this is her second year on print staff. In her free time, Helen enjoys baking, reading and...