Elissa Altman speaks at Prairie Lights
Elissa Altman, Jewish author and self-proclaimed chef visited Prairie Lights bookstore to tell her unorthodox story.
"Live at Prairie Lights" featured an author unlike any other in the most compelling sort of way this past Monday. Tucked away and cozy, a small audience listened intently as she approached the podium and began to explain to them one word: Treyf.
The Yiddish word "Treyf" is used throughout the Jewish community to describe anything that is non-Kosher. Elissa Altman, however, has taken this simple term and given it a whole new meaning. Author of Treyf: My Life as an Unorthodox Outlaw, Altman tells the story of her experiences growing up as a non-traditional Jewish kid.
"When I was quite young I leaned it could also mean people on the outside looking in," Altman said. "[Treyf] tells the story of ambiguity."
Treyf not only tells Altman's story, but others as well who are living a life where they may not feel accepted by their peers, or even their own family.
"It is a story of assimilation and immigration," Altman said, "Wherever I've been people said that this is their story, or their parent's story."
"
"I don't know," I said. And I didn't, I had no idea who I was."
— Elissa Altman, Treyf: My Life as an Unorthodox Outlaw
Nowadays, Altman can be found writing full-time in her Connecticut home, but her life wasn't always so simple. Daughter of Ukrainian immigrant, and an "Americanized Orthodox" mother,  Altman grew up unconventionally in Queens, NY. Remembering her father's struggles leaving his life in Ukraine behind, but also thinking about her mother's NY roots, Altman was conflicted with who she wanted to be.
"The story of identity is constantly evolving – that's the way it's supposed to be," Altman said, many years of wisdom now putting her younger self's "identity crisis" into perspective. This childhood confusion inspired many of Altman's stories.
"I went to Hebrew school," she said, recalling "and one day they asked if anybody knew which day the Sabbath was. I raised my hand and went 'Sunday!'. They said that maybe Hebrew school wasn't the right fit for me."
Altman then opened a copy of Treyf, and began to read to the audience, who listened intently. Drawing lots of laughs, and shocked expressions, Altman captivated her listeners with her storytelling.
Perhaps the most involved story she shared was  one of her as a young adult, moving into her grandparents' old apartment. 602 Avenue T., or "602" as it is referred to by Altman, was kept running long after her grandparents had passed, and she would be its first new tenant.
"This is the story of what happens when you are faced with the prospect if not only your past, but your father's," Altman said, going further to describe her new home. Untouched since her grandparents had lived there, the apartment was filled with lost memories, photographs and relics of Altman's family. It also had a few quirks, which Altman smiled as she shared.
"'Whatever you do, don't turn on the oven,' he said," Altman said, explaining a call she got from her father not long after she moved in. "I was suddenly single, living in my dead grandparents' house and I can't even roast a chicken."
Personal stories like this one, intertwined with clever humor can be found in copious amounts throughout Altman's novel, giving her storytelling a compelling and unique-to-her aspect.
Altman's passion for her work clearly shone through in her expression and emotion while she read, and this passion is emulated in her novels as well. Described as "heartfelt", "vivid", and "beautifully written", Treyf is a coming-of-age story like no other.
Leave a Comment
About the Contributor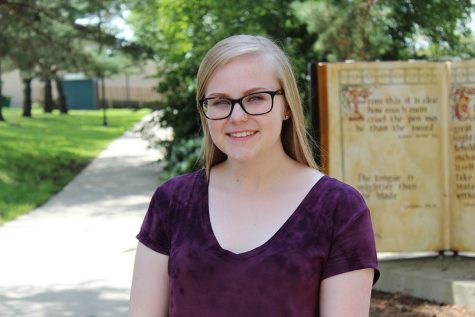 Mary Vander Weg, Online Graphic Designer
Mary Vander Weg is a senior at West High, and this is her third year with the West Side Story. In her free time, she can be found writing - whether it...