Students and staff celebrate Martin Luther King Jr. day
Students and staff participated in activities commemorating Martin Luther King Jr.
Although classes won't be held on Martin Luther King Day, that did not stop West students and staff from celebrating. On Friday, January 13th, students spent the day learning about and commemorating the accomplishments of Dr. King through various classroom activities, service projects, and special guest speakers. Even with a specific subject matter, the variety of festivities was very apparent. From blood typing, to quote analyses, to sculpting, West was booming with activity.

"All teachers are expected to incorporate an MLK-themed lesson into their curriculum this week or next," said principal Gregg Shoultz. "It is important for all to learn about the life and legacy of Dr. King."
Other members of the administration also enthused about how essential they believed these celebrations to be.
"It is most important," said dean of students Maria Martin. "Without lessons taught and learned on these topics we are bound to repeat errors already documented in our history."
It was not only faculty who agreed Martin Luther King Day celebrations were necessary. Many students also shared their approval of West's decision of recognition.
"I think it is very important to acknowledge Dr. King's work," said Micah Smith '17, "especially because there is no school on [Martin Luther King Day]."
"It is almost definitely necessary," said Zach Ring '18, " since they got rid of school on that day we should address these topics."
The topic of Martin Luther King and the Civil Rights Movement wasn't simply addressed with a quick intercom speech or a short public service announcement; teachers took many unique approaches.
"In AP Government we took literacy tests [from 19th century voting registration]," Ring said. "It was fun and very interesting to put yourself in the shoes of people from the past."
Celebrations also expanded outside of the classrooms . Arganbright Auditorium hosted speakers; the commons were filled; and the science department busied themselves with service projects.
"I went to see the speakers," said Peyton Freeney '19, "I enjoyed them because I get to learn more and more about things I didn't know."
In the main commons, students could admire a wide array art created by the students.
"In the spirit of Martin Luther King Junior, my students created the work and the installation as a celebration of the diversity of our West High Community," said sculpture teacher Jenny Saylor. "The installation is not just about the final product but also about the process and connection of a diverse group of students working toward a common goal."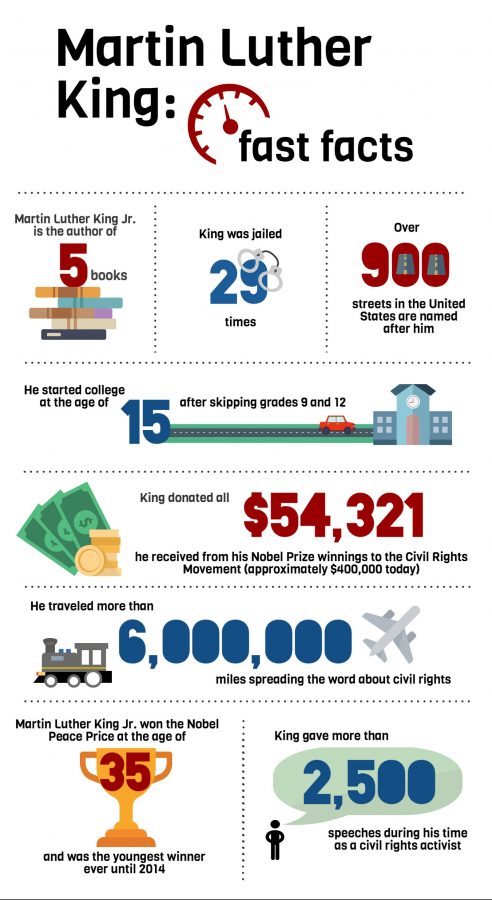 Although these activities were presented with the context of educating the students on the history and accomplishments of Martin Luther King, there was more to it than the recognition of a federal holiday — it was the recognition of a legacy of change. "These issues are still relevant today," Shoultz said. " We all should understand our history and great change in attitudes in our country as a result of the civil rights movement.".
Other staff hoped the festivities would not only commemorate Dr. King  but also spark much more.
"I believe and hope that the events and activities offered during this time of year but also throughout the year through lessons provided by our teachers facilitate reflection, discussion, and most definitely raise awareness," Martin said. "Awareness of progress made in our society, but also awareness of work that still needs to be done in regards to respecting all and striving towards equity of access and opportunity for all."
These goals have definitely been accomplished. Students have responded to the celebrations well, and they, too, recognize the overall goal. "[Dr. King] has greatly influenced the way we approach diversity, especially in schools." Freeney said.
Students also not only acknowledge the bigger picture but they enthuse about it as well.
"[Diversity] problems are still apparent today," said Jace Mcnamar '18. "It is really important that we respect not just Martin Luther King, but everyone else, too."
Through thought-out planning, unique activities, interesting classroom lessons and a bigger goal in mind West High was able to inspire and educate its students. This end result proves that when people come together, they can not only recognize greatness, but also achieve it.
"After all," McNamar said, "there is only one race – human."
Leave a Comment
About the Contributors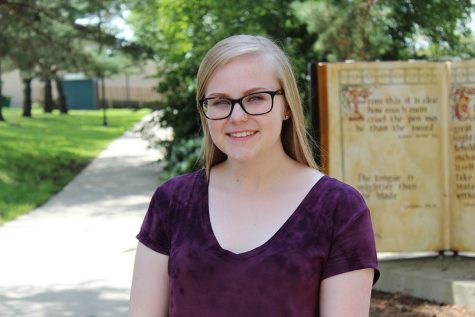 Mary Vander Weg, Online Graphic Designer
Mary Vander Weg is a senior at West High, and this is her third year with the West Side Story. In her free time, she can be found writing - whether it...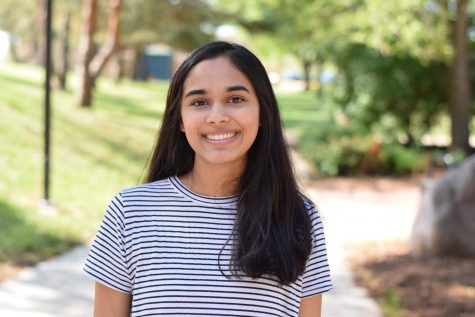 Pareen Mhatre, Photo Editor, Online Managing Editor









Pareen Mhatre is a senior and she is the Photo Editor and Online Managing Editor. This is her second year on staff. In her free time,...