How to: navigate the MLK Day festivities
Not quite sure where to go, how long to stay or what you need to do during the MLK Day celebration here at West? Don't worry. WSS is here to help you cruise through the festivities.
Once upon a time in the Iowa City Community School District, Martin Luther King (MLK) Day was a simple affair. Everybody got a day off of school, with any further celebration happening on an individual-by-individual or teacher-by-teacher basis. However, during a district-wide climate survey conducted in 2017, many minority students reported feeling underrepresented, unwanted or unnoticed due to their minority status. So last year, the school district decided to install a school-wide celebration of MLK Day in order to address this. This year will only be the second MLK Day celebration the district has held, so naturally a degree of confusion hangs around the whole affair. Where do you sign up for sessions? Can you still sign up for sessions last minute? Why is there a required session? WSS is here to answer those questions and many more.
When are we celebrating MLK Day?
There will be no school on the holiday itself, so West High will hold its MLK Day festivities on Thursday, Jan. 24.
"We feel like we can get some more valuable activities between the hours of nine and three rather than trying to stretch it out until four," said Vice Principal Luke DeVries. "It might encourage more students to attend as well."
If I forgot or was unable to sign up for sessions earlier, what do I do?
Students should've signed up for sessions by the end of the week of Jan. 14. In the event that you failed to meet that deadline, you will need to go onto Sched in order to sign up for sessions now.
"At this point, if a student needs to modify their schedule, they should talk with one of the teachers on the MLK Planning Committee (John Boylan, Jeff Conner, Theresa Juhl, Andrea Harms, Maureen Head and Alexei Lalagos)," Jeff Conner said. "There will also be tables set up in the Commons near the Main Office on the day of the event to help students with their schedules."
Why is there a required session and what is it about?
The required session, called the Voices of West High Panel, is a discussion session where students will listen to a panel of their classmates "field questions from a moderator and engage in discussion with each other about shared experiences and differences," according to the official session description.
"We consider this session to be a keystone for the day because it will effectively meet our goals of celebrating the diversity at West High while cultivating empathy between students," Conner explained. "It is important that these voices are heard by the entire student body, which is why we have required all students to attend the session."
How will sessions work?
The day will be split into six sections, with each section being around the length of a normal class period. Each session will span anywhere from one to several sections depending on the location and activity.
Many sessions will be conversational, with a focus on discussion. "I'm going to be showing clips from different videos, getting people's reactions to them and trying to engage everyone in a conversation about what they feel about the situation/what they think should be done about it," said Razan Hamza '21, who will lead the session "That Song Just Said the 'N Word'… Can I Still Sing Along?"
Students who will leave the building during the course of a session will not need to sign a form. If students are interested in getting Silver Cord hours for any community service they perform during the course of the day, they should write down the relevant information from their sessions onto a Silver Cord Hour form and submit it to the office.
Why should I attend?
While some students think the absence of regular classes means attendance is optional, teachers have reminded students that this isn't a day off and there will be serious consequences for skipping.
"The expectation is that everyone's in school for MLK Day," DeVries said. "If you're not here, it's an absence, just like any other day. … We're printing off a roster of students who are registered for those sessions for the people who are running those sessions so they can go on the paper roster that they have to determine who is there and who is not."
In addition, skipping would mean missing out on food, volunteer opportunities and the chance to learn about topics of everyday interest.
"We hope students will leave the day with a better understanding of each other and that students will feel a stronger connection to their teachers, other students and members of the outside community," Conner said. "We are also hoping that students challenge themselves and move toward growth in line with the vision of Dr. King."
Leave a Comment
Donate to West Side Story
Your donation will support the student journalists of West High School. Your contribution will allow us to purchase Scholarship Yearbooks, newsroom equipment and cover our annual website hosting costs.
About the Contributor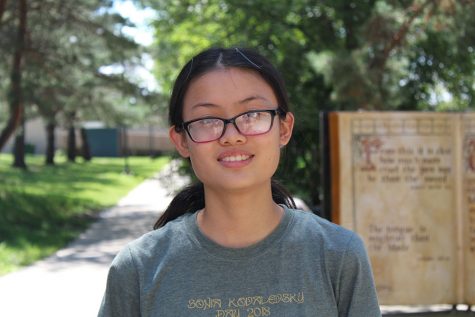 Ting Gao, Reporter
Ting Gao is a senior at West High, working as a reporter for the online section of the West Side Story. This is her second year on staff. When she isn't...