West High Supply preps for grand re-opening
The grand re-opening will take place Jan. 22, the day of parent teacher conferences. Some classes will go on tour of room 147 to see all the resources West High Supply provides.
In the last several months, a fairly unknown resource in the school has been rebranding, reorganizing and preparing for a re-opening.
West High Supply, formerly known at The Welcome Center, is located in room 147, right next to guidance. There, students can find winter gear, school supplies, personal hygiene products and food. Now organized with shelves, special education educator Omega Dancel and student and family advocate Jamie Schneider are proud of the progress they have made working on the center.
"It's kind of been two or three different things in different areas of the building over the past few school years. And this is really the first time it's had a home and has a new name. It's really what we … had envisioned it to be," said Schneider.
To showcase the improved resource, West High Supply will have a re-opening on Jan. 22, the night of parent-teacher conferences. Schnieder and Dancel will encourage parents to view their pantry.
"If they're in need, they can also take a bag of food home, or if their son and daughter needs something for math or science or something, they can take that supply home to them," said Schneider.
West High Supply also has hours now. The pantry will be open to anyone on Thursdays 2:45 p.m. to 3:15 p.m. Schnider and Dancel are hoping students who take the bus can be let out early by their seventh period teachers so they can get the resources they need and still catch the bus. Students are also welcome to come in as needed on other days of the week at other times, but they will need a teacher to come with them, give them a referral or communicate with the office.
"You can come privately with your guidance counselor with [Dancel] or with me, or with [John Roarick] or whoever, to just grab what you need and go. If you really don't want to come during that open time on Thursday because of certain hesitations that you have, we can definitely do [a private appointment]," said Schneider.
Schnider and Dancel decided to implement this so students who are not in need wouldn't take advantage of West High Supply. The pair are also open to feedback, and if Thursday doesn't work for students, they will adjust.
Two obstacles the organizers have run into with West High Supply is lack of awareness and stigma. The re-opening is supposed to alleviate these problems. In addition to having parents look at room 147 on Jan 22, some classes will be invited to take a tour of the room during the school day and see what West High Supply has to offer, both through resources and volunteerism for students looking to get involved.
"A stigma that we don't want it to have [is that] because you come here and you're poor. We don't want students to be targeted," said Dancel. "…We can kind of emphasize that they can come here maybe to find out to volunteer to bring food, or help in any way."
"
We are kind of incorporating all the students to really help out and be a part of it."
— Omega Dancel
The help from students who have already gotten involved has made a big impact. Schneider estimates that over 95% of the food as been donated through the student senate food drive or new club, Food For All. In the production class of special education strategist, Stephen Merkle, students made a table that is now storing school supplies.
"We are kind of incorporating all the students to really help out and be a part of it," said Dancel.
Dancel and Schneider are also planning to add a bulletin board where they can share information about transportation, shelters, food pantries and other resources in the community.
"We're proud of this. This is the furthest that this has come so far and we're excited," said Schnider.
If you are in need of resources and would like to access West High Supply, you can contact Omega Dancel, Jamie Schneider, your guidance counselor or a trusted adult in the building.
Omega Dancel's email: dancel.omega@iowacityschools.org
Jamie Schneider's email: schneider.jamie@iowacityschools.org
About the Contributor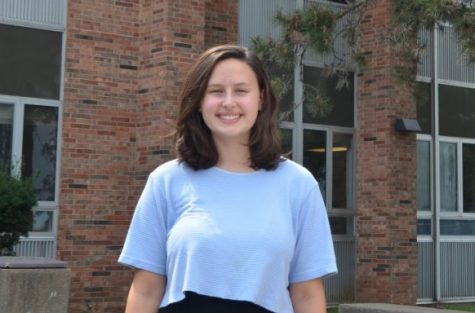 Natalie Dunlap, Online Editor-in-Chief
Natalie Dunlap is a senior and the Online Editor-in-Chief for the West Side Story. She is also involved in theatre and West High Democrats. When she's...