The man behind the merch
His parents took ownership of Chong's Market when he was only two, but during his junior year, Chris Kim '20 got involved with the family business by producing merchandise for the store.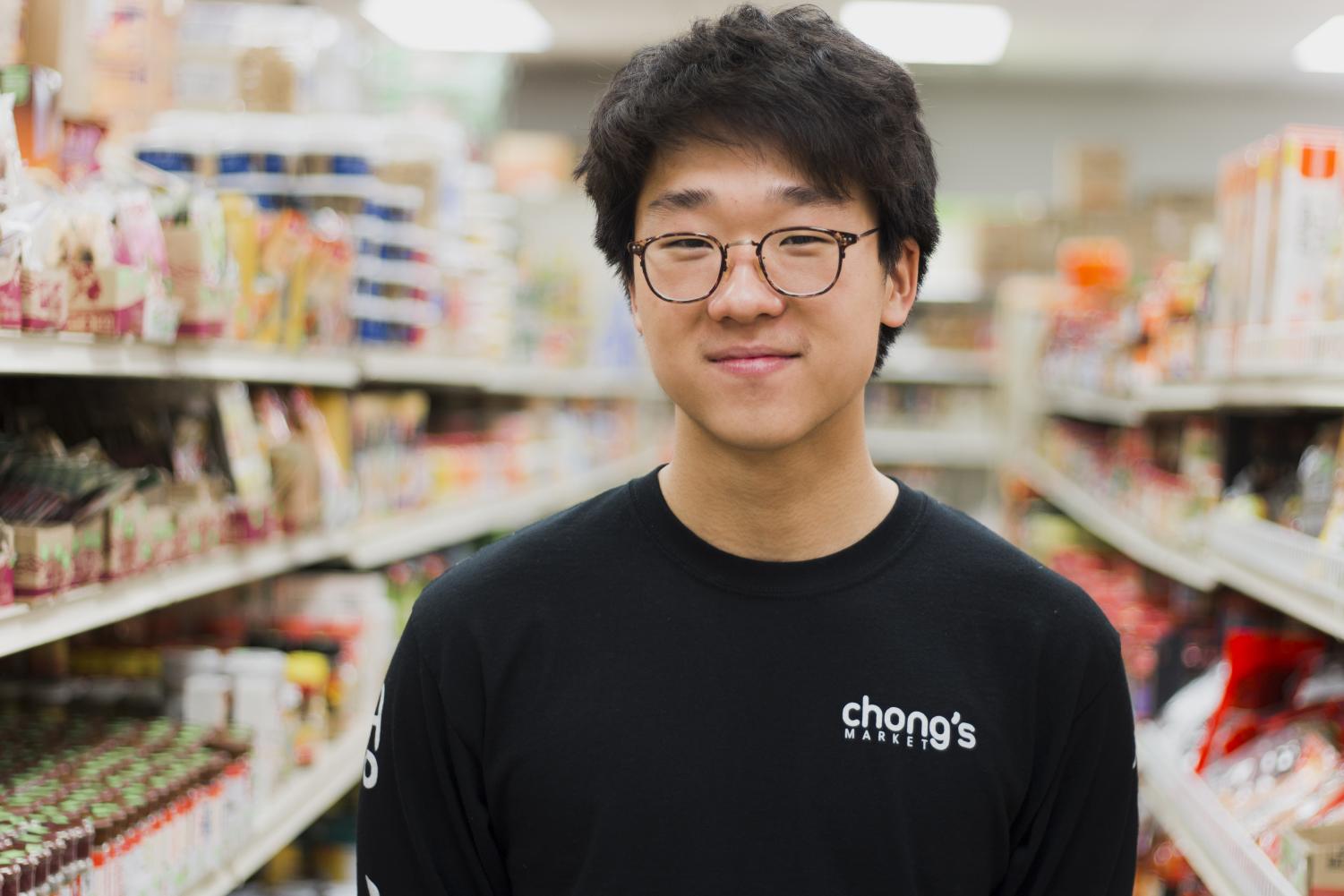 All it takes is an Instagram story from Chris Kim '20 directing his followers to wear their Chong's shirts and the next day more than a dozen students, and on occasion, a teacher, can be spotted in long sleeve black tee-shirt with a tiger on the back. Their peers might be sitting in class wondering what the hype behind these shirts is about.
Kim's parents have been the owners of a Korean grocery store on the Coralville strip called Chong's Market since 2004.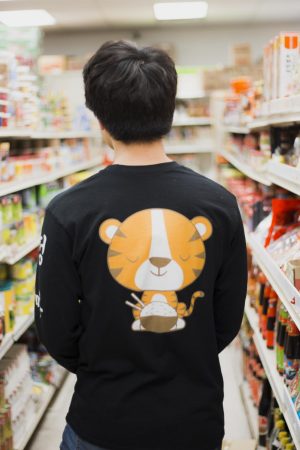 "When I was younger I thought nothing really of it, but now … my name is going around in the Korean population in Iowa City because … [Chong's Market] is really popular among the Asian demographic in Iowa City and Coralville," Kim said.
Kim's peers had joked with him during his sophomore about making shirts for his family's business. It was a fun topic of conversation, but then Kim decided to make it a reality.
"It was during show band, where we just kept saying random stuff during rehearsal and all that. And the idea came into fruition," said Thomas Duong '19, a West High alumn whose parents frequented the market and knew Kim's parents before Duong even befriended Kim at school. "So we got serious about making Chong's merch and then Chris asked me to do the design stuff for it. And honestly, I did not know where to start."
The shirt is a plain black long sleeve with the words "Chong's Market" in small print on the front. Duong wanted to create "some sort of logo that everybody will recognize." Duong and Kim decided on a tiger after Kim saw online that the Siberian Tiger is the national animal of South Korea. The Korean words for "Chong's market" sit on the sleeves.
"We wanted Korean on the sleeves [because] that represents where the store comes from," Duong said.
All these elements came together to create a shirt Duong and Kim hoped would attract customers.
"We also thought about, 'Would people wear this shirt on a regular basis?' And so we tried to make it as nice looking as possible so people who would put in their wardrobe," Duong said.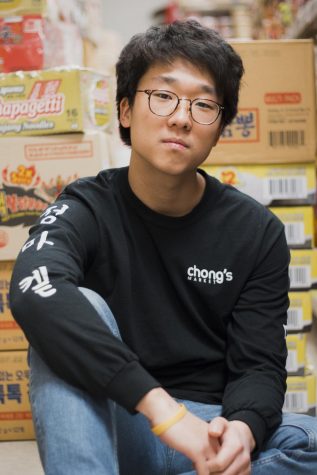 Once the shirts were designed, Kim searched for a place to print them.
"It was really hard at first because I had no idea what the hell I was doing," Kim said. "I contacted so many businesses to find out like, 'How does shirt ordering working? How's the printing of the shirts work?' But then, I found a place in Williamsburg to print the shirts and basically it popped off from there."
Kim's parents didn't think he was serious when he talked about making the shirts, and they were surprised when he gave the merchandise to them.
"I think they just thought it was really random for me to do it, but I think they enjoyed it kind of because it definitely brought a lot more attention from people that they didn't know to Chong's Market, especially the demographics of it. It brought a lot of non-Asian people," Kim said.
"
All the people that bought it at first were people I knew, like my friends. So I kind of owe it to them for how much it popped off."
— Chris Kim '20
Kim accepted orders in the spring of 2019 and sold roughly 100 shirts, which surpassed his expectations.
"I have no idea why people [bought so many]. Maybe it's because of the market, or the design of the shirt. But then—not to toot my own horn—but, when I was contemplating that, I was like, 'Maybe it's me.' Because all the people that bought it at first were people I knew, like my friends. So I kind of owe it to them for how much it popped off."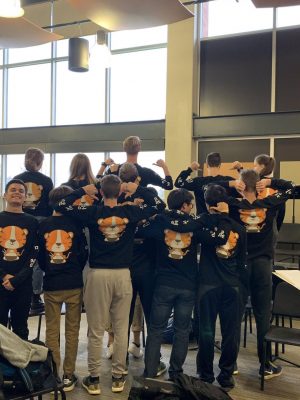 Kim hasn't accepted tee-shirt orders since March of 2019. Questions have circled the limited release. Kim said that people ask his mom about Chong's merchandise because they've seen people wear the shirt in the community, particularly at the University of Iowa, where some 2019 West graduates have the shirts. Kim alluded that he wants to release more products in the future, but he is keeping the details of the merchandise and the timeline a secret.
Meanwhile, Kim has organized the circle of students in possession of the exclusive shirts to coordinate for occasions such as T-shirt day or twin day.
"It's those moments that I try and get people to wear their shirts," Kim said. "It's nice to wear things that other people are wearing, especially for a purpose… [The Chong's crew] is a group of people who just love to do whatever they want, like go with any ideas. Even if they don't know how it's going to end up."
Leave a Comment
About the Contributors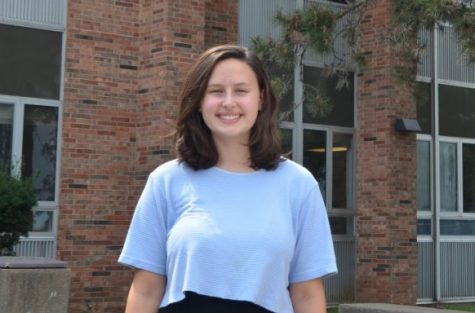 Natalie Dunlap, Online Editor-in-Chief
Natalie Dunlap is a senior and the Online Editor-in-Chief for the West Side Story. She is also involved in theatre and West High Democrats. When she's...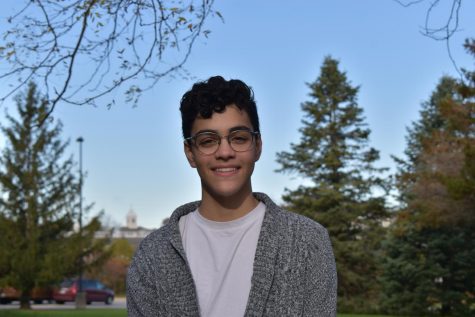 Paras Bassuk, Photographer
Paras Bassuk is a junior at West and this his first year on staff as a photographer. When he isn't sifting through photos, he is probably baking bread...