Interrupted tradition
The class of 2020 is experiencing a historical moment as their senior year comes to an abrupt end, causing the tradition of opening up senior letters to be pushed back.
Graduation. Senior skip day. Prom. All of these senior traditions came to a halt as the coronavirus pressed the pause button for many activities. But there's also one seemingly small, but meaningful tradition that has been put on pause: senior letters.
English teachers Katy Nahra and Ann Rocarek have their freshman class write letters to their senior-selves at the end of every school year. Due to COVID-19, this tradition had to be modified.
"[For freshmen, the letters] will be done electronically and I will print them once we get back to school … I think getting a handwritten letter from yourself is much more exciting, but I think it will still be fun for them to hear what they had to say especially under these circumstances," Rocarek said. 
The seniors will eventually receive their letters through mail, but Nahra believes it's simply not the same as handing it in-person.
"As soon as I'm allowed in the building again, I will be getting all of the letters and mailing them out to the students. It will be fun to receive a letter from themselves in the mail [but] I'm just disappointed that I don't get to hand them out directly to my students. I love to see each of my former freshmen one last time, hear about their plans for next year, wish them well, and of course, for the last time, remind them to 'make good choices,'" Nahra said. "They always have such a big smile on their faces when they get their letter and anticipate what their freshman-selves wrote."
"
They always have such a big smile on their faces when they get their letter and anticipate what their freshman-selves wrote."
— Katy Nahra, English teacher
The class of 2020 has not yet been able to receive these letters. One of these seniors is Brett Cherry.
"I'm disappointed just because of the anticipation of getting my letter, only to have that taken away without warning. Looking forward to something only to have it not happen is always pretty disappointing," Cherry said. "Just the fact that my class might be the only class of Nahra's that didn't get their letter is disappointing because no one ever expected this when writing their letters, and to have an entire class not get them kind of sucks."
Although Kevin Yang '20 can't recall what he wrote in the letter at the time, he is still looking forward to opening it up once he receives it.
"I am excited to find out what I wrote, probably some kind of advice to my senior self," Yang said. "I kind of have a feeling that I wrote down some random things."
Not knowing exactly what seniors wrote in their letters can provide added excitement towards reading them.
"I only recently remembered that I wrote one freshman year when Mrs. Nahra brought it up in her short story class, and since then I've been extremely curious to know what I wrote since I have no idea what I wrote to my future self," Cherry said.
For Nolan Lounsbery '20, the letter is like a time capsule, where he is able to relive the moment when he was writing the letter.
"The letter captures a snapshot of our past so we can look back on it in the future when we've forgotten what it was like back then. I think it's easy for us to forget what we used to be like," Lounsbery said. "The letter is important to me because it provides a glimpse into who I was three years ago, and I think it's important to reflect on your past so that you can see the progress you've made."
"
The letter captures a snapshot of our past so we can look back on it in the future when we've forgotten what it was like back then. "
— Nolan Lounsbery '20
The closure of schools for the remaining of the academic year, has affected many students, but hit harder for the seniors. The opportunity to experience the last step out of high school was taken away.
"Obviously I wish I would've known that we weren't going to go back to school. If I had known that, I could've said a proper goodbye to a lot of people. I could've thanked all my teachers in person, and really most importantly, I could've said goodbye to the school," Cherry said.
Despite missing the chance of formally saying 'goodbyes' to high school, Cherry has a few advice for current freshmen.
"If I could say anything to the freshman it would be to make the most of these next three years. Even though it's four years long, high school flies by way quicker than you'd ever imagine, and before you even know it, it will be done," Cherry said. "Make new friends, be kind to your teachers because they're kind to you, sign up for activities you never thought you'd do because you might love it. High school is the time to figure out who you are, and what you love to do, so try things and meet new people. You never know who you'll be at the end of high school, and I'd hope for all of you to have had a blast."
Leave a Comment
Donate to West Side Story
Your donation will support the student journalists of West High School. Your contribution will allow us to purchase Scholarship Yearbooks, newsroom equipment and cover our annual website hosting costs.
About the Writer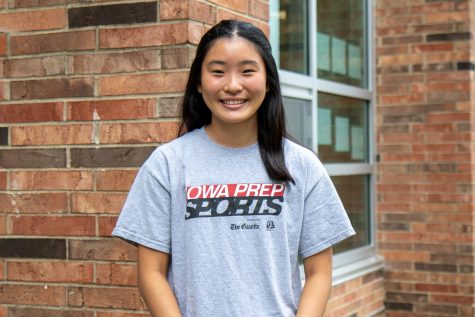 Hanah Kitamoto, Print Co-Editor-In-Chief
(she/her) Hanah Kitamoto is a senior at West. This is her third year on staff and she is the Print Co-Editor-in-Chief with Kailey Gee. She enjoys meeting...