Iowa City Speaks moves online
The local spoken word group, Iowa City Speaks, has transitioned into online sharing.
With the Iowa City Community School District announcing that school was going to be canceled until at least April 13, Spoken Word club, better know as Iowa City Speaks (IC Speaks) was canceled alongside it. However, the head of IC Speaks, Caleb Rainy, decided to keep the program going throughout the crisis.
There are currently weekly Zoom meetings for students to discuss and share their poetry, with students from across Iowa City joining in. These Zooms share the format of the original meetings, with an inspirational poem, some discussion, and then writing and sharing time.
Recently, Rainy had done a March Madness-like event,"Post-March Madness," on the official Instagram. This featured IC Speaks' student poems and included a public voting system to determine the winner of each week. Over the course of April, videos of each poet's poems were posted online and voted on. And in the end, the overall winner was Nancy Nahra '23, from Liberty High School. In her acceptance speech she said "It's been a great opportunity for me this month to still be able to express myself creatively. And it's been really refreshing to hear from other poets too."
Additionally, Rainy has offered the poets a chance to have a short excerpt of their poems posted on the same official Instagram account during self-quarantine.
"[The club] has just been a good and refreshing way to stay in touch with all the friends I've made and keep hearing everyone's new poems and ideas," Nahra said of the club's continuation.
"
It's great to have an outlet to work during these times. I love having people to write poetry with. "
— Cassandra Michaels '22, West High
Cassandra Michaels '22 echoed this sentiment.
"It's great to have an outlet to work during these times. I love having people to write poetry with," she said.
About the Writer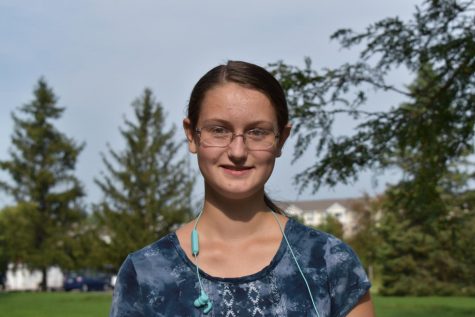 Renee Gould, Reporter
Renee Gould is a junior and a second-year reporter on the West Side Story. She greatly enjoys reading and writing, though her spare time is often taken...