Homecoming traditions turned more inclusive
As West High Homecoming nears students and staff prepare to take part in the annual events leading up to the Oct. 2 dance at the Green State Credit Union Fieldhouse in Coralville.
Every year in late September or early October high schools, colleges and universities celebrate homecoming. The event that was originally created in the 19th century to bring alumni back to campus has evolved into a celebration of community around the country as new traditions have been made. 
The week-long celebration filled with school spirit usually culminates with a home football game and dance the following day for current students. Over the years West High has created plenty of traditions of its own when it comes to homecoming including a new way to honor royalty in a more inclusive manner as Heroes of Troy. The new homecoming court model made its debut in 2018. Click here to nominate a senior as a 2021 Hero of Troy before the deadline of Sept. 26 at midnight.
One of the most popular homecoming traditions is the annual powderpuff and man ball games where the juniors and seniors face off in a game of football and volleyball. In the past, the girls would participate in the football game and the boys would participate in the volleyball game. With the intention of organizing a fun game where each group could experience sports they've never competed in.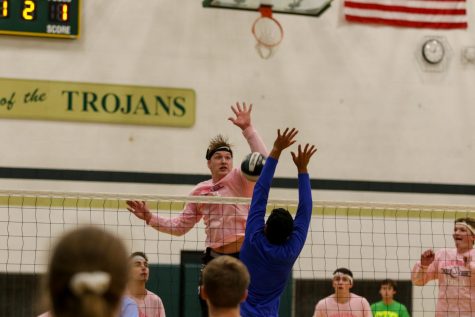 When a group of students approached Assistant Principal Maureen Head about continuing the tradition of powderpuff and man ball Head immediately reached out to the administrative team in order to make a decision on the homecoming games. 
"There's probably two concerns … it's really not inclusive. But then the second piece is, we've had several really serious injuries over the years with powderpuff specifically," Head said.
For the first time ever this year, the new West High Homecoming tradition will no longer be these traditional games. Secretary Brooke Overholt alerted upperclassmen on Sept. 20 through email introducing "The Trojan Games". The new tradition will consist of a co-ed volleyball game that will be followed by a co-ed kickball game where the junior class will face off against the senior class.  
 "I don't think there was any sort of adult-driven thing that was like, 'homecoming should be more inclusive or homecoming should be less gendered'," Head explained. "I feel like it's been, at West anyway, just efforts by students, and then from there them identifying some adults that were advocating for them."
The Trojan Games will be held on Wednesday, Sept. 29 where the volleyball game will be from 6:30 PM to 7:30 PM and the kickball game will be from 7:30 PM to 8:30 PM. Any questions regarding The Trojan Games can be directed to Athletic Secretary Brianna Nigg ([email protected]).