Spooky season specials
The time is here for limited edition Halloween candy and all things pumpkin. Here are the top films to watch this spooky season.
There is a chill in the air accompanied by the changing of leaves and a shiver down your spine. Halloween is here, and as a lover of autumn, I am required to like horror and thriller films. These are my top movies this fall, ranked in no particular order.
"Scream"
"Scream" is a classic film. First released in 1996 starring Neve Campbell and Skeet Ulrich, "Scream" took the film community by storm, easily becoming a favorite. In a once quiet town, a series of murders take place starting with Casey Becker (played by Drew Berrymore) and her boyfriend. Reminded of a tragic incident from the not-so-distant past, Sydney Prescott finds herself the victim of haunting phone calls, assumedly the same calls Casey Becker received right before she was murdered. This film tricks the mind with possible murderers and gets your heart racing with anticipation from the guessing game of who's next. "Scream" isn't for those afraid of gore, but if you like graphic murder scenes, this is the movie for you. ⅗ pumpkins for the classic but extremely cheesy plot.

"Poltergeist"
Originally released in 1982, this Steven Speilberg produced film amazed critics and fans alike. "Poltergeist" is a cult classic starring Craig Nelson and JoBeth Williams as the parents of Carol Anne, a little girl taken by the "TV people". The Freeling family hires paranormal investigators to find their daughter and prevent her from being stuck on the other side forever. "Poltergeist" is a good scary movie if you aren't quite brave enough to face the more realistic graphics and gore of newer films.  As a personal favorite, I give "Poltergeist" 5/5 pumpkins.

"The Blair Witch Project"
Imagine yourself in the woods, following a map and a compass to film a documentary about a witch, when the map goes missing and you've crossed the same creek three times. This is how the three film students (Heather Donahue, Joshua Leonard, Michael C. Williams) felt in the 1999 thriller "The Blair Witch Project" directed by Eduardo Sánchez and Daniel Myrick. When their hunt for the witch goes wrong, and the students feel they are no longer alone in the woods, they begin to turn on each other. What makes this movie unique is the style it was filmed. It's a found footage movie, meaning the characters are filming so it looks like it is in the third person. "The Blair Witch Project" will have you jumping at every noise and sitting at the edge of your seat. For the viewers who get easily motion sick, I would not recommend "The Blair Witch Project", seeing as there is a lot of camera shaking. ⅘ pumpkins for the unique style and suspenseful plot. 

"The Witch"
"The Witch" released in February 2016 directed by Robert Eggers is a little more fast-paced than "The Blair Witch Project". This film features Anya Taylor-Joy as Thomasin, a young girl living outside of New England, who finds her family wrapped up in religious paranoia. Her family is devoutly Puritan and was exiled for it. As the movie unfolds, the members of her family go missing and grow afraid of a witch being in the woods–or worse–their home. The movie has you questioning if the family is just being entangled in their own paranoia, or if there really is witchcraft involved. I definitely don't recommend watching before bed. "The Witch" is perfect at making viewers squirm and hold their breaths from the uncomfortable scenes. Due to how disturbing some scenes are, I give it ⅗ pumpkins. Not my preferred horror style. 

For those who aren't big horror fans, there are still plenty of options. 
"Casper" 
"Casper" is a staple of my childhood, released in 1995. I always knew it was time for Halloween when "Casper" was on TV. The movie features Christina Ricci as Kat, a young girl who moves with her father to a small town, however she is reluctant to move and unhappy. Later, she and her father discover they aren't alone in their house -it's infested with four ghosts. Kat befriends Casper, the friendly one, and attempts to live in the haunted house. This classic is a necessity for the perfect Halloween. Being one of the first Halloween movies I've seen, I give it ⅘ pumpkins. 

"Hocus Pocus" 
On the witchy side of things, "Hocus Pocus", released 1993, is another childhood favorite. A fun, more appropriate option for younger Halloween fans to spend their Hallows Eve. We open in Salem 1693, where three sisters are hanged for witchcraft. Fast-forward to 1993 with Max, a teenager who just moved to Salem with his younger sister Dani. After befriending Allison, the three accidentally wake the three witches hung centuries ago with black magic. This Disney tale follows the three kids in their quest to put the witches to sleep for good. I give "Hocus Pocus" 5/5 pumpkins because I watch it every year, and will continue to do so. 

"Halloweentown" 
A top pick for many of us Disney kids is "Halloweentown" released in 1998. As it airs multiple times during the spooky season, any kid with access to Disney channel or one of its many platforms has seen this childhood favorite. Protagonist Marnie receives a visit from her grandma on Halloween. She and her siblings follow their eccentric grandma to the bus stop to Halloweentown, a magical place with creatures they thought only existed in fairytales. To add to the surprises, Marnie, her mother, and her grandmother are all witches. Halloweentown isn't the happy place it used to be. This movie follows Marnie and her siblings as they try to restore Halloweentown to its former glory. A staple of many childhoods, "Halloweentown" earns ⅘ pumpkins.

That concludes my top picks for this Halloween. Be sure to eat lots of candy and watch your favorite movies!
Leave a Comment
About the Contributor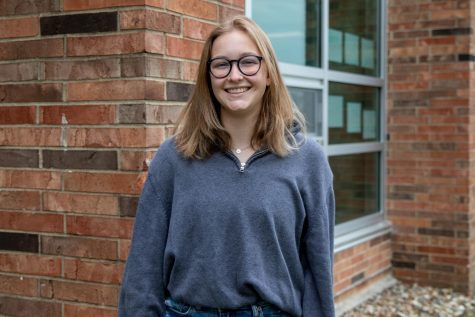 Maddy Smith, Visual Editor and Feature Editor
(she/her) Maddy Smith is a senior at West. This will be her third year on staff. She is the online Features and Visuals editor. She enjoys music, photography,...