Boys wrestling team beats Muscatine, Liberty in triangular meet
The boys wrestling team defeated Muscatine 50-24 behind pins from Parker McBride '22 and Brett Pelfrey '22. The team also beat Liberty 78-6 with seven pins.
The boys wrestling team defeated Muscatine 50-24 behind two major decisions from Ashton Barker '21 and Graham Gambrall '21. After dropping the first two matches, Barker got the team on the board with a lengthy match at 170 pounds that featured plenty of reversal points on both sides. Barker held off a late comeback to win by major decision 15-12.
After a tech fall from Will Hoeft '20, first-year wrestler Anu Dokun '20 displayed some aggressive takedowns en route to a pin at 182 pounds. Brett Pelfrey '22 followed up with a pin of his own at 195 pounds before Ben Alden '21 fell in a 3-0 decision in a heavyweight slugfest.
Five-foot-tall Mason Goodale '23 was met with a hearty cheer from the West High crowd as he trotted out to the mat for a win by forfeit. The Trojans would pin three of the next four Muskies with sophomores Grant O'Dell, Parker McBride and Hunter Garvin earning wins by fall. Graham Gambrall '21 wrapped up the first meet with an 18-5 victory after recently cutting weight to 145 pounds, putting an exclamation point on the Trojans' 50-24.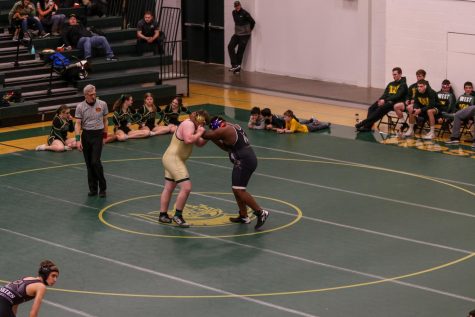 The meet against Liberty High was more of a formality than anything, with the undermanned Lightning being forced to forfeit six of the 14 matches. When the Lightning did offer an opponent, however, the Trojans were utterly dominant against their cross-town rival. Seven of the eight West High wrestlers pinned their opponent, with Garvin taking the only loss of the meet at 132 pounds after performing an illegal move in the second period.
The boys wrestling team is back in action on Saturday, Jan. 18 at Bettendorf High School.