A dedication to education
Kate Wickham Elementary is a well-known school in the ICCSD, but few know the woman behind the name.
Hosting around 500 students, Kate Wickham Elementary is one of the almost twenty elementary schools in the ICCSD. Opened in 1997, Wickham has had thousands of students pass through, but few know who the elementary was named after.
Kate Wickham was born in England in 1869. She moved to Iowa City in 1873 where she attended City High School and then got a teaching degree at the University of Iowa. She taught at a few schools in Texas, before taking over her sister's first-grade classroom at Henry Sabin Elementary.
Wickham became the principal of Kirkwood Elementary in 1907 until it closed for a year in 1921. She then transferred to Longfellow Elementary where she taught first grade for 18 more years. Throughout her time in the ICCSD, she was beloved by her students and fellow teachers.
"Kate Wickham did so much more than direct the book of education of her pupils. With love and wisdom, she molded their characters. She was more than a typical teacher—she was the ideal one," said Grace Weber, a former ICCSD School Board Member.
"
She was more than a typical teacher—she was the ideal one."
— Grace Weber
The superintendent of the ICCSD from 1920-1952, while Wickham was at Longfellow, Iver Opstad, wrote about Wickham.
"Hers is an unusually fine personality, whose grace and charm is a delight to all who come in contact with her. Her soft, gentle voice, her smiling countenance, her poise, her sense of humor, her patient understanding, her sympathy, her love and her beautiful character made her the wonderful teacher of children that she was," Opstad wrote.
Wickham was so well-liked that when Twain Elementary was being founded, many Iowa City patrons wanted to name the school Kate Wickham Elementary. While this didn't happen, in 1953, the Districtwide Parents Organization (DPO) launched a scholarship fund to honor Wickham.
In a newspaper article on December 11, 1953, Wickham shares that she was honored to have the fund named after her, and elated that the fund was created.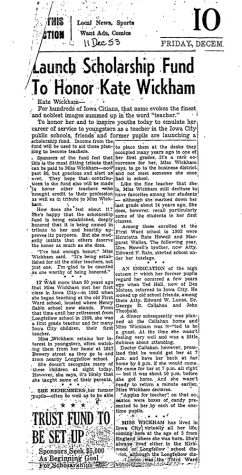 Wickham passed away in 1955 but her legacy lives on through Wickham Elementary and the Kate Wickham Memorial Trust Fund. The fund still exists today, and it provides students going into teaching with scholarships. With the fund relying only on donations and students being able to receive over $80,000, the DPO usually only has funds for two or three scholarships each year. The past couple of years, $500 to $1000 scholarships have been awarded to two to eight students annually.
More than 250 students have received the scholarship in the past 43 years, and over 500 people honored for their dedication. Each spring, a reception is held for the scholarship winners.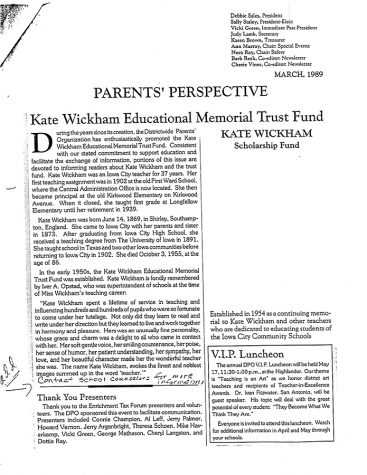 However, teaching is a hard profession right now, and many who have won the scholarship have not successfully gone into teaching. One of the previous winners, Keighley Ehmsen, a City High graduate, received the scholarship in 2014. However, she did not end up going into education.
She originally majored in Elementary Education at Saint Mary's College in Indiana, but switched to Accounting at the end of her sophomore year.
Ehmsen made this decision as a result of two experiences with teaching. She was placed in an elementary school as a teacher's aide in her first education course in college. The teacher she was assigned to immediately told her not to go into teaching.
The teacher told her about low teacher pay, getting penalized when students were held back a grade and being understaffed and under sourced.
"As much as I appreciated her honesty, as a student aspiring to be a teacher, it terrified me to realize I could be in her position in 20 years," Ehmsen said. "I told my professor about my experience at the school was immediately removed from that classroom and placed at a new school. This teacher was a young teacher with only six years of teaching second grade. She loved her kids and cared about their futures and seemed happy with her job. But over time through discussions as the kids were at recess, she echoed the same issues."
"
As much as I appreciated her honesty, as a student aspiring to be a teacher, it terrified me to realize I could be in her position in 20 years."
— Keighley Ehmsen
Previous DPO Co-President Miriam Timmer-Hackert feels sympathy for those going into teaching right now.
"Having a scholarship for those who wanted to go into teaching must have sounded like such a good idea at the time, but I wonder if they realized how much work it would be and how crazy it was to have new people in charge of [the scholarship] every year," Timmer-Hackert said.
The DPO uses a three-year cycle for co-presidents. The first year they serve as co-presidents elect, the next as co-presidents and lastly as co-presidents past, therefore, at any given time, there are six co-presidents. Only the co-presidents past run the scholarship program, so each year a different pair organize and determine who will receive the scholarship.
This system has led to some problems before with scheduling and staying on top of things. However, scholarships are still given out to aspiring teachers, letting Wickham's memory live on.
The application deadline is March 9. The scholarship reception will be held on April 23 from 3:35 to 5:30 pm.
About the Contributor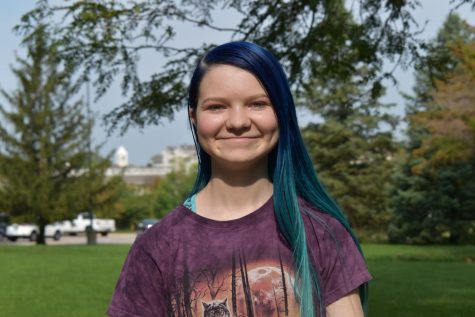 Bess Frerichs, Online Managing and Feature Editor
(she/her) Bess Frerichs is the online managing and feature editor. As a senior, this is her third and final year on staff. She enjoys reading, writing...