Iowa City South District residents unite to paint community mural
South District community members gathered to paint a mural two years in the making.
Minivans, garbage trucks and semis alike honk in celebration as they pass by Broadway St., cheering on community members painting a mural that has been two years in the making. Despite the wide range of ages, all volunteers had one thing in common: a love for their community.
Over the course of three days, more than 120 volunteers organized by the South District Neighborhood Association donned their masks and helped paint a mural on the south side of Iowa City.
Four-year-old AK Beacham is one of them. AK and his mother, Tajeria Beacham, stand on marked squares to stay safely distanced from other volunteers while waiting for their turn.
"We're going to paint!" AK exclaims.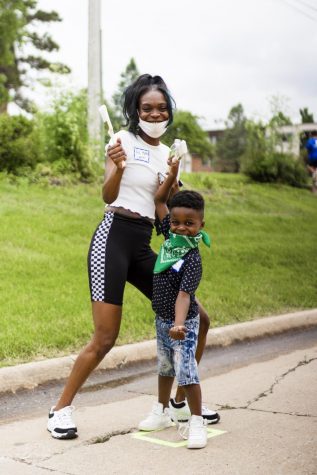 Tajeria laughs and explains with a smile what that means for her. "The mural is in our community, and it represents our community… even with everything that's going on it's important to help out in your neighborhood in any way, and I'm just trying to instill that in him."
Shaquita Smith agrees and has been painting the mural with her children for all three days.
"Every single day we're able to meet new people and see so much progress that we've made and we're so excited for this to be in our community," Smith said. "[My kids] need to see everyone coming together, positivity, and community work. They need to see all of that because they're little growing kids and they have to understand how important it is to be helpful around the area."
The mural is located on the back of the Faith Academy, a private Christian school. Principal Jan Hochstetler helps paint and explains how the concept for the mural came from students at the three area elementary schools: Grant Wood, Faith Academy, and Alexander.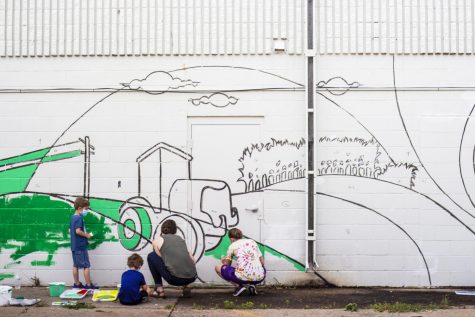 "The theme of it is different, positive activities you can do, and positive things about Iowa… It's pulling together positives when we have so many negative things in the news today," Hochstetler said. "It's important…for [kids] to have ownership in making the neighborhood beautiful."
Nick Meister agrees. He is a south district resident and the artist tasked with combining the student's art and creating a template. Meister created initial outlines with a paint-by-numbers system so that children could easily be included in the painting process.
"As soon as we decided to make it a community mural where the neighborhood would be invited to help paint, I knew it'd have to be something a six-year-old could color," Meister said.
"
It is a community coming together. It is a landmark for a neighborhood that gets overlooked. It is something for us all to be proud of."
— Nick Meister, Artist
Meister began by going to the three schools and educating students about the history of murals. From there, each school's respective art teacher had students from 4th-6th grade write or draw ideas they wanted to see on the proposed wall.
"I sifted through the kids' thoughts and found recurring ideas and themes," Meister said. "The top things I kept seeing over and over were; animals, music, sports, and the neighborhood."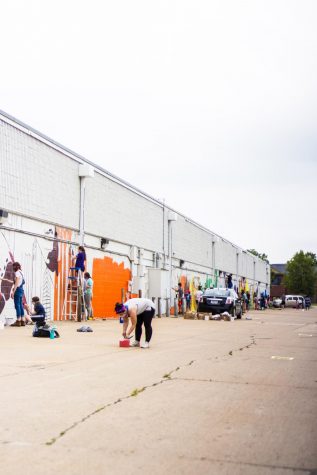 Meister was originally drawn to the enormity of the proposed project; 4400 square feet, which according to his research would make it the largest mural in Iowa. But as the project went on it took on a whole new meaning for him.
"As the project grew, I realized it was something much more important than a big wall," Meister said. "It is a community coming together. It is a landmark for a neighborhood that gets overlooked. It is something for us all to be proud of."
In 2018, the Pepperwood, Wetherby, Grant Wood, and South Pointe neighborhoods merged to form the south district in an effort led by Angie Jordan, now director of the South District Neighborhood Association. The group also fundraised enough money for each school to get their own individual mural once students return to schools when pandemic guidelines allow.
Volunteers wear masks and follow social distancing guidelines as they paint. Were it not for the pandemic, Jordan says the Association would have extended the painting event to engage the greater Iowa City area through some sort of publicized event with music and food. Instead, they chose to start small and neighborhood families were offered the option to paint over the course of three days. They recruited families by advertising on social media and going door to door spreading the word.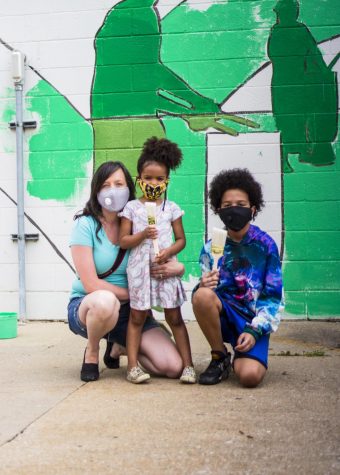 "We wanted to focus on our priority of having our folks in the neighborhood paint the mural," Jordan said."If COVID wasn't here, we would have had a much larger scale event. It's unfortunate, but it didn't stop us."
There will be a painting session exclusively for adults to work on more detailed or higher sections in the near future. After that Meister will add final touch-ups.
West students Gabby Davis '23 and Eleanor Dillon '23 work on filling in green trees. Davis, who lives in the neighborhood explained its importance. "It's just a way of representing our community."
Dillon adds on.
"I think it's important for the community to come together, especially in this time to do something together to make the community nicer," Dillon said. "It creates a sense of togetherness."
Meanwhile, first-grader Andrea Alter and her mother Megan Alter are working on filling in a yellow section.
Andrea stops to chat between brushstrokes.
"It helps out the community," Andrea said. "There aren't any pictures or paintings on this side of town, so I really think it brightens everything up and makes it a lot more nice."
Her mother echoes that sentiment.
"It's really really cool and important to have this side of town have something that brings the community together, I think this has been a project everybody can agree on," Alter said. "The timing of it probably couldn't be more perfect. Right now it's really important to have a sense of neighborhood and community."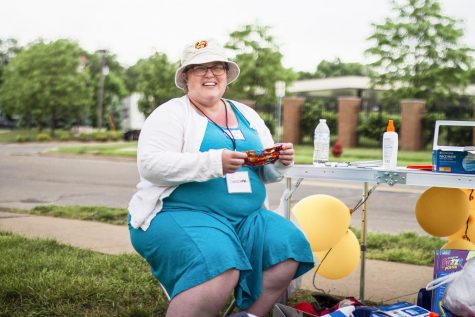 Elementary students Marie and Eliza Martin have been painting two hours a day for the last two days. Their current focus is the deep blue outline of a wave. Elinor Levin assists them.
"Miss Angie invited us to come here," Eliza said. "We're mostly bored because we hadn't left the house."
"It's fun and it's gonna look pretty…It used to be all white." Marie chimes in.
"
Especially in a time like right now when everybody's stuck by themselves, we're finding a way to do something together."
— Elinor Levin, Volunteer
As the three work, they discuss the progress they had made and decide their favorite parts of the project. For the sisters, it has been painting the wave, for Levin however, it has been seeing others in the community.
"My favorite thing about this is that I'm meeting a lot of my neighbors that I never met otherwise, or people who I didn't know were my neighbors," Levin said. "Especially in a time like right now when everybody's stuck by themselves, we're finding a way to do something together."
Ten feet over, Lo Whittington is working on painting the crest of the wave. Whittington is an active member of Moms Demand Action, a national gun safety advocacy group. The group worked in partnership with the South District Neighborhood Association to raise money for the mural.
"Every community is affected by gun violence," Whittington said. "Part of our mission is to be creating safe communities and one of the hallmarks of a safe community is one that is committed to projects like this, beautifying and making the community safer."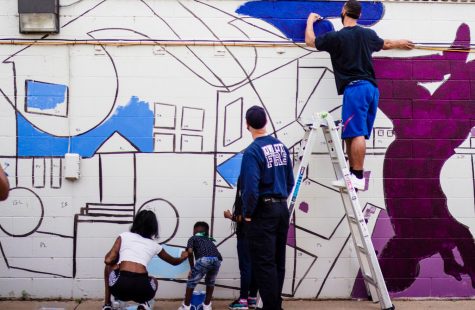 Halfway through the painting shift, a fire truck pulls into the lot. The firefighters don their masks as they greet the children and help paint the mural.
"Our neighborhood association always invites and has the expectation that some first responders will come because it allows them to engage during non-emergency time," Jordan said. "They probably only get to see these kids and families when they're in crisis, so it gives them another perspective, and vice versa for the residents. It gives them an opportunity to engage the first responders in a very positive collaborative environment."
Nearby, Kelly Story and her daughter paint shades of red over a soon to be guitar.
"We drive through here every day when we go places, and it's just been such an eyesore. We've just been so motivated by the opportunity to make it part of our community, and bring pieces of everyone into this," Story said. "it gives us some connection to our own neighborhood and community because there's people here that we see at school but we don't even see out and about."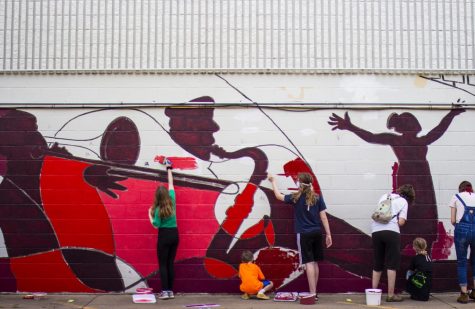 According to Jordan, the Association typically gets ideas such as the one for the mural from their monthly meetings, which have been postponed due to COVID-19. The Association typically invites speakers to meetings in addition to having an open dialogue between community members. Jordan hopes projects such as the mural can help empower the community.
"It shows folks in and outside of the neighborhood that… we can actually be a force for the things that we want specifically," Jordan said. "If that's a mural, or if that's a monthly dinner, or childcare, it can come from us."
Not wanting to draw large crowds to the event due to COVID-19, Jordan found another way for non-neighborhood volunteers to be involved. She asked them to drive by and honk to show their support.
"Showing support as an ally to a project we've been working on to empower our children and our neighborhood is huge. If they're coming by to support us… I want to wave and I want to be happy and I want to show them gratitude," Jordan said. "And for the folks that were driving by that had no idea what was going on, I wanted to make them smile."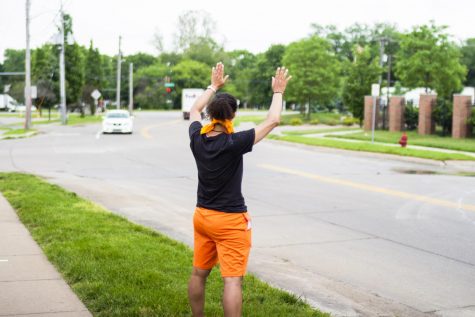 Jordan says while the association is grateful for the support they receive from the rest of the community, it's crucial to recognize the effort coming from within the neighborhood.
"It's so important that people know that this was all done 100% by our neighborhood and it was specifically to empower the kids so … they're part of something they can see every day." Jordan said.
"
"I think our side of town throughout the decades has this narrative spoken for it. Others from the outside have their opinions … And they're missing a huge voice of the actual people"
— Angie Jordan, Neighborhood Association Director
Jordan is trying to erase the negative stigma she feels surrounds the South District of Iowa City.
"I think our side of town throughout the decades has this narrative spoken for it. Others from the outside have their opinions … 'oh that's scary, oh there's shootings, oh those families oh those parents.' Not just our neighborhoods but our schools 'Oh the literacy rate, oh the socioeconomic level. 'Oh the, oh oh the.' And they're missing a huge voice of the actual people."
Community volunteer Sam Khreible lives in and runs a Systems Unlimited group home for individuals with disabilities in the South District. He mirrors her sentiment.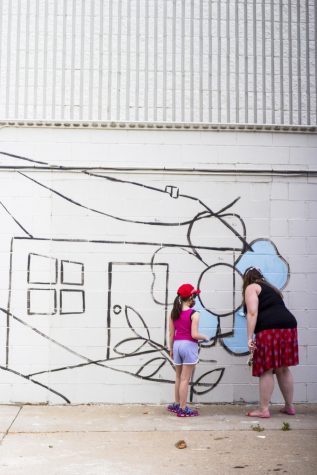 "I try to put it … from the only perspective I have, that of a white person in Iowa City. I think that I hear too many people talking about vandalism and 'bad neighborhoods.'" Khreible said. "I think art, especially big public art pieces are a really easy way to express to the community at large that our neighborhood is united and our neighborhood wants to put good into the community."
"When things are said or sirens come down our streets … nobody other than the residents knows and can experience that trauma and what it does to us." Jordan said.
This is why Jordan is committed to creating the mural with volunteers from the South District.
"If you have that genuine desire to get to know somebody, that's how you build a community, and that's how you build a neighborhood."
Jordan says the South District Neighborhood Association will continue to strive to engage and connect the community in positive ways.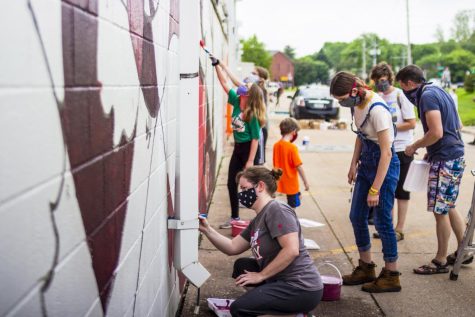 "Our neighborhood association is only two years old. This is only the beginning," Jordan said. "The mural project is not done even when the mural is done," Jordan said. "It's just the beginning of even more amplification of who we are on the south side."
About the Contributors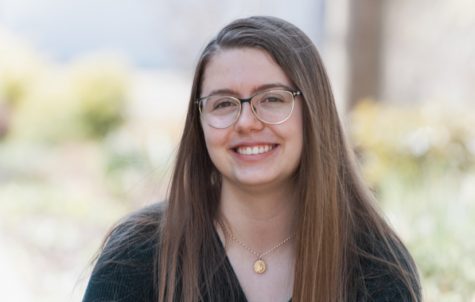 Marta Leira, Print Editor-in-Chief
(she/her) Marta Leira is a senior at West High and editor-in-chief of the print publication. Marta enjoys running (sometimes), creating a an embarrassing...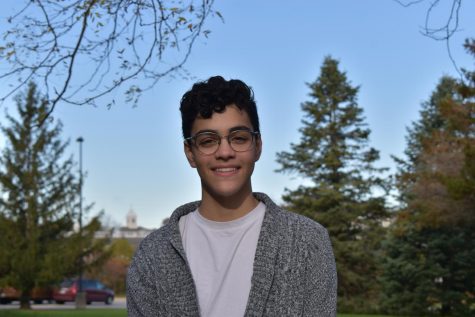 Paras Bassuk, Photographer
Paras Bassuk is a junior at West and this his first year on staff as a photographer. When he isn't sifting through photos, he is probably baking bread...