Top 5 most memorable sports moments
Coaches and athletes reflect on the top sports moments of the school year.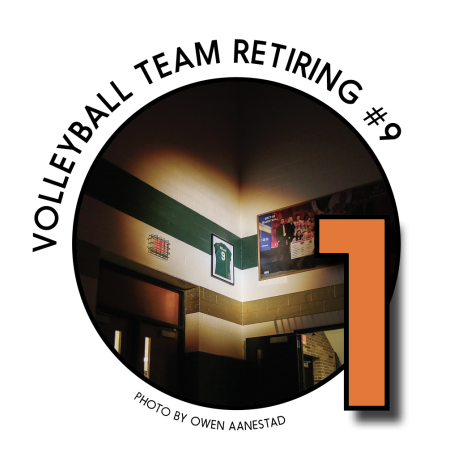 Volleyball team retiring #9
Around ten years ago, on Aug. 11, 2011, the West High community and volleyball team lost a teammate, leader and friend. Caroline "Line" Found passed away from a moped accident just before the start of her senior season. A decade later, the West volleyball team continues to honor her by retiring her number 9. The volleyball team stood together as Caroline's father Ernie Found and former volleyball head coach Kathy Bresnahan spoke. "When we were all locking arms, it felt really vulnerable and memorable, and it was really nice to have that moment so that we could all pay our respects," said varsity volleyball player Sophia Deyak '23. Caroline's legacy continues to live on through the phrase "Live Like Line," which signifies that hard work and kindness go a long way. "Retiring Caroline's number was an honor. It was long past due to a player who contributed so much to the sport and continues to do so through the Live Like Line legacy: 'When given the choice, always choose kind,'" said head coach Keeley Arnold.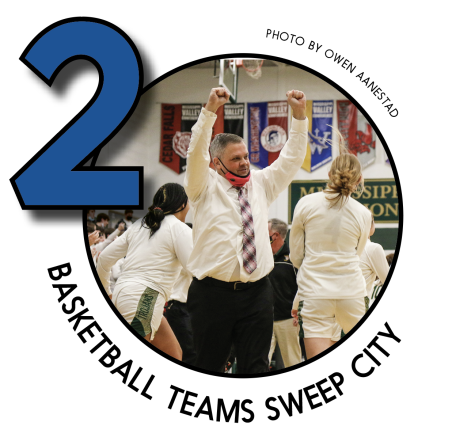 Basketball teams sweep City
Going into their second crosstown-rival game against City High, the girls and boys basketball teams were eager to stay on top. "It was one of the most important games of the season, and we knew we were the underdogs," said varsity player Carolyn Pierce '23. During the girls' game, the Trojans and previously undefeated Little Hawks left the crowd captivated at halftime with a score of 23-23. With 11 seconds left in the last quarter, Keiko Ono-Fullard '23 made a free throw to bring the final score to 52-49. "When we won, it was one of the best feelings because we worked hard as a team, cheering and playing together, and that's how we wanted to win — as a team, together," Pierce said. Later in the night, during the boys' game, the Little Hawks's defense kept West down 22-34 going into the second half. While City was up by seven points going into the third quarter, West fought back and found themselves tied 62-62 with under a minute left. Christian Barnes '22 made back-to-back free throws after getting fouled, and the boys' basketball team completed the sweep with a score of 68-62. "It was a great team win against [City]. It was a high-level game with a lot of energy from both sides," said varsity player Kareem Earl '24. "That big win gave us more momentum moving forward in the season."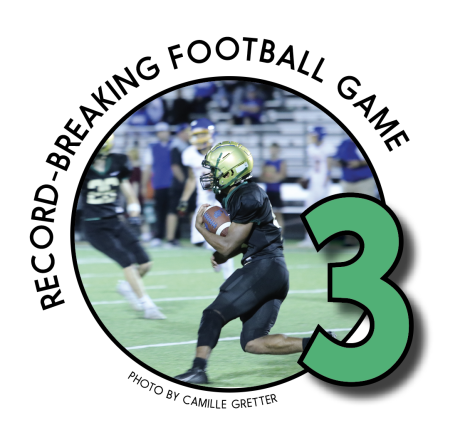 Record-breaking football game
Senior Mason Applegate broke the 2003 school record during the homecoming football game Oct. 1 with 379 rushing yards. With five minutes left in the first quarter, Applegate scored two touchdowns for the Trojans. He impressed many, including head coach Garrett Hartwig by scoring a total of four touchdowns during the game. "Mason's performance was unforgettable. With the storied history of West football and the list of players who have gone through the program, to set a school record in this particular instance speaks to Mason's ability, work ethic and toughness," Hartwig said. "He deserves to own this record and it will be difficult to break moving forward." Additionally, Boaz Abramoff '22 recovered a fumble that resulted in the next play being another touchdown by Applegate. With records broken and a 36-21 win over Davenport Central, the Trojans concluded their homecoming week on top.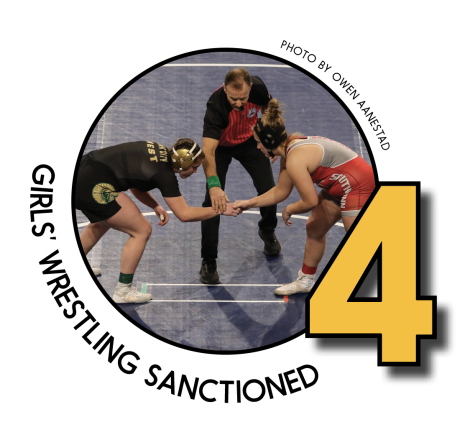 Girls wrestling sanctioned by IGHSAU 
The Iowa Girls High School Athletic Union will officially offer girls wrestling as a sanctioned sport starting in the 22-23 school year. Over 25% of high schools in Iowa were involved in girls' wrestling this year, which means that it will become "sanctioned" or officially offered at all high schools across the state starting next school year. The IGHSAU Board of Directors met Jan. 12 to formally vote on the topic. The vote passed unanimously, and the announcement was made before the night of the state championship matches Jan. 22 at the fourth annual girls state wrestling tournament at Xtream Arena in Coralville. Between 2013 and 2018, an average of 65 girls wrestled per season statewide. During the 18-19 school year, Iowa's girls wrestling participation jumped to 188 girls statewide. Senior wrestler Ava Davis is thankful for the recognition of her sport, and she believes that sanctioning girls' wrestling allows her and her team to grow. "Our wrestling team is like a family. We encourage and support each other, so in the end, we all reach our full potential," Davis said.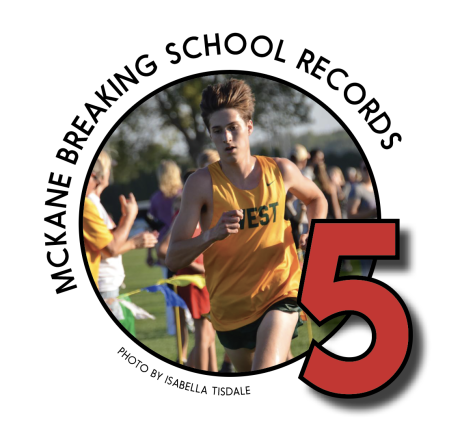 McKane breaking school records
Varsity cross country and distance track athlete Alex McKane '22 tied the school record with a time of 15:17 at the Eastern Iowa Classic in Seminole Valley Sept. 23. Two weeks later, he broke the record with a time of 15:14, setting a new course record at the Waterloo Golf Course Oct. 7. Next, the Trojan cross country teams competed in their last home meet of the season Oct. 14, where McKane finished the race with another individual win. In addition to the second-place overall team finish at the state meet, McKane received 1st-team honors. Moving on to track season, McKane broke a 22-year-old school record in the 3200-meter run at the Drake Relays April 20, cutting ten seconds off his previous best with a time of 9:11:41. "It has been a long-term goal of mine to get the cross country and distance records at West. I show up every day working towards running those times, and it was a great feeling crossing the line knowing that I ran the fastest ever at our school," McKane said.