A guide to the Iowa City Animal Care and Adoption Center
The Iowa City Animal Care and Adoption Center is always in need of volunteers. Here's how and why you should sign up.
The Iowa City Animal Care and Adoption Center is the local shelter for the Iowa City and Coralville area. The volunteer aid that the shelter receives has helped to keep it running smoothly for many years. It was originally opened in a different location but had to move because of the 2008 flood. Luckily, it's been thriving and full of hopeful, adorable little animals waiting for their new homes for a long time. 
Amiah Dewolf is the volunteer coordinator at the shelter. She is the one who organizes events, trains volunteers and sends out information about the shelter. In order to get started at the shelter, you're going to need to talk to her. For hopeful volunteers and adopters alike, the shelter's website is the one-stop shop for all your animal needs.  On the website, you'll find profiles of all adoptable animals, a tab for lost and found animals in the area and a section for people interested in volunteering. This tab contains all the information needed for the process of becoming a volunteer. 
In order to volunteer at the shelter there is a short list of steps you must complete. First, head to the shelter's website and watch the 20-minute video orientation. After that, there's a small quiz to take on the information in the orientation. If you did well enough on the quiz, expect Amiah to contact you within about a week about signing up for a training class. You can choose to attend a session about cats, dogs, small animals or all of them! After you complete the class at the shelter, you become an official volunteer.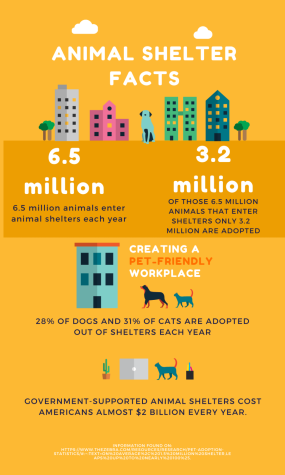 Though your intentions might be sound, not everyone should become a volunteer. "We just want to make sure people are open minded and willing to learn," Dewolf says. There are a ton of procedures and rules at the shelter that are very important for both your safety and the animal's. The shelter needs volunteers who are respectful of these rules and the staff. Please consider these factors before becoming a volunteer. 
Sometimes, when volunteering, you might see something that seems like it could be a problem. The staff at the shelter rely on the volunteers to communicate if they see anything out of the ordinary. "Being able to talk with staff and kind of relay what you're seeing is important," says Dewolf. 
There are many volunteers at the shelter who are very experienced and friendly. If you ever have a question they're a great resource. One of these volunteers is Matt Thomas. He's been volunteering at the shelter for 13 years. It's not uncommon to see him walking the halls of the shelter, especially on a Saturday. "For me, it's stress relief, socializing with other people over a shared interest," Thomas said when asked why he continues to volunteer. 
Saundra Grifith '24 is a volunteer who had begun working at the Iowa City Animal when they were 14. Saundra's inspiration for becoming a volunteer started with her mom. "My mom used to volunteer with them all the time, and she really liked it." Furthermore, another reason Saundra started volunteering is because of their family's history with sheltered animals. "All of the animals that we have, which we have a lot and have had a lot in the past, are all from animal shelters. So we wanted to contribute back to that." Volunteering at this shelter not only involves adorable pets but it's also an opportunity to learn more about animals in general. Saundra found that they learned a lot while volunteering. "That was really useful for me, not only as a volunteer but also like just as a cat owner. So yeah, lots of useful information in the entire it's a great experience."
If you aren't already sold, take a trip to the shelter to make up your mind, or support the shelter in other ways. There's a drop-off box near the front doors for donations. "We take towels, blankets, old toys that can be washed and any food donations," says Dewolf. Any of these donations would be greatly appreciated by the staff and animals alike. Monetary donations are also accepted on the FACF (Friends of the Animal Center Foundation) website.