West BPA attends Fall Leadership Conference
Students participated in mini-sessions, heard from a motivational speaker and participated in team-building activities.
Members of West's chapter of Business Professionals of America attended the 2019 Fall Leadership Conference in Urbandale, Iowa on October 20-21. The group of approximately 50 heard from motivational speaker Garret Lee, participated in a highly-competitive game night and attended a series of mini-sessions on business related topics – some of them led by West students.
Margaret Liu '21, Schuyler Houston '21 and Nate Nelson '20 led a session about forming a leadership team within a local BPA chapter, referencing problem-solving methods used within West's own BPA Executive Board.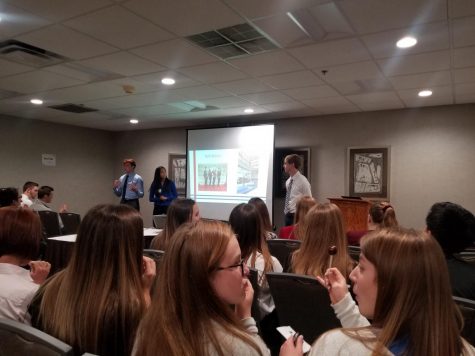 Employees from the student-led Pump it Up coffee shop led a session about in-school enterprises, explaining the process behind forming Pump it Up and how schools can create a similar business.
Two students, Jada Dachtler '22 and Sara Hamed '20, competed in the Shark Tank competition, each presenting a brief pitch for a business they've either formed or would like to form. Hamed, who presented a shower-temprature reader, took the first place prize of $50.
The conference was led by a team of state officers who were elected at the 2019 Spring Leadership Conference, two of whom are West High students. Parliamentarian Sophia Davis '21 and Marketing Vice-President Chloe Gretter '20 helped to plan and carry out the event along with a team of four other officers.
The chapter was led by business teachers Diane Fickel and Abbie Weipert, who helped ensure the experience was rewarding for all who attended.