West High's new bus schedule: is it helpful or hurtful
There has been a major change to the bus schedule, one that students and administrators have different opinions about.
Ding! After the last bell of the day rings, the countdown starts. Five minutes on the clock. You grab your bag and rush out the door, weaving through a crowd of students and rushing down the stairs. Well, trying to, as there's a pileup of people blocking every doorway. At least you didn't have an instrument, otherwise, you would need to run to the opposite side of the school, spending a good chunk of your precious five minutes. The time is 4:06 pm as you round the corner and hurry to your ride. The driver reprimands you for being a minute late, but at least you didn't get left behind.
For students who ride the bus, this is a real (albeit exaggerated) situation they experience every day. With the implementation of the new schedule, bus riders are required to be on board by 4:05 pm, or they'll have to find a different way home. Last year, they had about double the time to get to the bus. What's up with the change?
"I think there are several different reasons. Other schools have done the same thing," said Elizabeth Bruening, Assistant Principal at West High. The drivers are doing multiple routes, and some of them have to drive to after-school activities like extra-curricular. Some of them need to wrap up their routes because they've been driving for over a couple of hours as they've done elementary routes before."
From an outside perspective, the change has been beneficial. It saves time spent on the road for both students and bus drivers.
"
"I think it generally cuts down on time that students might be hanging out and not being productive with their time [after school].""
— Elizabeth Bruening
While this is true, it also decreases the time when students can be productive. After school is one of the best times students can meet with teachers, whether it's to make up a test or have a concept retaught.
"You can't meet with teachers unless you can get there, get back and talk to them all in less than five minutes, which is impossible," said Catherine Xu '26. "If you forgot something in a classroom, you're gonna have to wait 'till tomorrow."
The cut on time also makes it impossible for students to get instruments from the band or orchestra room. It's difficult for students whose classes are far away from the back lot to get on the bus before it leaves.
"Last year when we had 10 minutes, I would have time to go and get my flute from the band room," said Deeksha Ragahaven '25. "But now that I have five minutes, I have to do the extra step of putting my flute in my locker every morning. Then, I'll have to run and go get it. Sometimes I've come really close to not making it [on the bus]."
Mrudani Ramkumar '25 agreed with this sentiment. "The bus has to leave at 4:05, exactly. I have to run all the way to the orchestra room, then get my violin and run back outside. It's a really tight schedule for me."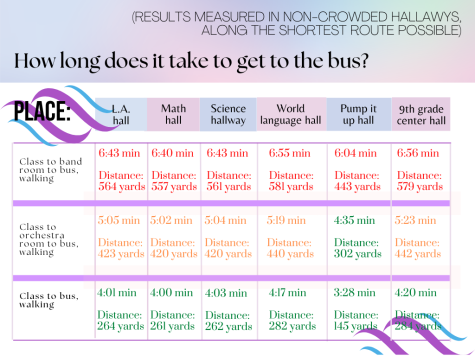 With this new schedule, how much time is actually saved? Interviewees reported that they spent about 10 minutes less on the road on average. Most also stated that their stops were closer to their house this year compared to previous years.
"I just don't think it's worth it to run super fast across the whole building just to make it on time. Five to ten minutes isn't even that much time," said Ramkumar. "I take 5-10 minutes just to have a snack and maybe grab some water. I don't think it makes that big of a difference."
"The bus doesn't actually leave the school until 4:10 because of traffic," said Lauren Spence '25.
While the new schedule may help students on the bus get home quicker, it slows down students who drive home. Traffic at West is already packed, especially in the back parking lot. However, students have found the problem to be even worse this year.
"You're either out before the buses, or you're leaving at like 4:20, 4:25," said Sofia Wells-Lu '23. "If I leave before the bus, I get home at 4:30. If I leave after, I get home at 4:45. I feel like something that could help is for the buses to leave a little bit later."
Bus riders have also noticed a similar problem.
"It still takes a really long time [to leave the parking lot] and I never felt any problems were happening with that last year," said Ragahaven.
Xu agreed. "You're going to spend the same amount of time in the parking lot, so there's really no point in leaving earlier."
The new bus schedule has seen some positive and negative responses. Whether it will stay or change again remains to be seen.
Leave a Comment
Donate to West Side Story
Your donation will support the student journalists of West High School. Your contribution will allow us to purchase Scholarship Yearbooks, newsroom equipment and cover our annual website hosting costs.
About the Contributor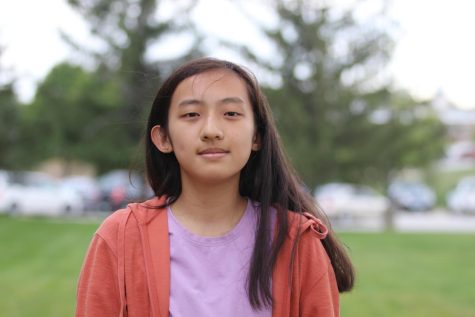 Abby Guo, Reporter, Videographer
(she/her) Abby is a sophomore at West and this is her first year on staff. She's a reporter and a videographer. In her free time, she likes to hang out...