West Side Story recommends: books
In need of a book to read over spring break? Check out these mini book reviews from both our print and online staffers, featuring a wide array of genres, authors and topics.
Online Copy Editor and Reporter Luke Reynolds recommends "I'll Give You the Sun" by Jandy Nelson.
Summary:
Twins Jude and Noah were once inseparable. Noah had his art, and Jude had her life. Now they've fallen apart. Jude is where Noah wanted to be two years ago, at a private art school, while Noah has given that up to pursue a facade of normalcy. What went wrong?
For:
People who like experimental writing and aren't afraid to get deathly attached to characters.
"
This was one of the first books that made me cry. Everything about it was searing and visceral and raw and vivid and honestly overwhelming in the best way possible."
Online Arts Editor Harry Westergaard recommends "The Catcher in the Rye" by J.D. Salinger.
Summary:
Holden Caulfield is a teenager who decides to abandon school for a few days and take a trip to New York to visit his sister before his parents learn of his expulsion.
For:
Angry teenagers who've had enough of high school.
"
I like this book because I find the main character extremely relatable, in that he's very jaded, yet heartfelt. He really does mean well a lot of the time despite his biting cynicism. I think it's one of the most … realistic portrayals of teenage rebellion and angst to ever grace the page."
Reporter Natalie Dunlap recommends "The Glass Castle" by Jeannette Walls.
Summary:
The Glass Castle is a memoir in which Jeannette Walls describes her very unique childhood with her eccentric and at times abusive parents.
For:
Anyone who enjoys human interest stories.
"
I had never liked a non-fiction book as much as I enjoyed "The Glass Castle". It was well-written and so unique that it seemed fictional and kept me wanting to read."
Print Entertainment Editor Emma Brustkern recommends "Aristotle and Dante Discover the Secrets of the Universe" by Benjamin Alire Sáenz.
Summary:
Aristotle is an angry teenager with ongoing resentment toward his family and his culture. Dante is a sensitive boy who sees everything with an open mind. Despite having seemingly nothing in common, the two boys develop a close friendship and together they discover the importance of friendship and identity.
For:
Anyone who loves a good coming-of-age novel or is in need of some more positive and diverse representation in literature.
"
I have never read a book that engrossed me so entirely. Ari and Dante feel as if they could be standing right next to you, and you can't help but cheer for them as you read about their hardships. Their anger is your anger, their loss is your loss. Furthermore, it is such a great example of representation; the inclusion of the LGBTQ community and Hispanic culture on the page feels effortless and sincere."
Reporter and Distribution Manager Reagan Hart recommends "The Time Machine" by H.G Wells.
Summary:
A man without a name invents a time machine, and plans to use it. He goes into the future, but gets stuck when he is cut off from his machine. He learns to navigate the future Earth populated by two species, the Eloi and the Morlocks. He learns about their culture and he teaches them about his own culture as he plots on how to get his machine back.
For:
People who enjoy classics or stories like
Doctor Who
, since it has an interesting take on the future with different species that were once humans.
"
This book pretty much invented the time travel trope. Most of the book is in the future, but it's not really post-apocalyptic in the sense that an authoritative government has taken over or some alien plague has happened. It is actually a take on the Industrial Revolution."
Reporter Lucy Polyak recommends "Yes Please" by Amy Poehler
.
Summary:
This book is Poehler's autobiography, starting with her childhood in the Midwest and ending close to present day. It talks about her journey through the comedy scene in Chicago and how she ended up in New York and then eventually LA. It also covers the best and worst aspects of her life in a very funny but still open and honest way.
For:
People who like to laugh or autobiographies in general. People who've enjoyed shows like Parks and Rec, The Office, or Saturday Night Live would also really enjoy the inside looks that this book brings.
"
This book is my favorite in the entire world; I've read it three times since buying it a few years back. Poehler is one of the funniest comedians of our time and her book does not disappoint in this regard. At the same time, its earnest take on life in the entertainment industry is extremely touching. It's a book that can take you from laughing to crying all within the span of a few pages."
Reporter Fatima Kamonna recommends "We Were Liars" by E. Lockhart.
Summary:
A suspense novel with an ending that will blow your mind.
For:
Anyone that likes to read because you won't see the ending coming
"
It's so dark and so honest that it will just stick with you."
Print Editor-In-Chief Nina Elkadi recommends "Americanah" by Chimamanda Ngozi Adichie.
Summary:
This book, put simply, is about a Nigerian woman moving to America for better educational opportunities. She ends up living in Princeton, New Jersey, where she goes to school. The kind of focal point is how she must take the train to Trenton, NJ to get her hair braided, which is where she begins remembering her past.
For:
Anyone. Well, anyone who enjoys thinking, laughing and reflecting
"
This book is truly incredible. Adichie is a beautiful writer, but more than that the writing is authentic. As a child of two immigrants, one of which is African, this book made me step back and really recognize my own privilege."
Online Editor-in-Chief Fenna Semken recommends
"My Life Next Door" by Huntley Fitzpatrick.
Summary:
A love story that is a sort of a modern Romeo and Juliet. It's set in summer on the ocean and two opposites attract, creating such a good story.
For:
People who like romantic novels or are looking to get into the genre because this is a great start.
"
It is so vivid and just a feel-good book. It keeps you on the edge of your seat."
Assistant Sports Editor Deniz Ince recommends "The Westing Game" by Ellen Raskin.
Summary:
It's a mystery about a group of people who need to find out who killed Mr. Westing from his will. Pairs of potential tenants must solve the mystery to get a large sum of money and Mr. Westing's business.
For:
Anyone who loves mysteries.
"
I love mysteries and this book kept me on edge the whole time and it's short and super intriguing so I finished it in a couple hours!"
Reporter Carmela Cohen Suarez recommends "Throne of Glass" by Sarah J. Maas.
Summary: "
Throne of Glass" is about Celaena Sardothien who is an assassin from the kingdom of Adarlan. She gets sent to a prison camp for a year and is treated terribly there. Later, the prince Dorian Havilliard helps her leave the prison. He says he will give her freedom if she competes to be his champion.Calaena ends up forming relationships with both the prince, her trainer and a princess from another kingdom. She also discovers magic that has been hidden away in the kingdom.
For:
People who enjoy fantasy and want something that differs from the original prince/princess style. It is definitely good for high school level readers.
"
It's my favorite because it kept me on the edge of my seat throughout. I really couldn't put it down! I also felt like it was easy to form genuine connections with almost all the characters despite the fact that it is very fictional. The character development was also really amazing and allowed for me to relate to the characters even more. There are also comedic elements sprinkled throughout which I really appreciated."
Reporter Anjali Huynh recommends "The Female of the Species" by Mindy McGinnis.
Summary:
There are three characters' perspectives that the audience gets: Alex, a girl whose sister is murdered and who has not been the same since; Peekay, a preacher's daughter who isn't so innocent; and Jack, a football star with a guilty conscience. It tells the story of how they meet and how all of their lives change drastically as a result of meeting each other.
For:
Literally anyone. It shows a darker side to humanity, so it might not be for the light-of-heart, but if I could, I'd make this book required reading everywhere.
"
I adore this book because of how unique it is. Yes, it is 'feminist' to an extent, but more importantly, it touches on topics that are necessary to be talked about but aren't discussed enough like animal abuse, rape culture, and the struggles of finding one's identity as a teenager. Additionally, it also gets into a lot of complex character development over time (Alex especially), making the characters interesting to follow as the book progresses. Overall, it's a dark story, but it's an important one."
Designer Crystal Kim recommends "Born a Crime" by Trevor Noah.
Summary:
It's a coming of age autobiography of Trevor Noah in South Africa during apartheid.
For:
Anyone who wants to read a great story. Disclaimer, there really isn't a political agenda or message in this book; it's his personal recount of his childhood and teenage years in South Africa.

"

"

It's one of my favorite books because of Noah's raw storytelling and candor about the childhood he had. This book will simultaneously make you laugh and cry."

"
Opinion Editor Wingel Xue recommends "Angela's Ashes" by Frank McCourt.
Summary:
It's a memoir about a kid growing up in Ireland during the potato famine and moving to the U.S. but still facing poverty there.
For:
People who enjoy memoirs or historical fiction.
"
[It] really gives you a glimpse into a different time and the unique challenges that Irish-Americans faced."
Online Entertainment Editor Kristina Rosebrook recommends "The Ranger's Apprentice Series" by John Flanagan.
Summary:
It's a fantasy series about a young orphan boy who wants to go to Battleschool because he believes his father was a knight. However, he is not strong or big enough, unlike another orphan who bullies him at the beginning of the book. Instead, he is recruited to The Ranger Corp, which is an elite group that act as spies for the kingdom. Lord Morgarath tried to take control of their kingdom years before and failed, but now wants revenge on those who prevented him from gaining power. Will and Halt (his teacher) have to help prevent Morgarath from overtaking the kingdom.
For:
People who like the movie Captain America and books like the Seven Realms series or other fantasy adventure novels. It's similar to Captain America, because in both the main characters appear weak and insignificant to others at the beginning, but then quickly prove themselves to be special and important.
"
I love this series so much because it shows even if you aren't especially skilled in something that many people put importance on, you might be special in other ways. Every boy wants to go to Battleschool and if you don't get in, you're seen as weak. And yet, Will becomes more important than any of the other boys. The characters are all really well developed and there is a lot of comedy throughout the novels as well."
Reporter Caecilia Shoppa recommends "A Clockwork Orange" by Anthony Burgess.
Summary:
It is set in a dystopian future about a young boy and his gang who get high on drugged milk and commit crimes. The main character, Alex DeLarge, gets arrested for murder and is given the choice to either rot in prison, or be tested in an experiment to reverse his violent behaviors.
For:
I would recommend this book to anyone who loves conspiracy, crime and going inside the mind of a sociopath.
"
The book is a creative masterpiece. Burgess created his own slang for the book which is used throughout and makes it really interesting to read. It is also the type of book that makes you question higher authority as well as how easily the human brain can be compromised."
Leave a Comment
Donate to West Side Story
Your donation will support the student journalists of West High School. Your contribution will allow us to purchase Scholarship Yearbooks, newsroom equipment and cover our annual website hosting costs.
About the Contributor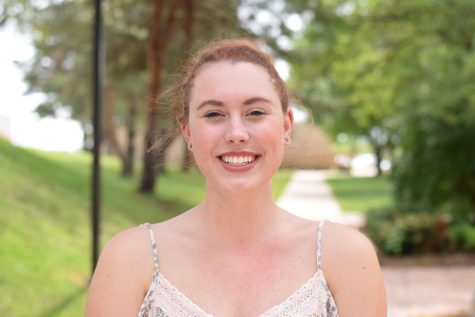 Emma Brustkern, Print Entertainment Editor
Emma is a senior at West High and this is her second year as the Print Entertainment Editor. When she isn't writing, Emma is busy helping Theatre West...