A second chance
After moving to the U.S. from Kazakhstan, Val Trussov '19 joined the boys swim team last year and helped in their journey to a 13th place finish at the 2018 State Swimming Meet. This year, he returns as a varsity team captain with one thing on his mind: a comeback season.
The smell of chlorine hits him as he walks into the recreation center's pool area. The lights are dim and the pool deck is empty besides him and his brother. The only sound in the building is the water lapping at the sides of the pool.
He jumps in and begins another individual practice. The personal training is worth it because he knows it will help him ensure a spot at the 2019 State Swimming Meet.
Val Trussov '19 trained alone for nine months coming off what he considered to be a disappointing performance at last year's state meet. In his second and final year on the varsity swim team, his comeback season means one thing: winning state.
When Val first started swimming five years ago in Kazakhstan, he ranked roughly 172nd in the state, only competing three or four times. Despite the lackluster support swimming received in his community, Val continued to swim, working towards competing in the East Kazakhstan Regionals.
"I said to my coach, 'I'm going to [regionals] this year,'" Val said. "Every single person smiled at me and they were like, 'Good luck with that.' Somehow I ended up winning state, which was really awesome."
"
We don't have any opportunities back home to swim and to be appreciated in the school."
— Val Trussov
One year after winning a title at the East Kazakhstan Regionals, Val moved to the U.S. for better swimming opportunities with the help of his brother Roman. Roman moved to Iowa to swim for the University of Iowa, swimming alongside West varsity coach Byron Butler. Six years after moving, Roman invited Val to move to the U.S to swim in high school to help him prepare for a college swimming career in the U.S.
Last year, Val attended Scattergood Friends school, a private school in West Branch. However, he could swim for West because there was no collective sharing agreement, meaning instead of Scattergood swimmers being connected to one specific school, the swimmers use their address to determine which school they will swim for. After last year, Val transferred to West for his senior year, noting the differences between swimming here and in Kazakhstan.
"We don't have any opportunities back home to swim and to be appreciated in the school," Val said. "Here, you can be dismissed from school because you have a swimming meet, you can be excused for your homework because of a swimming meet. In my home, it's not exactly like that … Some sports they appreciate, but swimming is not one of them."
Since last season's State Swimming Meet did not go as planned Val began privately training with his brother, who is now the assistant coach for the University of Iowa Women's Swimming and Diving Team.
Last year, Val developed a case of infectious mononucleosis, commonly known as mono, for two months prior to state. Since his recovery lasted nearly three months, Val believes he was not at his best competitive level. However, he believes this problem will not be repeated this year because of his time spent independently training.
Varsity swim coach Byron Butler has noted Val's improvement not only in his swimming abilities but also in how he leads the team.
"[He is] being vocal and calling guys out when they aren't doing what they're supposed to be doing and positive reinforcement for them when they are," Butler said. "In terms of swimming, he trained really hard … His endurance is a little bit better, his top end speed is much better and he's put on a lot of strength. It's really been showing up in his performance early on."
As a captain this year, Val leads warm ups and keeps teammates on task. Butler chose Val as a captain because he represents team values.
"Most of my captains are at every single practice: morning, night, the voluntary ones, they're there," Butler said. "Most of them are pretty vocal, they lead by examples so they are doing all the little things right. They're team focused over individually focused … Those attributes are really important."
Teammate and captain Coleman Riss '19 sees these attributes in Val as well. Riss, being a first year varsity swimmer, credits Val's success to his ability to learn and be coached.
"Val is a good teammate," Riss said. "He's at every practice; he shows up. He leads well; he leads all of our warm ups … He's just a really hard worker, … and he's a really good listener. He knows his goals and he keeps focus on them so he just goes after it."
Although Val knows that the private practices with his brother will help him get to the collegiate level, he is excited for West swimming. The most exciting part of the new season is that Val can swim with a team again.
"
When I know there's a guy right next to me, my best friend, and this guy depends on me, how fast I swim, I'm going to push him and he's going to push me."
— Val Trussov
"It's absolutely fun to start a new season and it's an amazing feeling to swim with a team … Swimming is a really tough sport in the idea that you have really to love the sport because if you think about it, you're just making circles," Val said.
For Val, the most important factor that will help the varsity team make it back to state this season will be working as a team instead of competing as individuals. Although some people see swimming as an individual sport, Val uses the team dynamic as motivation.
"When I know there's a guy right next to me, my best friend, and this guy depends on me [and] how fast I swim, I'm gonna push him and he's gonna push me … Your friends on your team know that in the relay you are fighting not for yourself, but you're fighting for each other. I don't want to win as individuals, I want us to win as a team. I would prefer us to be third or fourth as a team than to be first as individuals."
Leave a Comment
Donate to West Side Story
Your donation will support the student journalists of West High School. Your contribution will allow us to purchase Scholarship Yearbooks, newsroom equipment and cover our annual website hosting costs.
About the Writer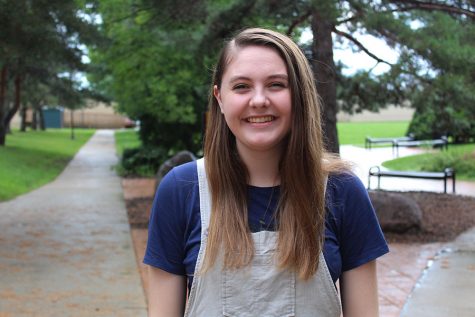 Sophie Stephens, Online Managing Editor
Sophie Stephens is a senior at West; this is her second year on staff and her second year as an editor. She is the managing editor for the website and...